Conclusion: Some investments are bought, while others are sold. In the case of IPO closed-end funds (CEFs) these investments are sold to investors by brokers employed by the investment banking firms seeking this consistent, highly profitable business.

While underwriting CEF IPOs has been profitable for the investment banks, it has hardly been profitable for investors who buy CEF IPOs at their initial offering price. This is the main reason they are not "bought" by informed investors, but sold to uninformed investors.
Academic research supports this conclusion (see "Academic Research" at our website)—as well as our article on the topic published in late 2009 cautioning investors the same, entitled: "Next CEF IPO Wave: Don't be Duped, be Patient."

Broken Record: While not to dwell on this topic, the fundamental reasons for the poor initial performance of CEF IPOs are as follows:
The underwriters' discount and associated fees (legal and accounting) automatically reduce the amount of money invested after all vendors' fees have been extracted from the offering proceeds.
Typically, IPO CEFs are in "hot" sectors designed for an easier "sell" to investors. This is evidenced by the clustering of certain fund type IPOs during an offering window. When a sector is "hot," on a retail basis, it is probably close to its peak and typically positioned to "rollover."
Underwriters will typically support the offering in the after-market through the over-allotment process. This is why you'll sometimes see the price of these CEFs initially increasing in price but ultimately careen lower.
(Click charts to enlarge)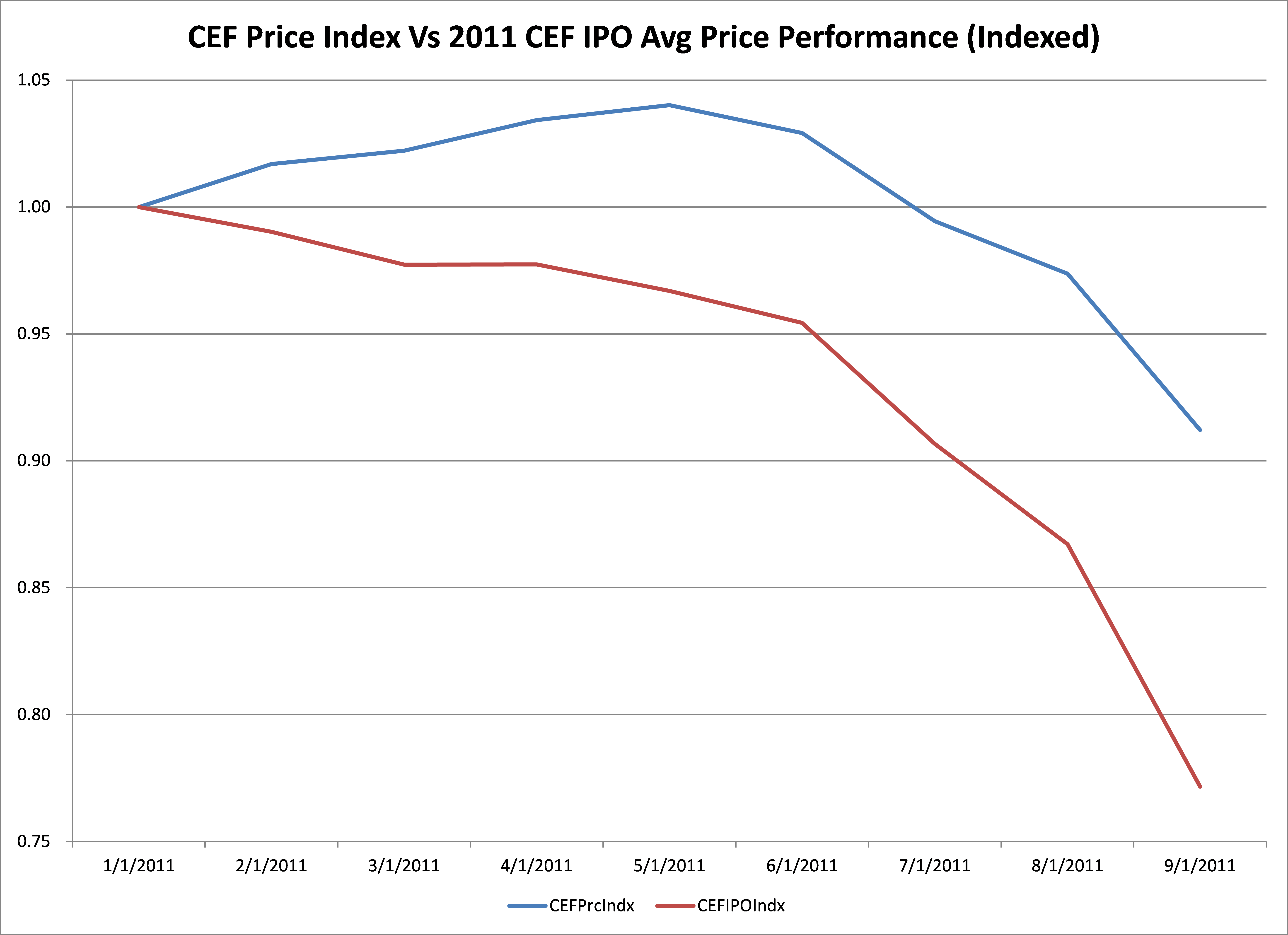 The Class of 2011 Performance: The chart is a comparison of the average indexed price performance of the 12 CEFs that went public this year for which adequate stock price information is available.

As the chart demonstrates, the Eqcome CEF Price Index was down 9% from January this year, when the first CEF IPO was launched, versus a 23% decline in the average price of the IPO CEFs.
The Composition of the CEF IPO Class of 2011: The following table is a breakdown of the IPO CEFs with regards to classification, capital raised, current premium/discount and share price decline from their IPO offering.

We differentiated four distinct categories—albeit, there was some cross-categorization.
MLP/Infrastructure: This category was essentially energy related with the majority of CEFs investing in master limited partnerships (MLPs). While the stock valuation dropped on average 16.4%, the NAVs followed. The current average discount is modest for this category with JMF trading at a premium and INF trading at a significant discount.
Equity Yield: These were essentially yield offerings for income starved investors.
Commodities: These CEFs were piggy-backing on the strength of precious metals and other commodities that have until recently experienced an upward price bias.
Loan Participation Funds: This was a fund type that experienced strong interest at the beginning of this year based on two premises that have failed to materialize: higher interest rates and a stronger economy.

Category Comparisons: The category that has suffered the most significant price decline was the commodity category, 26.7%. This could be a function of flagging commodity prices as expectation for a global economic slump has gained traction among investors. Interestingly, the category that has suffered the least (16.4%) in terms of average share price declines is the MLP/Infrastructure category, which consists mostly of energy related investments wrapped as an MLP—fundamentally, a commodity.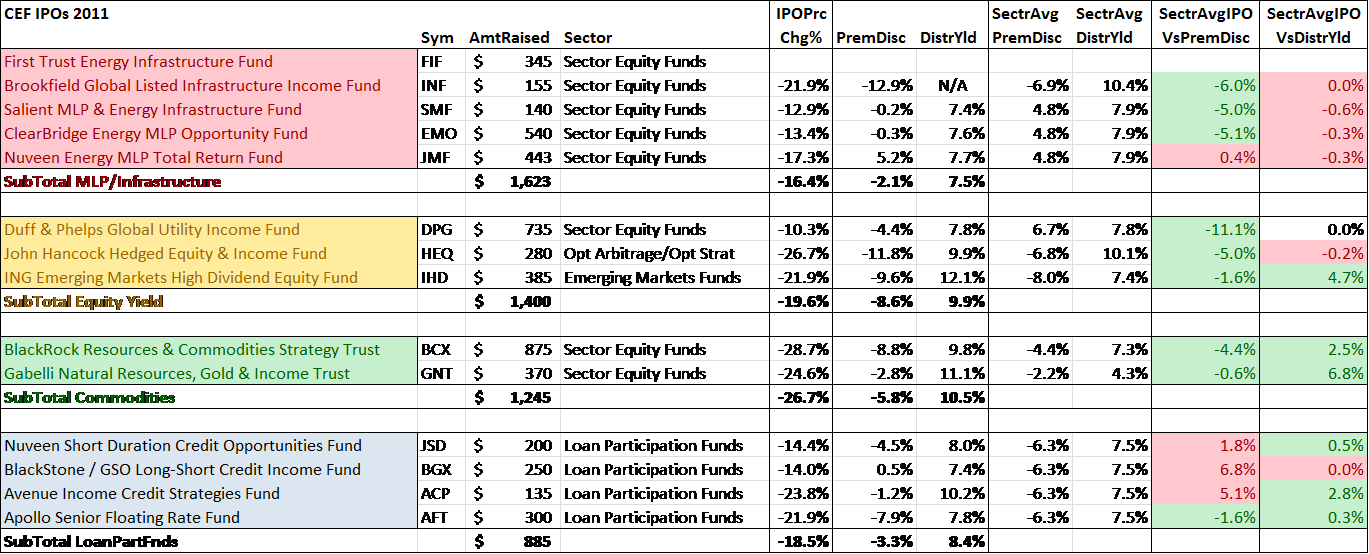 New Versus Old: We compared the current premium/discount of the current IPOs with the averages of the CEF group to which they belong. Despite the significant drop in the share price of CEF IPOs since their initial offering, there doesn't yet seem to be a compelling reason for many of the "Class of 2011" to be purchased at their current price. This is by virtue of the fact that their respective NAVs have declined by a like amount, making comparison with existing CEFs unremarkable.
Color Coded: We have color-coded the comparisons for the difference of the IPO to its peer group for both premium/discount and current distribution yield. The color "green" represents a favorable comparison and "red" unfavorable.
In the case of premium/discounts, if the IPO's current discount was greater than the average for its peer group, then a negative spread was generated, indicating the IPO's current discount was greater than its benchmark.
In the case of distribution yields, if the IPO's yield was greater than its peer group a positive spread was generated and the results were coded "green." So, if there is "green" in both columns, it would represent a favorable comparison.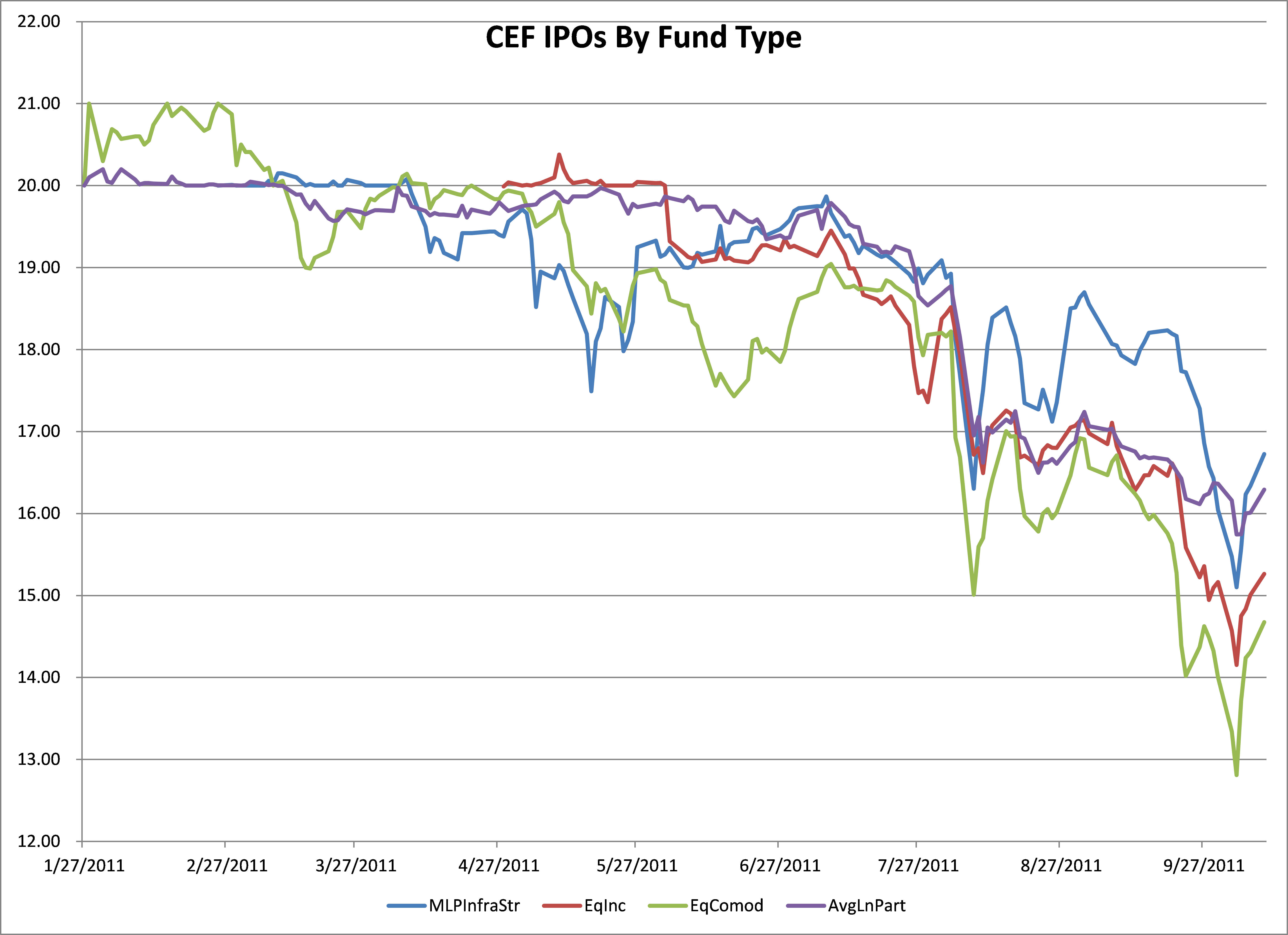 Worthy of Note: As the chart above indicates, there are only four of the IPO CEFs that exhibit favorable comparisons.
The most compelling are the two commodity CEFs (NYSE:BCX) and (NYSE:GNT). Both ING Emerging Markets High Dividend Equity Fund (NYSE:IHD), in the Equity Yield category, and Apollo Senior Note Floating Rate Fund (NYSE:AFT), in the participating loan category, also scored on double "green."

BlackRock Resources & Commodities Strategy Trust (BCX) looks the most compelling to us as its discount and yield is relatively large in comparison with its peers. Additionally, it was the largest of funds to be offered during this period and BlackRock is a significant sponsor with significant reach in its inventory. At a 9.8% current yield and an 8.8% discount, this CEF has good liquidity trading 200,000 to 300,000 shares daily. Also, as the economy recovers, commodity prices may again resume their upward price advance.
Disclosure: Long BCX