After reading your recent letter regarding why you bought Netflix (NASDAQ:NFLX), I felt compelled to write a response, just as Reed Hastings did when you wrote why you were short Netflix. Why? Unlike Reed, who was worried that you would lose more money and not be able to contribute more to charter public schools along with him, I am merely providing the valuable feedback you seek when you publish your research.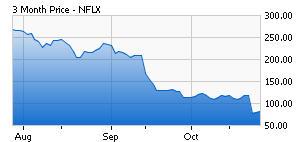 As background, I am a retired hedge fund manager. I initially shorted Netflix at $125 on June 16, 2010. I also had unsuccessful timing on my initial short, but kept adding to it through additional shorts, selling calls, puts, and put spreads as the price continued to defy gravity all the way to $300 a share. At the peak, it was the biggest paper loss on any single position I've ever personally experienced. Your initial short thesis provided valuable additional information to my investment thesis, and I thank you for that.
Fortunately, I am not a co-donor with Reed Hastings on any charitable projects, so he didn't have the opportunity to mesmerize me into covering my short position and I found his rebuttal to your thesis less than convincing. I am still short Netflix, although not nearly as much as I was at $300, and it is currently the most profitable single investment position I've ever had in my 25 year investing career.
Since Reed talked you out of your short position, I suppose he will have to cover the additional donations to the charter schools for you this year. He shouldn't have any trouble though, since after warning you to cover your short on December 20, 2010, he has cashed out almost $43 million of profits from exercising options and selling stock. "Lucky" for him that he didn't exercise the options and hold the shares, essentially the same thing as him advising you to buy back short shares of Netflix, since those profits would only be about $15 million if he had held until Wednesday's close. Where is the Securities and Exchange Commission when you need them?
Since I am still short, I was interested to read why you had flip-flopped on Netflix and decided to establish a long position. You state that "Netflix today reminds us of BP 16 months ago" because the CEO and stock are hated. Unfortunately, that is really the only similarity between the two.
BP was hated as a result of an accident: a terrible oil spill and the subsequent mismanagement of the situation. Even though the spill created a potentially uncertain contingent liability, the company was still asset rich with a commodity that practically everyone in the world uses. The key to valuing BP was entirely dependent on how severe the contingent liability would be, however the value of the assets was not diminished. In the case of Netflix, the severe backlash was a result of a management decision that was made by necessity because their business model was not sustainable under the existing pricing structure. Perhaps the most significant asset of Netflix was the goodwill and brand they had built over the previous 10+ years, which has been severely and permanently impaired as a result of deliberate management actions.
You state in your letter that Netflix was a good company, even when you were short. Yet in your short thesis outlined on December 10, 2010, you very eloquently explained the shortfalls in the company's Streaming business model. The most prominent, which has been the root cause of the pricing actions which have led to the recent backlash, was that Netflix core DVD business model was based on the First Sale Doctrine, which allowed them to resell the same content over and over again, whereas this was not applicable to the Streaming business model. They have no competitive advantage in Streaming because they are merely 1) distributing someone else's content (the studios), 2) using someone else's hardware (Amazon (NASDAQ:AMZN)), 3) through someone else's pipes (internet providers).
The studios are able to distribute their product themselves (HBO Go, Hulu), Amazon is able to use its hardware to provide similar non-exclusive content, and many of the internet providers are also owners of Cable/Satellite TV and purchase content to distribute. Their profitability in streaming will be limited to what the opportunity cost is for the studios to distribute the content themselves (apparently, not much) and pricing of the content will be based on what they are able to charge Cable/Satellite TV (apparently, more than what Netflix is able to pay while still only charging $7.99 a month).
In the most recent letter explaining your purchase you stated, "The problem wasn't the company, but rather the extreme valuation of the stock". To say that you shorted Netflix because of the extreme valuation and not the company seems to be contradictory to your original short thesis. Point number 3) from that letter was as follows:
"This (weak streaming library) would either cause subscriber growth to wither or force Netflix to pay large amounts to license more content, which would compress margins and profits."
In "Why We Covered Our Netflix Short" on February 11, 2011 you backtracked on your short after being convinced by Reed Hasting's "Virtuous Cycle" of more subscribers leading to more revenues leading to better content, leading to more subscribers. Even though this is the same spin that Reed had been espousing for the previous year, you used a pithy Keynes quote about when facts change (which they didn't) to justify your sudden change of heart. The Virtuous Cycle is disintegrating into a Death Spiral of fewer customers leading to lower revenues leading to worse content, leading to fewer customers. But somehow while your original short thesis is being played out even better than you could've imagined, at this point you've convinced yourself that Netflix is a good company.
Next, I'll move point by point through the reasons why you are bullish, and why you shouldn't be.
They can earn $5-$6 of Contribution Margin per (domestic) customer per month on average revenue of $12.50 per month, translating into $1.3-$1.7 billion of operating profit.
Based on the expected subscriber mix at the end of the 4th quarter, average revenue per month is likely to be closer to $11.50 per month than $12.50. They also indicated that only 7% of new subscribers are signing up for a combination Streaming/DVD plan, which means the average revenue per new unique subscriber is only around $8.75 per month.
Contribution Profit for the 4th quarter of 2011 for the Streaming business is expected to be $30-$42 million or $12 million per month at the midpoint with average streaming subscribers of around 21 million. This is $0.57 per month per streaming subscriber for the part of the business that is supposedly the future of the company. This Contribution Profit is before any costs for Technology & Development and G&A, which are running close to $100 million per quarter, or about $1.60 per streaming subscriber. In other words, this is a profitable DVD by mail business which is fading away and an unprofitable streaming business even with 21 million subscribers.
The company target for Operating Margin domestically is 14%, which would lead to $1.60 of operating margin per month per subscriber, which at 24 million subscribers is only $464 million of operating profit, rather than the $1.3-1.7 billion.
Netflix, excluding international, is being valued at $175/subscriber, a very low figure relative to other media companies.
Netflix, however, is not like other media companies. My calculation of the churn rate for streaming subscribers for Q2 2011 (Q3 figures not available due to changing disclosures) was 8.6% per month, meaning the average life a streaming subscriber was less than one year. In an article I wrote on August 3, 2011 titled "Why the Economics of Netflix's Streaming Business Is Likely to Fail", I detail that at current subscriber statistics, the profitability over the life of a streaming customer would be about $9. $175 per current subscriber that can generate only $9 of profitability implies extreme growth in streaming subscribers in the future, or higher profitability of a subscriber, which is questionable.
Netflix was smart to raise its price….the price increase only affected subscribers who were getting both Streaming and DVD services.
Netflix was forced to raise their price on the DVD/Streaming package, since it was becoming uneconomical to do otherwise. At the time the decision was made, 77% of all subscribers were getting both Streaming and DVD services.
How smart was it to raise their price? By the end of the 4th quarter, the price increase will not even raise their average revenue per user (ARPU). Prior to the price change, ARPU was $11.49 and based on projected end of 4th quarter subscriber mix, ARPU will be right around the same level. Because only 7% of new subscribers are signing up for both Streaming and DVD plans, the ARPU of new unique subscribers is likely around $8.75. In addition, total domestic subscribers were 24.589 million prior to the price announcement. End of 4th quarter total domestic subs are expected to be slightly higher than the 23.879mm at the end of the third quarter. Since the pricing action affected almost 4 out of 5 of their existing customers, the end result of the alleged price increase will be an ARPU that is approximately the same with fewer subscribers.
Management's error was in assuming that those combination subscribers valued the Streaming service at $7.99 a month and the DVD was a $2 add-on (which Netflix concluded was unprofitable), whereas in reality, the customer valued access to both Streaming and DVDs in whatever combination for a total of $9.99.
Netflix would be a bite-sized acquisition for any number of much larger companies.
This is the only hope, and it is only hope, since the business model and economics of the Streaming business are dubious at best. The question is: Would it be cheaper for those larger companies to acquire Netflix or to just do it themselves without acquiring the seemingly onerous future content obligations? Based on what is the content companies are doing in the market, it seems like a build instead of buy is the more economical strategy.
A final question to ponder is: Why is Netflix rapidly extending its streaming business, which has questionable economics to date even in the United States and Canada, into geographic areas where it has little expertise, low brand awareness, and existing competition? International expansion will be a significant value destroyer in the near term and it is questionable whether it will contribute value in the long term.
Because a short that goes severely against you can take a huge toll and you need to deliver results to investors on a monthly basis, I can understand the original decision to cover your short position. But, based on the reasons outlined in your letter on why you are bullish, it is confounding to see why Netflix is a pitch that you feel the need to swing at.
P.S. Congrats on being up 7.8% so far in October. By my calculations, you only have another 31.8% to go before you make your investors whole again.
Disclosure: I am short NFLX.