Ancestry.com (NASDAQ:ACOM) posted 3rd quarter results after the bell. Revenue was in line and earnings per share exceeded analyst estimates by .05 cents to .40 versus the .35 estimate. The company achieved bottom line by recording a very low G&A of just 9.5% of revenue, and a lower tax rate, ( the lowest in the last two years).
I previously wrote about ACOM's 2nd quarter results at ACOM Results. My biggest concern for the stock in the near term was the sequential drop off in subscriber growth rate, which I posted below.
2010
14.00%, 8.00%, 5.00%, 1.30%.
2011
15.77%, 3.52%, 1.67%, 1.17%
The current guidance for sequential subscriber growth rates now looks like this.
2011
15.77%, 3.52%, 1.73%, -.65%
These subscriber numbers are not surprising, and actually I expected a marginal drop off due to a very challenging environment.
VALUATION
Attractive at these price levels. I just reviewed Netflix (NASDAQ:NFLX) and Amazon.com (NASDAQ:AMZN) results the last couple of days. Those results compared with ACOM look terrible and the stocks are still overvalued even after their sell-offs. I have ACOM trading at a forward P/E ratio of 12.78, which is the lowest this stock has seen in the last two years. I have a price target in the 40s.
TECHNICALS
ACOM has shown support in the low 20s area over the last six weeks. Below is a weekly chart of ACOM. The stock is very oversold on a weekly basis.
(Click charts to expand)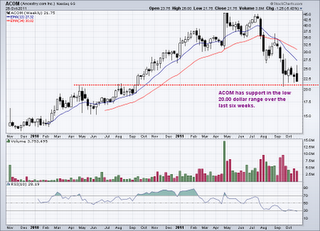 Bottom Line: Although the company achieved bottom line results by managing a lower G&A line and tax rate, these results are good comparatively to other consumer oriented stocks, and I believe the stock has already discounted the subscriber drop off rates going forward. The company has announced a 50 million dollar share buyback also, and could seek an existing credit facility for the buyback. The company had cash of around $46 million, at the end of the third quarter. Buying in the low $20s makes sense if you plan on holding the shares for a while.
Disclosure: I am long ACOM.