Recently, I ran a stock screen looking for the most solid of dividend stocks (here are part 1 and part 2 of the dividend screen) and as I mentioned in those articles, dividend investing is very popular nowadays, and for good reason. At the end of the day, investors need to realize cash from their investments, and over the long-term, dividends have comprised a huge portion of market gains.
While I endorse the pursuit of sustainable yield to anchor a portfolio, Should investors shut themselves off the large universe of stocks that pays no dividend? Yesterday, I published an article on using options to go long Apple (NASDAQ:AAPL), in which I advocated using deep-in-the-money LEAPS calls to leverage a long position in AAPL without taking on much added risk. Since AAPL does not pay a dividend, investors lose almost nothing but gain nearly twice the leverage by going long via these call options as opposed to buying the stock.
If you are not familiar with options, and specifically, long-dated LEAPS, deep-in-the-money call options, I recommend reviewing that article to get the basics on how these securities work. For my own portfolio, I have always favored decent dividend stocks, but for stocks with favorable risk/reward profiles and no payout, I like to leverage these positions via LEAPS options to boost my returns and compensate for lack of yield.
So in response to last week's dividend screen, I ran an offsetting zero yield screen. While I eliminated any stock which paid a dividend, it may not have been a bad idea to include stocks with paltry payouts -- next time perhaps. Since I could not measure dividend growth for this set, I instead required only stocks which showed revenue growth in each of the five years. I am a value investor and only look to buy cheap stocks, usually as measured by free cash flow, so I looked for stocks generating free cash flow equal to at least 10% of market cap. Finally, we have a better chance of finding tradable options with reasonable bid/ask spreads by eliminating illiquid and small-cap stocks. Here is a list of 16 stocks which fit these criteria: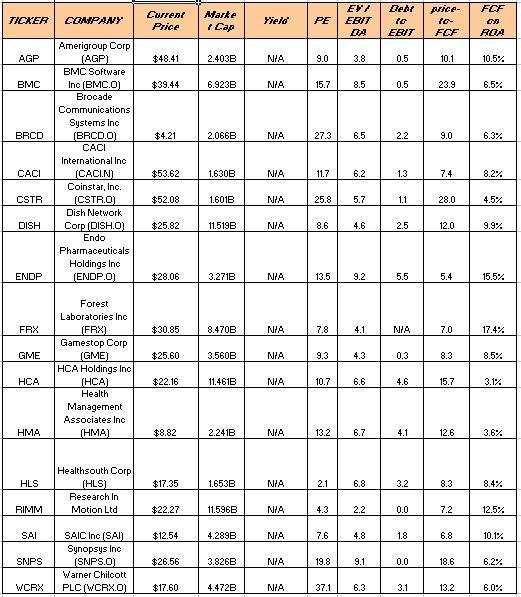 View all financial metrics, including my estimated fair value, for the stocks in this screen in spreadsheet format here.
Despite not paying a dividend, most of these stocks trade seem fairly priced, but I like to buy cheap stocks. A few opportunities do exist and like the dividend stocks, there seems to be a common theme. Pharmaceutical stocks are out of favor, yield or no yield: Forest Laboratories (NYSE:FRX) and Endo Pharmaceuticals (NASDAQ:ENDP) appear attractive at first glance, especially for a leveraged play like DITM calls as investors shouldn't expect huge moves for stocks in this sector. CACI International (NYSE:CACI) and SAI Inc (SAI) have big exposure to government spending, so perhaps the market is anticipating a big hit there as deficit reduction takes precedence in the policy debate. And Gamestop (NYSE:GME) looks cheap based on past results, but the market may be nervous that GME may soon follow in Blockbuster's footsteps. Here's a run through the list:
AMERIGROUP Corporation (AGP) is a multi-state managed healthcare company focused on serving people who receive healthcare benefits through publicly funded healthcare programs, largely Medicaid. Returns vs the industry look OK with ROE of 23.88% lagging the average 25.01%, but ROI looks good at 21.31% vs 8.63%, which may owe to the company's stellar balance sheet with over $12 net cash per share, a quarter of its stock price. Currently, the stock shows an 11% short interest -- the company faces some pushback from states on its profits as well as litigation overhang from a big judgment which went against the company. Still, the shares look attractive from 10,000 feet up and may warrant a closer look should it drop near its 52-week low.
BMC Software, Inc. (NASDAQ:BMC) is a software company, providing information technology (NYSE:IT) management solutions primarily for large enterprises. Returns are fine with 30.84% ROE vs the industry's 22.35% and ROI at 15.75% lagging the average 18.74%. Like AGP, BMC has net cash on its balance sheet, to the tune of $7+ per share. While it's generated impressive free cash flow in recent months, its five-year track record is inconsistent, ruling it out for consideration at this time.
Brocade Communications Systems, Inc. (NASDAQ:BRCD) is a supplier of networking equipment, including end-to-end Internet Protocol (NYSE:IP)-based Ethernet networking solutions and storage area networking solutions for businesses and organizations. As shares trades near $4 per share, deep-in-the-money options may not be ideal for this stock. Since the lowest contract normally trades at $2.50, these contracts display less delta as share prices move closer to strike price.
CACI International Inc (CACI) is an international information systems, high technology services, and professional services corporation whose primary client is the United States government. While returns look unimpressive compared to the industry, CACI operates in the desired area of IT, which looks to see continued investment, even as defense budgets get cut due to the increased importance of cybersecurity. CACI is a long-time vendor for many of its contracts, giving it an incumbent's advantage and backlog still looks strong. As with many defense stocks, free cash flow looks outsized relative to its trading price, so in the interest of conservatism, I would discount my estimated fair value a bit and look for shares to drop near 52-week lows before taking a deep look.
Coinstar, Inc. (NASDAQ:CSTR) is a provider of automated retail solutions, including its (DVD business, where consumers can rent or purchase movies from self-service kiosks (DVD Services segment), and its Coin business. The company generated ROE of 19.43% and 10.71% ROI vs the industry's 8.83% and 7.11%, respectively. By my estimate, CSTR looked like one of the most over-valued stocks in this screen, and judging from the 36% short interest, it looks like I am not alone in that assessment.
DISH Network Corporation (NASDAQ:DISH) is a pay-television provider with approximately 14.133 million customers across the United States as of December 31, 2010. It registered 19.57% ROI vs 4.83% for its peers. The company carries $8.5B in debt supported by $3.5B in EBITDA. While it will be interesting to see how the Blockbuster acquisition plays out in the coming months, at the moment, DISH appears fully priced.
Endo Pharmaceuticals Holdings Inc. (ENDP) is a specialty healthcare solutions company focused on branded products and generics, and devices and services. The company has a portfolio of branded pharmaceuticals, which includes brand names, such as Lidoderm, Opana ER and Opana, Percocet, Frova, Voltaren Gel, Vantas, Valstar, among others. It has outperformed its industry, with 14.96% ROE and 7.54% ROI vs 9.04% and 6.79%, respectively. At first glance, Endo looks attractively priced but a huge debt load, and an impending patent cliff for its biggest revenue driver makes the stock a risky bet.
Perhaps a safer alternative would be Forest Laboratories, Inc. (FRX), which develops, manufactures and sells branded forms of ethical drug products, most of which require a physician's prescription. While it too faces a huge patent blow, which will expose 50% of its revenue to generic competition in 2012, the company has no debt and over $8 in cash per share, nearly a third of its market cap. Unlike Endo, Forest does not rely solely on acquisitions to build its pipeline, but nevertheless, FRX's patent cliff has led to a 12% short interest.
GameStop Corp. (GME) is a multichannel retailer of video game products and personal computer entertainment software. The company sells new and used video game hardware, video game software and accessories, as well as PC entertainment software and other merchandise. Returns have been fairly good, with 14.36% ROE lagging the industry's 17.43%, but ROI of 12.19% beats 11.63% for its peers. At the present, Gamestop appears to be in enviable position, with copious free cash flow and little debt. However, after witnessing the travails of Blockbuster and now Netflix (NASDAQ:NFLX), the market is understandably nervous about GME's ability to navigate in a digital world. As such, GME has a 31% short interest in its shares.
HCA Holdings (NYSE:HCA) recently returned to public trading after a stint in private equity hands. Frankly, I rarely want to buy what those PE folks are willingly selling -- in fact, I can't think of a time I ever did. Recent FCF looks impressive but also unsustainable, and the $11.5B market cap company carries over $25B in debt. No thanks.
Health Management Associates, Inc. (NYSE:HMA) operates general acute care hospitals in non-urban communities. As of December 31, 2010, the company operated 59 hospitals with a total of 8,864 beds. Returns vs. Industry saw 33.21% ROE compared to 5.44% and ROI of 4.70% vs 3.78%. While the specter of ObamaCare has loomed over the healthcare sector, HMA appears to be fairly valued based on my FCF analysis over the last 5+ years.
HealthSouth Corporation (HLS) is a provider of of inpatient rehabilitative healthcare services in terms of revenues, number of hospitals, and patients treated and hospitals, and patients treated and discharged. The company operates 97 inpatient rehabilitation hospitals which generated returns of 57.30% ROI compared to peers' 3.78%. Like many hospital companies, HLS carries a bit of debt, over 3x EBITDA and by my estimate is a little over-valued at current trading prices.
Research In Motion Limited (RIMM) is a designer, manufacturer and marketer of wireless solutions for the worldwide mobile communications market. Past returns have looked stellar at 33.50% ROE and 32.57% ROI, but those may have been the good old days. Recent times have seen the company struggle with its outdated BlackBerry line in the face of Apple's iPhone, and there's little indication at the moment that management can turn this around. The company is in good financial health, with a large $5B cash horde and no debt, but will RIMM meet the same fate as Palm?
SAIC, Inc. (SAI) is a provider of scientific, engineering, systems integration and technical services and solutions to all branches of the United States military, agencies of the United States Department of Defense, the intelligence community, the United States Department of Homeland Security and other agencies. It is also my top pick of this screen. Returns vs industry look uninspiring, with ROE lagging at 21.35% vs 22.06% and ROI even further back at 13.99% (vs. 20.14%), but it has produced revenue growth each of the last five years, generates consistent free cash flow, carries a manageable balance sheet, and operates in some of the few growth areas for government spending. While defense spending cutbacks are liable to pressure margins and increase competition, the shares look cheap and may compensate investors for taking that risk.
Synopsys, Inc. (NASDAQ:SNPS) provides technology solutions used to develop electronics and electronic systems. It supplies the electronic design automation software that engineers use to design, create prototypes for and test integrated circuits, also known as chips. Returns have lagged industry averages, and though it has no debt, it is among the stocks on the screen that has generated outsized FCF in the recent year, but with little history demonstrating it can consistently perform at such a high level.
Warner Chilcott plc. (NASDAQ:WCRX) is a specialty pharmaceutical company focused on the women's healthcare, gastroenterology, dermatology and urology segments of the North American and Western European pharmaceuticals markets. Returns are mixed with 12.03% ROE beating peers' 6.31% but ROI lags at 2.83% vs 5.21%. And while I hate to sound like a broken record, WCRX is yet another pharma company facing a steep patent cliff, with 70% of 2010 revenue exposed by 2014. Based on current run rates, the firm looks fairly valued but the pipeline is thin and the future looks a little bleak for WCRX.
The most important aspect of using long-dated DITM options to go long stocks is investors should substitute with call options only if the stocks are deemed worthy of adding to the portfolio. I am not using this strategy for trading purposes, but for long-term investing (though hitting our sell points sooner rather than later is definitely welcome).
As such, the same stringent criteria must apply to these opportunities as buying common stock. In fact, this screen aside, I usually evaluate a given stock on its merits and once I determine its investment suitability, I run through the possible ways to play the stock in question -- whether that is to buy the stock outright, buy LEAP options to leverage returns or sell naked puts to generate income and set a more desirable entry point. Each situation is different, but having more tools to make money can only benefit investors.
Disclosure: I have no positions in any stocks mentioned, but may initiate a long position in SAI over the next 72 hours.