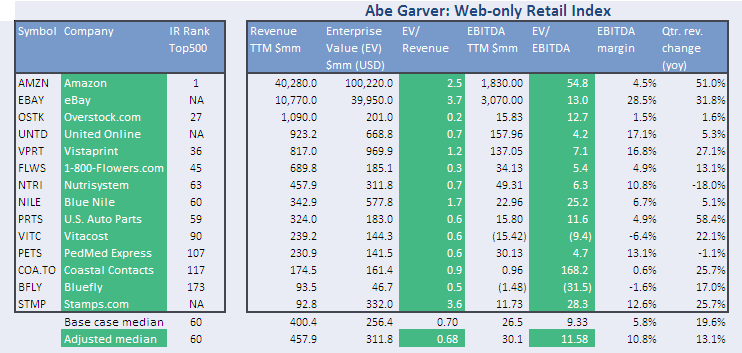 As the creator of the Web-only Retail Index, my Seeking Alpha followers asked me to opine on how Amazon.com's (NASDAQ:AMZN) lower-than-expected earnings for the third quarter and disappointing forecast for the current period would affect its stock price in the months to come.
It seems every time I update the Index and select an adjusted median, I have to throw AMZN out. The reason is always the same: Its enterprise value (market cap plus debt, minority interest and preferred shares, minus total cash and cash equivalents)/EBITDA multiple of 54.8 is over 5x greater than the base case median of 11.6.
In the same way brick-and-mortar and multi-channel retailers are appraised based on their EV/EBITDA multiple, web-only retailers trade the same way. In other words, once AMZN matures, like every other renowned retailer -- e.g. Wal-Mart (NYSE:WMT), Target (NYSE:TGT) and Costco (NASDAQ:COST) -- the multiple will approach the top end of the median.
Let's pull the camera back now and think about mass-market retail in a unique way. What would Wal-Mart's, Target's and Costco's combined revenues, market capitalization and median EV/EBITDA multiple be if we rolled them up into RollUpCo.?
Well, it turns out RollUpCo would have combined revenue of $589 billion, $268 billion market capitalization and an EV/EBITDA multiple of 7.3. AMZN had $40.2 billion of revenue and a market capitalization of $103 billion going into third-quarter earnings.
Now let's create a company 2.6x larger than Amazon and call it SteroidCo.com. SteriodCo.com now has the same market capitalization as RollUpCo, but 61% less revenue ($104 billion). Also SteriodCo.com has 89% less EBITDA ($4.76 billion) than RollupCo with $44.5 billion.
Based on my judgment as an investment banker working with clients in the sector, the EV/EBTIDA and EV/Revenue multiples in the Web-only Retail Index and those of Wal-Mart, Target and Costco, and potential valuation concerns associated with the Main Street Fairness Act, I have concluded that AMZN may be worth $52 per share, assuming 453.94 million shares outstanding.
This one is a no-brainer, loyal Seeking Alpha followers. Don't buy SteriodCo.com or AMZN stock.
Web-only Retail Index companies include Amazon, eBay (NASDAQ:EBAY), O.co (also known as Overstock.com) (NASDAQ:OSTK), United Online (NASDAQ:UNTD), Vistaprint (VPRT), 1-800-Flowers.com (NASDAQ:FLWS), Nutrisystem (NASDAQ:NTRI), Blue Nile (NASDAQ:NILE), U.S. Auto Parts (NASDAQ:PRTS), Vitacost (NASDAQ:VITC), PedMed Express (NASDAQ:PETS), Coastal Contacts (CSOAF.PK), Bluefly (NASDAQ:BFLY) and Stamps.com (NASDAQ:STMP).
Disclosure: I have no positions in any stocks mentioned, and no plans to initiate any positions within the next 72 hours.