Energy investors digested some bad news last Wednesday, telling of another large crude oil inventory build. It followed the prior week respite on a light build, but that followed the Energy Information Administration's (EIA) reported the biggest weekly crude oil inventory build since 2001 just 3 weeks ago. These have been historic builds to a historic level of oil inventory. The dramatic news has been more than enough to lead major media to warn us all of the great danger that threatens. What if crude oil inventory, which is approaching storage capacity limits, breaches capacity? If that dam were to break, the flood of oil suddenly for sale to the market could drive oil prices fast and furiously to significantly lower lows, and drive a capitulation moment for the prices of energy sector securities. But all might not be lost dear friends. Energy bulls are hopeful that an approaching seasonal shift, which will halt the building of oil inventory and begin the draws of oil from storage, might precede that nightmarish scenario. And there is also the prospect that OPEC might act soon enough and in an important enough way to impact supply. The fact is, though, that we are not yet close enough to storage limits to raise such alarm. This is just another case of the media sensationalizing a story that has the interest of a good many Americans and certainly investors. Let me tell you the truth about crude oil inventory and storage capacity.
The supply issue has been a heavy weight against oil prices since the second half of last year, but prices had seemed to stabilize more recently on exploration & production company capital expenditure cutbacks and the possibility of an OPEC production cut. Sector investor prospectors have also been looking for value ahead of the seasonal turn that shifts inventory builds to draws.
But then last Wednesday, the EIA released its Petroleum Status Report showing a U.S. crude oil inventory build of 9.6 million barrels. It followed the prior week's relieving level of just 4.5 million barrels, but rekindled concerns after the 10.3 million barrels added to inventory in the week ended February 27, 2015. It was just one in a string of big builds, but 10.3 million barrels marked the biggest since 2001. At 458.5 million barrels, crude oil inventories are at their highest levels for this time of year in at least the last 80 years of data collection. Crude oil in storage is far above the 5-year average for this time of year. It's a troubling level, because inventory is approaching storage capacity limits, at which point oil taken from the ground will have to be immediately sold. Such a flood of oil to the market could drive prices sharply lower. Energy securities moved down sharply after the EIA release reached the wire. As investors evaluate the situation and consider the possibility of a flood of oil rushing to market, it is possible we could see a capitulation moment for oil prices and for energy stocks.
If such an event occurs, many producers will likely close holes and stop production, which would also put pressure on their operational results, though due to volume rather than price impact. Thus, Energy Select Sector SPDR (NYSE: XLE) and SPDR S&P Oil & Gas Exploration & Production (NYSE: XOP) holders could see further downside no matter what energy companies do. The same goes for all energy companies, from the largest of the major integrated companies like Exxon Mobil (NYSE: XOM) and Chevron (NYSE: CVX) to the smallest of producers.
Industry analysts should also give consideration to the possibility of human error, which could exacerbate the situation. I propose that given the possibility of a glut forcing excess oil to market at some future time, some producers could move to sell oil stocks ahead of that nightmare, and in so doing they could exacerbate the same problem. There's a sort of prisoner's dilemma being prepared, where if all actors reduce production and selling, all benefit from stabilizing to higher pricing. But if some actors fear others could act in the manner just discussed, they could act to sell their oil inventory preemptively, driving the rush of oil to market all seek to prevent. This prisoner's dilemma could catastrophically impact the entire industry even if oil were to never reach its storage capacity limit.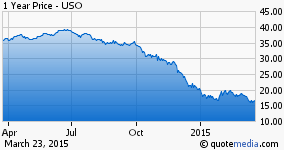 1-Year Chart of USO at Seeking Alpha
United States Oil (NYSE: USO) and also the iPath S&P Crude Oil Total Return ETN (NYSE: OIL) could mark new lows in a scenario like that. Oil prices could also come under increased pressure from the demand side should U.S. economic data reflect a slow down. The last GDP revision raised some concern and this week's final revision could reinforce it.
Energy investors have two bullish factors to consider as well. The first and most important for energy bulls is the pending shift from a period of weekly inventory builds to inventory draws. We are just weeks away from warmer weather and seasonal catalysts that require refineries to draw oil for gasoline production to serve the summer driving season.
Also an OPEC emergency meeting could at any moment offer a positive note to energy relative securities. But if the energy cartel were to fail to cut production to a significant degree, any help to the sector could be temporary in nature. And there is some question as to the conviction and reliability of some OPEC member nations with regard to agreed to production cuts. Also, non-member nations like Russia are in financial distress and could seek to increase production so as to benefit from any price increase. If OPEC were to convene after the fact of a rush of oil to market, it could be too little too late at that point.
It's all quite scary isn't it? The media would have you believe we are at hell's gate, but we are not. The thing is that neither an OPEC meeting nor the seasonal swing is desperately needed now. Crude oil storage capacity is not near full. See Part II of this report and receive my regular contributions to Seeking Alpha via my column.
Disclosure: The author has no positions in any stocks mentioned, and no plans to initiate any positions within the next 72 hours.
The author wrote this article themselves, and it expresses their own opinions. The author is not receiving compensation for it (other than from Seeking Alpha). The author has no business relationship with any company whose stock is mentioned in this article.