The most recent earnings reports have been better than expected for the quarter, yet the market has been extremely volatile. There has been a lack of direction for stocks both long and short, and this has hurt earnings for several investors. In a volatile market it is important to separate the stocks that are a bargain and those that are just "cheap."
When trying to add true value to a portfolio, it is important to choose stocks wisely, and I have a simple formula for this. First, I like to choose stocks from different sectors because this offers a great hedge against risk and market fluctuations. Secondly, I like to choose stocks that have been beaten down because of the current cyclical environment, but are solid companies in the long run. Finally, my third formula for success is a company that has strong fundamental data, no debt, or a vision that I believe the company can profit from in the future. I have found four stocks that I feel are growth stocks, and should not be ignored:
Genpact Ltd. (NYSE:G) is engaged in business process and technology management services. Services include finance and accounting, collections and customer service, insurance services, supply chain and procurement, analytics, enterprise application services. The current price is $15.95 with a 1-year analyst price target of $18.50. This reflects a 16% upside potential.
Genpact's gross profit margin has been higher than the sub-sector average for each of the past 5 years. Given the gross profit margin for 5 years, G shows a company that has a history of outperforming the industry, but is highly overlooked. Genpact's forward PEG is 1.1, which represents a 4% discount to its average of 1.2. Also, this company has a trailing P/E of 19.1x compared to its 5-year average of 23.8. This represents a 20% discount.
Genpact has 0.71 EPS, which is 129% better than the industry average. It seems that is company is heavily undervalued, and in the long run is a great growth stock. Recently an officer bought 128,000 shares, and the CEO currently holds 250,000 shares ($4.03M). I like the fact that insiders are confident in their company as well, and are buying shares at the current discounted price.
GrafTech International Ltd. (GTI) manufactures a range of graphite electrodes, products for the production of electric arc furnace steel and various other ferrous and nonferrous metals. The current price is $15.67 with a 1-year analyst price target of $18.50. This represents a 18.06% upside potential. GrafTech has beat analyst earnings estimates the past 6 quarters, so I feel the 1-year analyst price target is very conservative, and is safe to expect more.
The company's gross profit margin and its days' sales in inventory have been higher than its subsector average for each of the past five years. I also like the fact that this company has recently announced the successful completion of the refinancing of its principal revolving credit facility. This shows dedication and commitment towards lowering costs while increasing growth.
GTI's forward PEG of 0.7 represents a 59% Discount to its 5-year average of 1.8. If the Forward PEG returned to historical form, the stock would trade at $36.92 (135.61% upside potential). The company continues to grow, yet the price is heavily discounted leaving great potential for a substantial turn around in price.
Brown & Brown Inc. (NYSE:BRO) is a diversified insurance agency, wholesale brokerage, insurance programs and service organization. It markets and sells insurance products and services to its customers in the property and casualty segment. The current price is $22.05, with a 1-year price target of $24.09. This is a 9.25% upside potential.
Brown & Brown is among the 39 companies within the Property and Casualty Insurance sub-sector that pay a dividend. The stock's dividend yield is currently 1.5%. I also like that BRO has a diversified portfolio to ensure a good hedge against risk. Below is a graph that shows the company's commission and fee revenue for 2007, which has helped it weather the storm to date: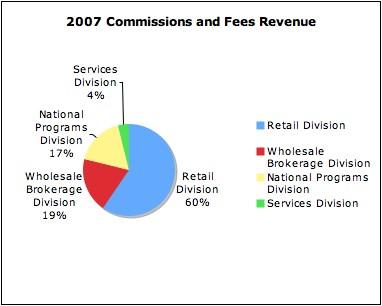 BRO's shares are currently trading 15.9% above their 50-day moving average of $19.19, and 5.2% below their 200-day moving average of $23.45, which signals a heavy upward momentum.
Finally, the last reason I am bullish about this stock is because of the large holdings of its insiders. The amount of shares insiders are holding, to me, signals a huge adjustment in share price could be coming once the company has completely weathered the storm. Below is a chart showing current insider holdings:
| | | | |
| --- | --- | --- | --- |
| Name | Title | # of Shares | USD Value of Shares |
| Brown, James Powell | CEO | 1.62M | $30.7M |
| Downs, Linda S | Officer | 0.60M | $11.4M |
| Henderson, James Wilson | Director | 0.44M | $8.34M |
| Penny, Jerome Scott | Officer | 0.39M | $7.43M |
| Walker, Cory Thomas | CFO | 0.31M | $5.95M |
EMC Corporation (EMC) develops, delivers and supports the information technology industry's range of information infrastructure and virtual infrastructure technologies, solutions and services. EMC provides information storage, back-up and protection, management, security, information intelligence, data computing and virtualization technologies, services and solutions.
The current price is $23.67, with a 1-year analyst price target of $29.83. This symbolized a 26.02% upside potential. Based on Trailing P/E, EMC currently trades at a 10% discount to its Computer Hardware sub-sector peers. On average, the company has traded at a 33% discount over the past five years.
I feel this stock is heavily undervalued given EMC's domination over the data center industry, which gives it credibility to Global 2000 customers. I also like the fact that EMC has a broad portfolio of data storage products, while its direct competitors may not provide all the parts of a total data storage solution. I am bullish on this company, and with the current price feel that it is a steal.
Disclosure: I have no positions in any stocks mentioned, and no plans to initiate any positions within the next 72 hours.