We are seeing a nice move higher by commodities and commodity related equities as the general market moves lower. Commodities appear to be rallying on the weakness in the US Dollar, which itself is moving lower after poor Durable Orders and Durable Goods numbers this morning.
Looking at the equities, we are seeing more fear in the market pertaining to how energy companies are going to finance certain moves, including dividends, and that is causing some uneasiness. We continue to believe that the well run energy names will be able to continue to pay dividends, return cash to investors via buybacks (although at a much lower rate than before) and invest in their projects without stressing their balance sheets. They may have to increase leverage to do this, but blue chip names reached that status by successfully navigating situations such as these over the years. Readers should keep this in mind as fear builds.
Chart of the Day:
It certainly appears that the US Dollar Index has hit a short-term high and is now going to test the 95 price level before making its next move. Commodity investors, especially those who own the SPDR Gold Trust ETF (NYSEARCA:GLD) and the iShares Silver Trust (NYSEARCA:SLV), would cheer if the 95 level did not hold.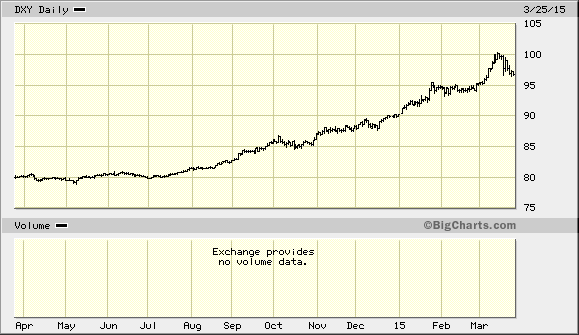 Source: BigCharts
Commodity prices are as follows (at time of submission):
Gold: $1,196.70/ounce, up by $5.30/ounce
Silver: $17.03/ounce, up by $0.047/ounce
Oil: $48.07/barrel, up by $0.56/barrel
RBOB Gas: $1.8168/gallon, up by $0.0171/gallon
Natural Gas: $2.723/MMbtu, down by $0.063/MMbtu
Copper: $2.7855/pound, down by $0.0175/pound
Platinum: $1,146.70/ounce, up by $5.20/ounce
Devon Sells Partnership Units
A unit of Devon Energy (NYSE:DVN) announced a secondary offering of units in EnLink Midstream Partners, LP (NYSE:ENLK). The offering consists of 22.8 million units and is expected to raise just over $586 million. The Devon unit selling the units has also granted the underwriters a 30-day option to purchase an additional 3.42 million units at a price of $25.71/unit. Shares in Devon Energy are higher by about 1.75% on the session while EnLink Midstream Partners' units are down by about 9%.
Dividends In Focus
Everyone is beginning to focus on Exxon Mobil (NYSE:XOM) now that we are nearing April, the month that in recent years has been when Exxon Mobil increases its dividend. The fear on Wall Street is that Exxon Mobil will not increase its dividend, which will end an impressive streak of increases over the years. While many of the smaller E&Ps are cutting their dividends and suspending share buybacks, the cash constraints that those companies are experiencing do not apply to Exxon Mobil.
Like many of its peers, including Chevron (NYSE:CVX), Exxon Mobil has dialed back its share buybacks in order to conserve cash, but what many seem to be missing is that Exxon Mobil could further cut share buybacks in order to not only sustain a dividend but increase it as well. Dividends provide yield protection to stocks, and with Exxon Mobil possibly looking to purchase E&Ps which fall on tough times, it would behoove management to keep the share price elevated - especially considering all of the shares that the company holds in treasury and which are expected to be used for M&A.
Iranian Oil Production
With the West looking to reach a deal with Iran on their nuclear program, the two sides are pushing to reach a deal soon that would create the framework for Iran allowing inspections and the US and its allies lifting sanctions on Iran. This would allow Iran to sell its oil production into international markets without having to give the deep discounts it currently offers to buyers, including China.
While it will take Iran months to ramp up production to pre-sanction levels, the fear among oil traders is that the country will flood the oil market with oil it has been storing on tankers and above ground facilities. The country is cash strapped so we would not be surprised to see an increase in oil available for sale once sanctions are removed. The question is how desperate Iran is and exactly how far it is comfortable seeing oil prices decline.
It is important to remember that although Iran would probably like to see American shale producers hurt, Saudi Arabia has put pressure upon North American producers as well as its fellow OPEC members, which has already hurt Iran. Add in that Russia probably does not want to see prices decline further and you have a situation where Iran is more likely to be prudent than reckless in its oil sales.
Disclosure: The author has no positions in any stocks mentioned, and no plans to initiate any positions within the next 72 hours.
The author wrote this article themselves, and it expresses their own opinions. The author is not receiving compensation for it (other than from Seeking Alpha). The author has no business relationship with any company whose stock is mentioned in this article.