It seems to us that momentum stocks can never be valued correctly. They are always either valued to perfection, valued in hopes of a future that can never materialize, or valued as if they will never earn a dime again. Netflix (NASDAQ:NFLX) is currently going through just such a transition, and for long investors with an appetite for risk, we feel that as of this moment, Netflix can be a worthwhile investment, goven its attractive risk-reward profile.
We have been long Netflix before, as we bought into the bullish thesis, like so many. However, we sold the stock at around $220, giving us a gain of over 100%. We had thought the run was over, and given that greed is the ultimate sin in investing, it seemed like a prudent time to take profits. Turns out, it was not. We promptly watched the stock go to $300, as investors kept bidding it up, rolling over the shorts, who continually screamed the stock was headed for disaster.
Well, the bulls were right up until that point; now the bears are firmly in control. Netflix has fallen by over 72% from its all-time high. However, just as the stock rose too much in its heyday, we now think it has fallen too far in its time of crisis, which is why we decided to buy into the stock after its 35% post-earnings drop. Fund manager Whitney Tilson has also gone long the stock. He correctly called BP (NYSE:BP) as a great investment after the Gulf of Mexico oil spill, and we think he is correct again here.

Netflix bears, including many on this very site, have been some of the most vocal we have ever seen, arguing not only for the collapse of the stock, but the collapse of the entire company itselfl. Frankly, we think that notion is absurd. Sure, the stock may have been mispriced, but is bankruptcy really a plausible future for Netflix? We do not think so. Netflix has clearly burned shareholders who were already long. But, for those not yet in the stock, we think this is an attractive entry point for a company poised for long-term success.
What many people forget is that Netflix has been through such a period before. In 2004, Netflix slashed its DVD plan prices and spent huge sums of money to compete with Blockbuster. Reed Hasting was roundly criticized for that move, and shareholders fled in droves. The stock fell by over 72% before bottoming. Shareholders who bought at the bottom were rewarded handsomely.

We think that the headline risk surrounding Netflix will abate soon enough. Whitney Tilson, who has also taken a long position in Netflix, argues that this is a BP-like moment for the company. After the Gulf of Mexico oil spill, BP was universally hated, and its share price collapsed. Bankruptcy rumors swirled around the company. And yet, anyone who bought BP shares after the oil spill was greatly rewarded for the gamble. The question investors must ask of Netflix is: Has the company's future deteriorated this badly? We do not think so, and the valuation is now compelling. Below, a quick recap of current analyst price targets on Netflix:
Hudson Square, $110
JP Morgan, $67
BofA Merrill Lynch, $85
Barclays, $125
Janney Montgomery Scott, $51
Goldman Sachs, $75
S&P, $105
Credit Suisse, $100
We would like to highlight the last 2 price targets in particular, because of how the 2 firms in question arrived at their valuations. S&P and Credit Suisse used DCF to arrive at these price targets. Netflix bears have often used DCF analysis to support their argument that Netflix was overvalued; now DCF is being used to argue that Netflix is undervalued. DCF works both ways. If it can be used to argue that shares of Netflix are expensive, than it is perfectly reasonable to use it to argue that shares of Netflix are cheap.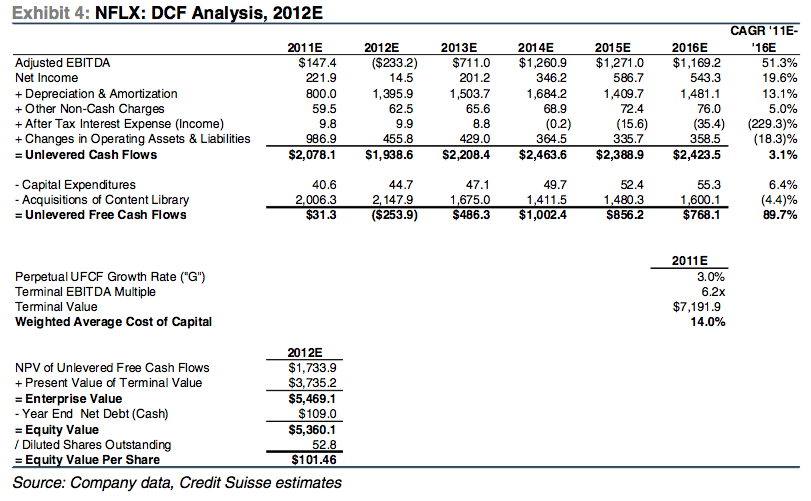 This analysis, provided by Credit Suisse, shows that Netflix, at around $80 a share, is undervalued. We are not going to pretend Netflix bears were wrong in arguing the stock was overvalued. They were indeed correct, and the stock has fallen by over 72% from its highs, validating the bears. But Netflix shares do have value, and we think that there will be several catalysts to support the stock going forward:
Valuation
Netflix is being valued at $175 per subscriber, a large discount when compared to other media companies. This was one of the reasons for Tilson going long the stock. Now let's assume for the moment that Netflix's DVD by mail business contributes zero revenue to the company. The streaming business alone brings in $2 billion in revenue. Netflix now trades at about 2x streaming revenue alone, and we think that this is absurd. Streaming is the clear future of Netflix, and such a valuation implies that content providers will choke every penny out of Netflix for its content. As Henry Blodget, CEO and editor-in-chief of Business Insider, pointed out in his contrarian opinion on Netflix:
To believe that Netflix is worth less than 2x the current revenue of its streaming business, you have to believe that content providers will always be able to sock it to Netflix whenever Netflix posts a few dollars of profit. But this doesn't seem a reasonable assumption. Netflix can already write content providers massive checks that content providers can't get from anyone else in the streaming business. The content providers all believe Netflix needs their content, but it doesn't need it — all it needs is some content. Some content providers should always be willing to take Netflix's money, especially as its subscriber base increases. And Netflix's leverage will likely increase as the company develops more proprietary content and becomes even less dependent on any one content provider.
In the end, Netflix cannot, short of a miracle, have every TV show and movie available for streaming at once. And it is impossible to please everyone with the content it has. There will always be a title that Netflix somehow doesn't have. Netflix needs content, but content is in the end a generic entity. Netflix customers cannot have all the content in the world and not pay for it. The money has to come from somewhere, and while we do think Reed Hastings made mistakes with communicating the message, we think his message is fundamentally correct.
Competition Fears Are Overblown
Critics of Netflix often say that the company will be destroyed by its competitors, but we think this is far from true. Redbox is Netflix's closest competitor in the DVD space, and while the Redbox model is interesting, Netflix does not need the DVD business in the long run. Redbox could plausibly end up in control of the DVD rental business down the line. But by then, Netflix will have left the space all together.
In regards to online video, Netflix should manage its competition. It is still too early to tell how Blockbuster/Dish (NASDAQ:DISH) will execute in this space. As for the others currently in this space, they are not necessarily out to destroy Netflix. Apple (NASDAQ:AAPL), Google (NASDAQ:GOOG), and other on-demand services are just that: on-demand. Their business models are fundamentally different than that of Netflix. They do not provide a simple subscription service. We see no reason these 2 fields can't co-exist.
Hulu Plus is more of a complementary service. Most people do not use it as a substitute for Netflix. Rather, they use it to access current-season TV episodes on their TVs and mobile devices. Netflix has far more content than Hulu Plus, yet what it lacks is current-season TV episodes. (Enter Hulu Plus.)
As for Amazon (NASDAQ:AMZN) Prime, we think that fears of it are overblown. For Amazon, streaming video is a means to an end, the end being more people signing up for Amazon Prime. In turn, that results in subscribers likely buying more from Amazon, which is what Amazon is all about. Netflix has to only focus on running its streaming and DVD businesses. Amazon must not only invest in its retail business, but also the Kindle line if it wishes to have even a small chance of challenging Apple. Amazon simply does not have the resources to invest in both those segments and make a meaningful impact in the streaming video space. Furthermore, if people think Netflix is lacking in quality content, Amazon has even less.
International Growth A Huge Long-Term Opportunity
Canada became profitable in Q3 for Netflix, and its push into Latin America appears to be even more successful. Netflix will have more members at the end of this year than it did in Canada at the end of 2010, despite having much more brand awareness there. The Netflix launch into the UK and Ireland will be interesting to watch, as there are different inustry dynamics at work there. But, Netflix sees its agressive pricing as allowing it to succeed, and much like in the US, the UK & Ireland is not a "winner take all" market. There is room for Netflix alongside entrenched players in that market.
Bears will seize that last point, claiming that Netflix is a flawed investment due to the fact that its international push will render the company unprofitable. While it is true these investments will not be cheap, they are necessary for long-term success. After its UK & Ireland launch, Netflix will pause on expansion to re-focus on near-term profitability. We think of Netflix as a long-term investment, not as a short-term one.
When discussing Netflix, comparisons to HBO have often been thrown around, designed to disparage Netflix. While HBO is a succesfull business for Time Warner (NYSE:TWX), it has one glaring flaw. HBO does not control the relationship with its customers. The cable companies do. As a result, HBO is tied to them, for better or worse, while Netflix is directly connected to its customers. Netflix has been able to rapidly close the subscriber gap with HBO, all while lacking a meaningful TV presence. Netflix is quickly becoming easier to use on TV's and the installation of Netflix buttons on many remotes will help even more.
In conclusion, we think that Netflix is a good investment going forward. We fully expect to generate controversy with this article, given that Netflix bears are among the most vocal out there. While we recognize that their thesis was correct, and applaud them for their conviction, we think that the time to be bearish is over. Netflix's valuation has come down to an acceptable level. It now trades at 17.5 times earnings, and has a forward P/E ratio of 13.1. It is undervalued on a DCF basis, and now has a PEG ratio of 0.68. While Netflix was a good investment up to a certain point, it became a nightmare for those caught holding the bag.
We are not writing this to discuss Netflix's investment appeal in the past. We are writing because of Netflix's appeal as an investment going forward. Netflix shares below $80 are a radically different investment than Netflix shares at $200, $250, or $300. That is what we are trying to emphasize. Netflix's true value may not be that high, but it is certainly not this low. Netflix is one of the most controversial stocks of our time, but we think it will be a good long-term investment going forward. Netflix has transformed the media industry, and will continue to innovate. And its stock is an innovative addition to any portfolio.
Disclosure: I am long NFLX, AAPL. A mutual fund of ours owns shares of AMZN (1.40% weighting) and GOOG (2.66% weighting).