Germany, the euro area's largest economy, continues to improve, signaling that underlying strength may simply be masked by weak headline inflation measures. CurrencyShares Euro Trust (NYSEARCA:FXE) is down over 21% since April, seen below.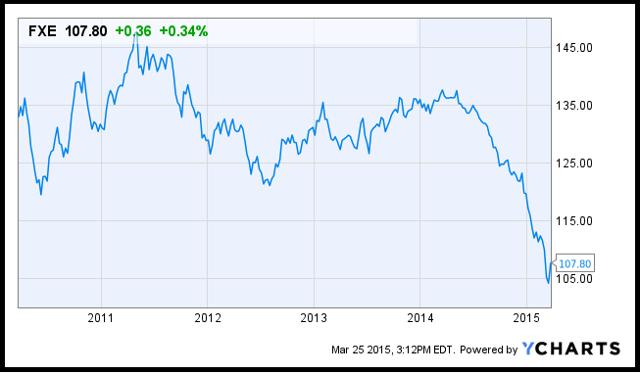 German business confidence has had a strong run higher in recent months. In March, the IFO Business Climate figure came in at 107.9, above the previous month's reading of 106.8, while also exceeding estimates for 107.3. A reading above 100 signals optimism. Since last fall, business confidence reversed higher, from a reading of 103.4, to current levels. With both manufacturing and business confidence data printing optimistic numbers in recent days, it looks as if the German economy continues to expand.
"These numbers - the Ifo today and the euro zone PMI yesterday - show momentum for the region as a whole is strengthening. There are three headwinds for the euro zone economy this year - currency weakness, lower interest rates as a result of QE [quantitative easing] and lower oil prices," Daniele Antonucci, European Economist at Morgan Stanley, explained to CNBC.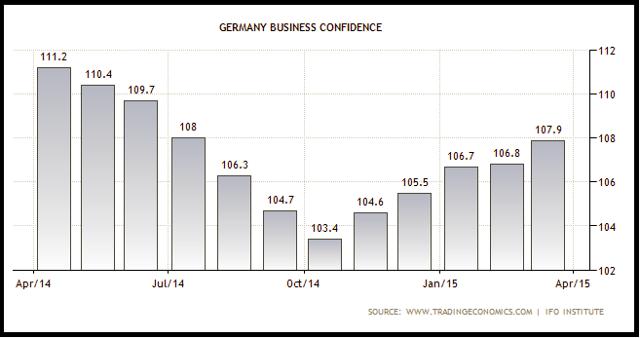 Meanwhile, as economic activity remains resilient, employment growth in Germany has been stable. In the most recent quarter, the employment figure came in at an annual pace of 0.86%, up from the previous quarter's reading of 0.79%. Since bottoming in 2009, employment has steadily risen, seen below. With strong German manufacturing data yesterday, the labor market continues to expand to meet steady demand.

Data provided by the OECD
Additionally, even with declining headline inflation numbers, underlying labor costs are rising. Unit labor cost is a measure of input costs for every unit of output. When unit labor costs begin to rise, it pushes inflation pressures up. In the fourth quarter, the unit labor cost figure came in at an annual pace of 1.81%, up from the previous quarter's reading of 1.69%. Since 2011, unit labor costs have risen from -1.11% annual contraction, to current levels, seen below.
German data show that the underlying economy remains strong, and continues to expand. Business confidence accelerated higher alongside European Central Bank policy easing earlier in the year. Moreover, with a strong manufacturing sector, employment growth continues to increase, while underlying unit labor costs are having a positive effect on core-inflation readings.
Low energy prices are weighing on headline inflation measures in the euro area, which should lead to continued low interest rates in the region, as well as weigh on the currency in the near term. The strength of Germany, as well as many other countries in the bloc, however, will eventually drive the euro higher when transitory pressure subside.

Data provided by the OECD
Disclosure: The author has no positions in any stocks mentioned, and no plans to initiate any positions within the next 72 hours.
The author wrote this article themselves, and it expresses their own opinions. The author is not receiving compensation for it (other than from Seeking Alpha). The author has no business relationship with any company whose stock is mentioned in this article.