Wall Street spends a lot of time and financial rags use up a lot of ink commenting on the amount of oil going into storage in the United States with pundits often claiming that when storage becomes full the price of oil will collapse.
The EIA petroleum status report for the week ending March 20, 2015 was eagerly awaited by the oil bears as additional testimony to the impending doom. The report indicated that another 8.2 million barrels were added to storage bringing the total amount stored to an 80-year record 466.7 million barrels. The report also disclosed that the United States imported 7.4 million barrels a day in the same period. The question is why?
A rational observer would think that greater domestic production of oil by American producers would simply displace imports and the amount of oil in storage would not be materially affected. Yet it is.
Canada is the largest source of oil imported into the United States followed by Saudi Arabia and the only one of the top five sources where imports have increased over 2013, with the increase averaging 306,000 barrels a day year over year.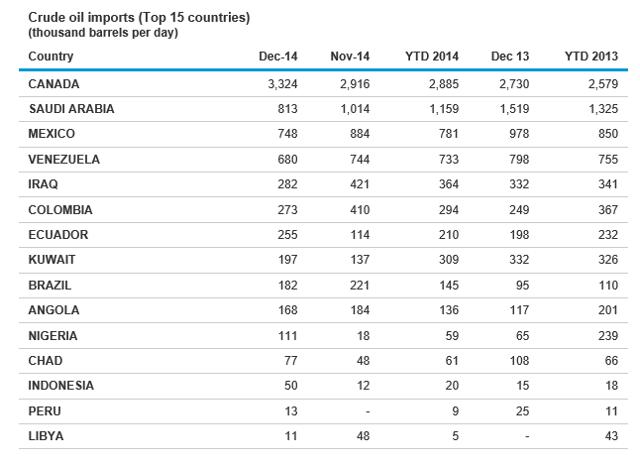 Source: EIA
Simply put, the increase in Canadian oil imports into the United States over the past twelve months comprises 111 million barrels, almost one quarter of the oil in storage. In part, the surprising strength of Canadian oil imports reflects the configuration of U.S. refineries which by and large are dedicated to heavier oils than those found in the prolific shale oil plays. Excess shale production ends up in storage while Canadian oil is refined.
In any event, about 40% of U.S. crude oil storage capacity remains available, which at 8 million barrels a week would be sufficient for the next 9 months. Oil can be stored on ships and in rail cars and nine months is plenty of time for storage firms to add capacity if needed. And, of course, if storage is tight the United States can simply reduce imports. The full-storage argument that prices will collapse is specious, in my view.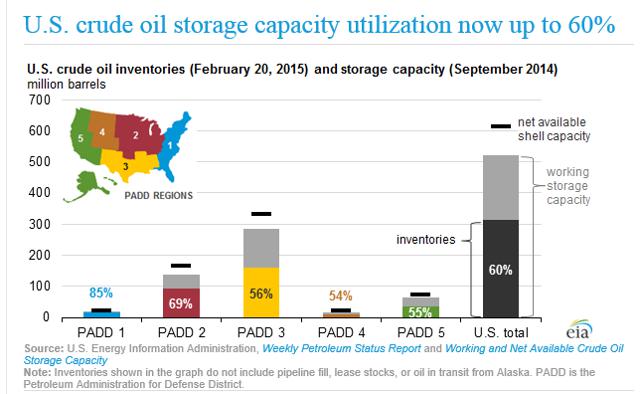 In that time frame, U.S. output should roll over and begin to decline while U.S. demand should continue to grow as the economy expands. Drilling for oil in the United States is in free fall, with the rig count down dramatically. Less drilling ultimately means less production.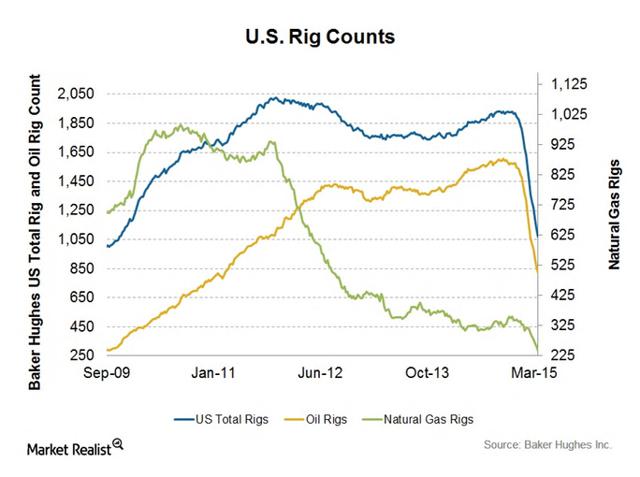 Source: Market Realist
Growth in U.S. production should peak and begin to fall in the next few months. When it does, prices are likely to firm. At the same time, the Saudi Arabia bombing of Yemen today is a reminder that the Middle East has its own issues that go well beyond OPEC and can be disruptive to supplies.
Prices will find equilibrium where the gating price will be set by the marginal cost of shale production in the United States since that is where production can be increased quickly and where it falls off quickly, a result of the relatively high decline rates of shale production. I think the equilibrium prices is somewhere around $70 to $80 a barrel, and most producers earn decent returns at that level.
It is time to start adding oil stocks to portfolios. A good bet right now is Whiting Petroleum (NYSE:WLL) which just added $1 billion to its balance sheet which prompted a 20% sell-off in Whiting stock. Chesapeake (NYSE:CHK) is another name I like, with Carl Icahn stirring the pot with his 11% stake. In Canada, names like Enerplus (NYSE:ERF); Pengrowth (PGH); and, Whitecap (OTCPK:SPGYF) all offer reasonably strong balance sheets and have protected their 2015 operations with solid hedge books. Whitecap just expanded its footprint in the prolific Viking play through acquisition and raised $110 million of new equity to support the purchase.
I am long Whiting; Enerplus; Pengrowth; and, Whitecap, among other oils. I expect to add Chesapeake on any further sell off.
Disclosure: The author is long WLL,ERF,PGH, SPGYF.
The author wrote this article themselves, and it expresses their own opinions. The author is not receiving compensation for it (other than from Seeking Alpha). The author has no business relationship with any company whose stock is mentioned in this article.
Editor's Note: This article discusses one or more securities that do not trade on a major U.S. exchange. Please be aware of the risks associated with these stocks.