I believe that the Facebook (FB) brand is too rich and famous for news media to ignore. While media companies like the New York Times (NYT) and CNN have established a strong online presence, none of them could monetize online news as smartly as Facebook could. Zuckerberg believes he can monetize news-related content on Facebook and media companies should trust him.
The sheer number of Facebook's daily active users already make the social network potentially the biggest newspaper on the planet. Yes, there is the fear that CNN or New York Times would lose much of their online audience when Facebook starts hosting news articles instead of referral links. However, Zuckerberg will still share advertising revenues with media companies for the content they will host on Facebook's website.
It is the next step of evolution that news sites would have to be colonies of Facebook's empire. Social networks now drive 31% of referral traffic to sites (including news-centric sites). The Shareaholic charts below says Facebook is the runaway Emperor of referral traffic.
My point is that Facebook has lots of users that are very interested in reading or watching the news. The issue now is that Zuckerberg wants to lessen the number of clicks that users will need to make to get their daily dose of news.
Displeasing the new emperor might prove catastrophic for news content sites. Even the mighty nytimes.com (which has a healthy number of paying subscribers) gets 23.26% of its traffic from social referrals. Facebook is again the top social network referral traffic provider for New York Times.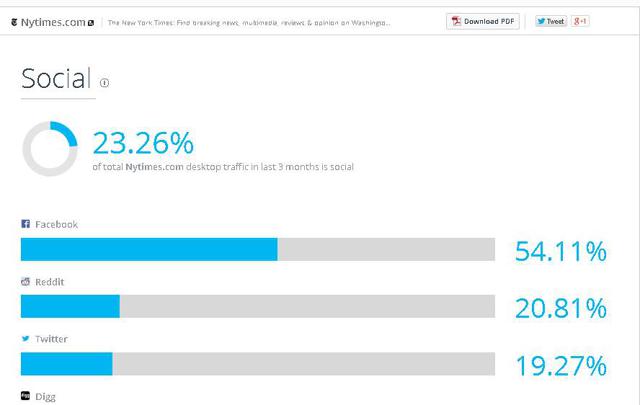 Source: SimilarWeb
Why Facebook Is Good For News Sites
The news sites that have benefited from Facebook's mighty referral traffic might not be maximizing the monetization potential of their digital content hosted on their sites. My opinion is from an analysis made by a MondayNote contributor. Based on ComScore's U.S. monthly unique visitors' data, Facebook makes $60 revenue per one monthly unique visitor, far higher than NY Times' $6 and Guardian's $3.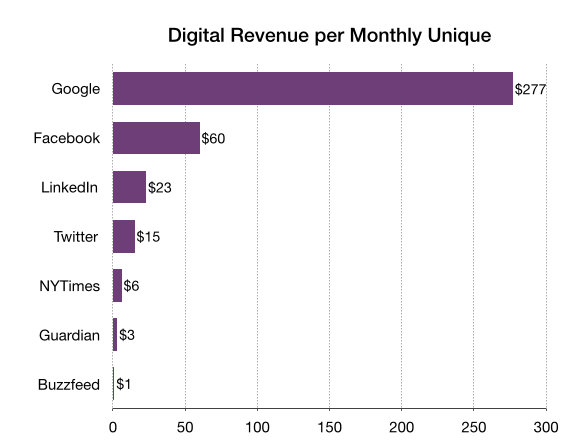 Facebook has proven itself as a master of digital advertising. Next only to Google (GOOG) (GOOGL), Facebook has the most amount of advertising partners that would pay for sponsored posts on local, national, and global breaking news. There are now more than 2 million advertisers using Facebook's platform. Facebook's number of advertisers grew 300% in just three years.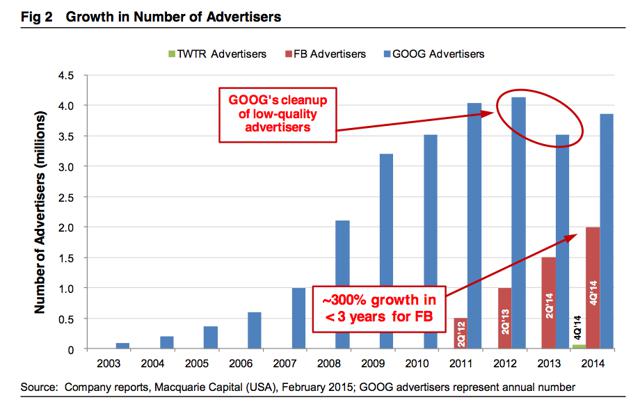 The chart below from Macquarie Capital also reveals that Facebook now averages around $7.7k revenue from each advertising client.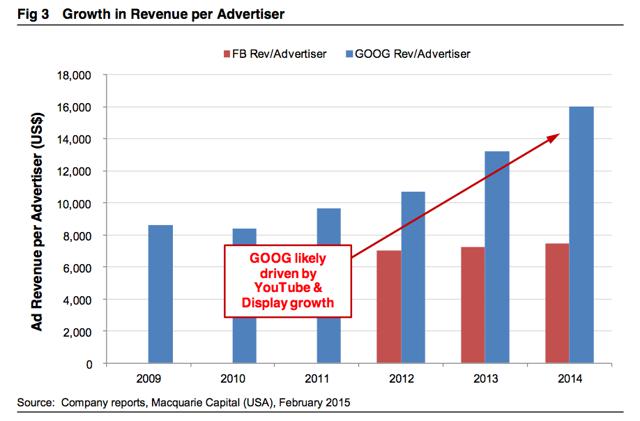 Paid News Subscription Is Still Unpopular
News media companies should trust the wisdom of Zuckerberg's ad-driven business model for news dissemination. Majority of people are still very reluctant to spend money to get their digital newspapers. The subscription model will eventually get reduced to niche status. Even the rich countries of the UK, Germany, and Japan have less than 7% of users who are willing to pay for digital news.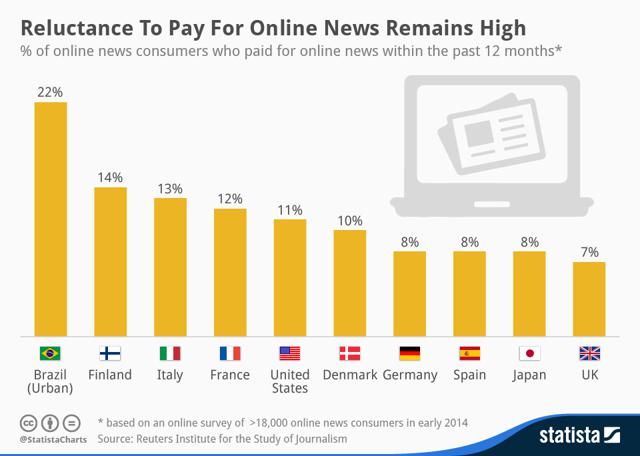 Majority of the young people (18-34 years old) in America are also not interested in paying for news. Young Americans are actually more likely to sign up for paid subscriptions to printed newspapers than digital ones.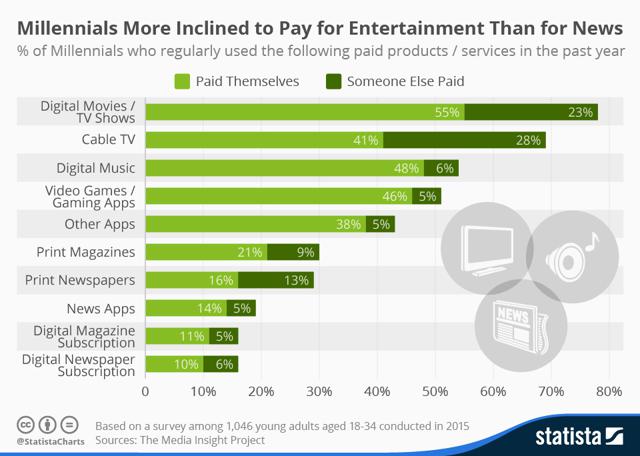 Conclusion
Facebook has the audience reach and advertising expertise to better monetize digital news content. The paid subscription model is a weak monetization method.
Recalcitrant news media organizations could suffer dire consequences if they do not comply with Zuckerberg's ad-driven vision for digital news distribution. Facebook could switch off the referral traffic pipeline of any news site.
Facebook is also rich enough to create its own news site. We should remember that Facebook has enough cash hoard to do anything it wants. Look at the chart below, Facebook could even easily afford to buy New York Times ($2.2 billion market cap).
Digital advertising is a competitive industry but Facebook cake-walked its way to a solid gold balance sheet with $11.2 billion cash.

The advertising-driven business model of Facebook is a very profitable venture. Facebook's gross margin on digital advertising could also help news sites improve their bottom line. Zuckerberg's team knows how to extort better deals from advertisers judging by Facebook's stellar gross margins.

Source: Vuru.co
I agree with the Buy recommendation for FB that 28 TipRanks analysts made. Facebook could become a multimedia empire that will not subjugate content publishers. But instead, Facebook could help content publishers like the New York Times make more money.
The bullish outlook of those 28 highly-paid analysts are also supported by Facebook's very favorable long-term technical indicators.