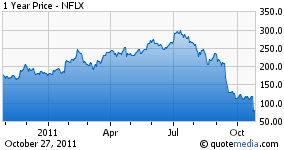 Netflix (NASDAQ:NFLX) has had a brutal quarter highlighted by management missteps and a plunging stock price. On October 27, 2011, NFLX closed at $80.86, down 73% from its July 13th closing high of $298.73. The NFLX bears have been proven correct in spades, although, some might argue a significant portion of the collapse was inflicted by management and not the underlying fundamentals. Nevertheless, it is better to be profitable for the wrong reason than unprofitable for any reason.
This decline has been marked by missteps and public relations disasters, which all began with a simple announcement. On July 12th, NFLX announced that it would separate its streaming business from its DVD business. Pricing for the individual services would be $7.99 each or $15.98 for both. This represented a significant price increase for subscribers wishing to retain both services. On September 18th, NFLX announced that it would spin off the DVD business into a separate unit to be called Qwikster. The following Monday, the 19th, NFLX stock dropped 7% and the next day it shed another 10%. In early October, the Qwikster debacle ended and the day after the stock crept up almost 5% to close at $113.62 per share.
In its Q3 shareholder letter, NFLX reported a net loss of 810,000 subscribers in the U.S. International subscribers were up 510,000. Global revenue was at $822 million, up 4% from the previous quarter and 49% from the previous year, and net income was at $62 million, down 9% from the previous quarter and up 63% from the previous year. NFLX ended Q3 with 21.4 million streaming and 13.9 million DVD subscribers.
Deeper into the shareholder letter, NFLX notes the gross addition of 4.7 million subscribers in the U.S. With closing subscribers of 23.8 million, which was down from the 24.6 million, shows that 5.5 million unique subscribers departed NFLX. In other words, 22.4% of all subscribers left the service in a single quarter. This compares to previous figures around 15%, suggesting that 7.4% of NFLX subscribers departed due to outrage over either the price increases or the announced company split. The table below shows the domestic subscriber history.
| | | | | | |
| --- | --- | --- | --- | --- | --- |
| Period End | Period End Total Subscribers (Millions) | Net New Subscribers (Millions) | Gross New Subscribers (Millions) | Lost Subscribers (Millions) | Lost / Starting |
| 3/31/2009 | 10.3 | 0.9 | 2.4 | 1.5 | 15.9% |
| 6/30/2009 | 10.6 | 0.3 | 1.9 | 1.6 | 16.0% |
| 9/30/2009 | 11.1 | 0.5 | 2.3 | 1.8 | 16.8% |
| 12/31/2009 | 12.3 | 1.2 | 2.8 | 1.6 | 14.8% |
| 3/31/2010 | 14.0 | 1.7 | 3.5 | 1.8 | 14.6% |
| 6/30/2010 | 15.0 | 1.0 | 3.1 | 2.0 | 14.5% |
| 9/30/2010 | 16.8 | 1.8 | 4.1 | 2.3 | 15.3% |
| 12/31/2010 | 19.5 | 2.7 | 5.1 | 2.4 | 14.5% |
| 3/31/2011 | 22.8 | 3.3 | 6.3 | 3.0 | 15.4% |
| 6/30/2011 | 24.6 | 1.8 | 5.3 | 3.5 | 15.5% |
| 9/30/2011 | 23.8 | -0.8 | 4.7 | 5.5 | 22.4% |
Source: NFLX SEC Filings, Author calculations. Gross subscribers appear towards the back of the 10-Q under the Marketing expense detail. Q3 results were in the shareholders letter.
In looking at the above table, the other observation is that the gross additions have declined for the second quarter in a row. Alienating your customers when more people are signing up is a completely different problem from alienating your customers when growth is slowing. In Q1, gross additions represented 32% of the starting customer base while in Q3 gross additions were just 19% of the starting customer base.
NFLX has been an enthusiastic buyer of its own stock/ However, Q3 was down slightly with just $39.6 million in buybacks at an average price of $218 per share. Unfortunately, those shares are now worth just $14.7 million. Worse still is that over the previous three quarters, NFLX purchased 899,847 shares at an average price of $222 per share meaning that NFLX has effectively lost $127 million on share buybacks already this year.
Perhaps the most alarming revelation in the 10-Q is that NFLX now has almost $3.5 billion in content obligations. This is up significantly from Q2 which was just $2.4 billion and $1.6 billion at the end of Q1 2011. While one would expect these figures to grow with a growing subscriber base and the general need to have more content to attract new subscribers, it creates the risk of a mismatch between revenues and payment obligations. In addition to the streaming content obligations, NFLX had $270 million of "other purchase obligations." I had previously done an analysis here that would still be valid, but probably more alarming since NFLX book equity is just $388 million and $1,962 for assets, giving a simple leverage of about 5x, which is up from 4x earlier. Furthermore, this leverage excludes the adjustment for streaming content obligations.
Without a question, NFLX has had a challenging quarter. The net reduction in subscribers was a first in a long time, if ever, and worse still NFLX guided to even fewer domestic subscribers at both domestic services for the end of 2011. One question that only NFLX knows internally is how many customers left when. If the defections began in late September (customers being more annoyed by a split service than a slightly (dollar basis) higher price), these defections might continue in Q4 results. However, they might reverse given NFLX's decision to not maintain a split company. But in any case, a lost customer might not return.
While many customers enjoy the service and the stock has plunged, I'm quite dubious if NFLX is a buy. However, I am not as bearish as I used to be. More boldly though, I would entertain the notion that NFLX is at a slight risk of bankruptcy. Prior to its missteps, I simply viewed the company as overvalued. However, if NFLX fails to grow its subscriber base due to its significant streaming content obligations, it could find itself trapped in a vicious cycle. The fundamental challenge with a streaming business instead of a DVD business is that NFLX has to enter into contracts to secure content into the future as opposed to simply buying DVDs in the present. This requires NFLX to estimate what subscriber growth will look like well into the future. NFLX clearly did not expect the current subscriber situation to occur, which means they might be overextended.
Right now, I'm wondering if Reed Hastings is wishing he had not repurchased so much NFLX stock with the company's cash.
Disclosure: I have no positions in any stocks mentioned, and no plans to initiate any positions within the next 72 hours.
Additional disclosure: Disclaimer: This article is for informational and educational purposes only and shall not be construed to constitute investment advice. Nothing contained herein shall constitute a solicitation, recommendation or endorsement to buy or sell any security.