After a $10.81 close on March 9, 2015, Energous Corp. (NASDAQ:WATT), a provider of the wire-free charging technology called WattUp, reported its Fourth Quarter and Full Year 2014 Results, along with an extensive corporate update, which included news of the company's first development and licensing agreement with a "tier one consumer electronics company." Shares jumped in after-hours trading, and the stock opened on March 10 at $12, but have trailed off ever since.
When I first heard Energous' announcement regarding the licensing agreement, a transformational event for the three-year old company which went public at $6/share in March of 2014, I immediately thought that WATT shares might break out to new highs as a licensing deal with a "tier-one consumer electronics company" is the validation many institutional investors have been waiting for. Yet the stock is actually down since the news broke.
Here's the fundamental investment thesis, in the words of Energous President and CEO Steve Rizzone:
Energous represents, for the first time, a company that can truly deliver on the promise of wire-free power… We're talking about significant power, at a distance, with full mobility, all under software control.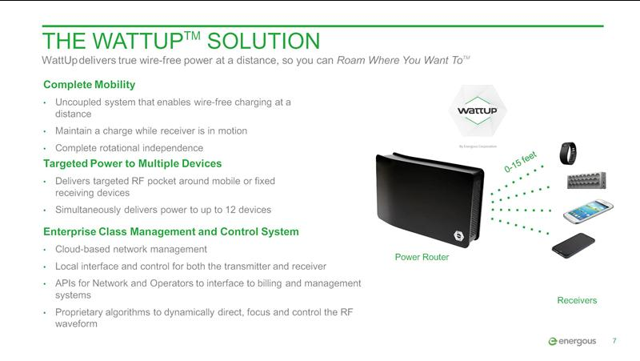 (Source: Energous corporate presentation)
WATT has been volatile since Energous, based in San Jose, California, completed a $20+ million secondary financing in December at $7/share led by Oppenheimer & Co. Shares peaked in the low $12s leading up to CES, which ran from January 6-9, where according to the quarterly earnings release,
The Company successfully met its long-standing objective of demonstrating WattUp™ wire-free charging fully integrated into several of its JDA partners' products.
Energous management met with over 100 existing or new potential partners in Las Vegas and won six awards, including two "Best of CES 2015" awards from Engadget: Best Innovation (Disruptive Tech) and Best (Connected) Home Product. Watch the CES demo video here.
As exciting as it was to beat the likes of Intel and Mercedes in the Engadget awards at CES, and to hear that the company has expanded its IP portfolio to over 125 patent applications, the announcement of Energous' first customer is the milestone many have been waiting for and should lead to broader investment appeal in the stock. From the release:
In January 2015, Energous signed a development and licensing agreement with a tier-one consumer electronics company to embed WattUp wire-free charging receiver technology in various products including, but not limited to mobile consumer electronics and related accessories. During the development phase and through first customer shipment of their first product, Energous will afford this customer an exclusive time to market advantage in the licensed product categories.

This development and licensing agreement contains both invention and development milestones that the Company will need to achieve during the next two years. The most challenging development milestones from Energous' point of view will occur by the end of 2015. Energous will receive milestone-based development payments.

If the Company moves into 2016 with this partner, the development payments are expected to be more than sufficient to cover the total development expenses required for this project.

This agreement will enable Energous to accelerate commercial development on a number of fronts with the company. If successful, this agreement also paves a very clear path to attaining critical mass in the market for WattUp wire-free power. With the goal of promoting the establishment of a wire-free charging ecosystem based on the WattUp technology, Energous and this partner plan to collaborate to introduce WattUp technology to potential partner companies including router and accessory manufacturers.
During the investor call (link to transcript; link to audio) following the quarterly announcement, Rizzone elaborated on the relationship. He said,
The agreement is to jointly develop and to embed WattUp wire-free charging capabilities into our new partners' consumer products. Before we get into the specifics of what we can say, I want to make sure everyone understands the confidential nature of this relationship. We cannot name the company. And we cannot provide any real details of the agreement other than to say that it is a joint development agreement that involves both NRE and the potential of licensing fees, assuming the WattUp technology is successfully integrated into the company's consumer products.
NRE refers to the one-time costs associated with research, development, design and testing of a new product.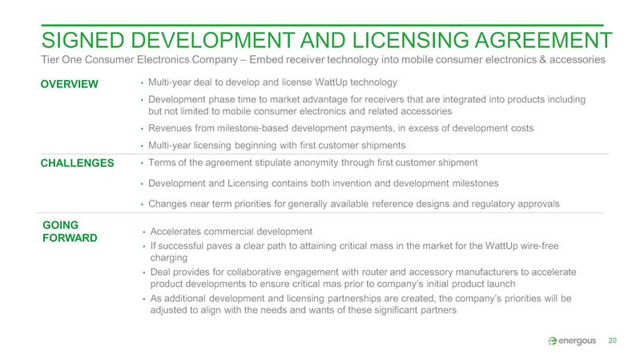 (Source: Energous corporate presentation)
While the partner cannot be publicly named, Rizzone and SVP of Sales and Marketing, George Holmes, confirmed it is a "top 10" player in the consumer electronics industry. Holmes stated during the call that the company is centered around,
Mobile consumer electronics and their related accessories.
A day later, during the company's presentation at the ROTH Capital conference, management once again expressed the focus of the deal around embedding "receivers" in mobile products and accessories, and that they intend to have multiple partners on the "transmitter" side. They also indicated there would be a "domestic" roll-out.
I was able to find a couple of "top 10" lists (see here and here), and the names include: Apple (AAPL), Hewlett-Packard (HPQ), Hitachi (OTCPK:HTHIY), Intel (INTC), IBM (IBM), LG, Microsoft (MSFT), Nokia (NOK), Panasonic (OTCPK:PCRFY), Royal Philips N.V (PHG), Samsung (OTCPK:SSNLF), Sharp (OTCPK:SHCAY), Sony (SNE), and Toshiba (OTCPK:TOSBF).
Of the 14 companies on the list, only Apple, Samsung, LG and Microsoft, which acquired Nokia's devices business in 2014, would fit the mobile-centric nature of the agreement, as I understand it. And taking it a step further, there are really only two names that accomplish management's stated goal of WattUp becoming ubiquitous: Apple and Samsung, who are the dominant market leaders in smartphones. If you listen to call after call after call, you'll hear Rizzone articulate Energous' vision around ubiquity:
May 14, 2014 - Rizzone:
We want and expect WattUp to become a ubiquitous solution.
August 12, 2014 - Rizzone:
Energous and its WattUp technology clearly has the potential to be a ubiquitous solution along the lines of Wi-Fi.
November 12, 2014 - Rizzone:
…We want to maintain our position of market leadership and capitalize on these opportunities and establish a very, very broad-based acceptance leading to our objective of a ubiquitous solution.
March 9, 2015 - Rizzone:
The timing is right for Energous and it's truly wire-free, power at a distance technology. It is our belief and the belief of our partners that once the consumer becomes aware of the utility WattUp-enabled products bring to the mobile market… adoption will be swift and the path to ubiquity will be accelerated.
I'll tell you why I believe Energous' first partner is Apple:
1) Apple needs a wire-free charging solution.
Critics are hammering the company about the Apple Watch, which releases April 24. One article, "The Apple Watch Looks Great - But It's Going To Disappoint Lots Of Users," said it has "Fundamental issues - like battery life…" Charging devices such as the "Nomad Pod" are popping up, aiming to tackle the short battery life problem. Engadget's Steven Sande, in a review during CES of WattUp, wrote,
I, for one, would love to use a system like this for constant trickle charging of an Apple Watch.
I specifically asked Rizzone during the Q4 call about opportunities for WattUp in the Apple Watch, and he said,
Well, I think the only comment that we would make is that the power solutions that they continue to advocate still don't solve the fundamental problem with the watches - with all wearables - and that's the requirement to charge frequently and to remove the device from your person while it's being charged. And... that's why we see this as a long-term significant market opportunity for the wire-free solutions that Energous brings to the market.
2) Apple is notoriously secretive.
Lisa Eadicicco stated in BusinessInsider,
Apple has a reputation for keeping its plans and projects under wraps - not only from the public, but from other employees in the company, too.
During the Q&A section of the March 9 call, Rizzone referred to the "very, very confidential agreement."
3) Apple must uphold its reputation for leadership in innovation.
Apple has led Boston Consulting Group's list of "Most Innovative Companies" for 10 consecutive years, and being the first company to offer true, wire-free charging in its products is consistent with that mission. According to Rizzone,
The agreement with our new strategic partner is a time-to-market advantage agreement… We've granted to our new strategic partner certain time-to-market advantages for certain product types, for certain category types of products.
4) The Foxconn connection.
One of Energous' JDA partners is Foxconn Interconnect Technology Limited, which is Apple's largest supplier, according to Forbes.com. Energous announced the Foxconn deal on January 5, 2015, and on March 9, announced it had signed the development and licensing agreement back in January. I don't think it's just a coincidence. Also note that Samsung has its own manufacturing facilities and does not contract manufacture with Foxconn.
5) Apple and Energous headquarters are only ~10 miles apart, simplifying collaboration.
I have been following Energous closely for the past two years, and Apple is my best educated guess at the partner. However, no one from the company will say a word. Rizzone and Holmes were tight-lipped when I met with them at ROTH, stressing that the competitive nature of the industry makes confidentiality essential.
But even if I'm wrong and the partner making development payments that are expected to be "more than sufficient to cover the total development expenses required for this project", is Samsung or one of the 12 other names I mentioned above, Energous has validated WattUp technology with one of the largest consumer electronics companies on the planet. That's a huge accomplishment.
That said, even if I'm right, partnerships with Apple aren't a guaranteed path to riches. Sometimes they go very wrong, as happened recently with GT Advanced Technologies (OTCPK:GTATQ), which had entered into a deal with Apple worth $578 million in 2013, according to TechCrunch, but Apple's aggressive business tactics forced the maker of sapphire material used for iPhone screens to cut a bad deal that led to its ultimate demise. GT Advanced Technologies filed for Chapter 11 bankruptcy protection on Oct. 6, 2014.
Rizzone's overall tone during both the investor call and ROTH presentation was generally upbeat, as one would expect from the CEO, however, he was honest about the pending risks related to the new partnership deal.
…While we will be receiving NRE payments this year in conjunction with the agreement, there is no guarantee that the WattUp technology will achieve final integration into the consumer-facing product.
Rizzone's caution is a critical warning. This licensing agreement - be it with Apple, Samsung, LG, Microsoft/Nokia, or one of the other 10 companies - is early and product development cycles take years. It may not be until the end of 2016 or even into 2017 before we see WattUp enabled smartphones and tablets. And even then, Energous may never be able to call out the customer by name. That's how this industry works - contract details are "Top Secret." But along with his warning of caution, Rizzone voiced some optimism.
While there is risk, this is obviously a very exciting relationship that has tremendous upside potential that could ultimately provide a clear path to gaining major market share and to generating meaningful licensing revenue for Energous.
In a Computerworld.com article posted on Oct. 27, 2014, Ryan Sanderson, an analyst with market research firm IHS said,
I see huge potential for [Energous' technology] as long as it can be proven to work... We're seeing a huge increase in wearables. And the key thing about wearables is that if you have to take them off every day, it becomes a pain. From a consumer point of view, that will be the one thing that makes or breaks that industry.
Competitive Landscape
Energous is not alone in the "wire-free" charging space, although company management insists it is the closest to commerciality in the "uncoupled" arena. It is also the best capitalized, having raised over $50 million to date, according to SEC filings, including a $1 million strategic investment from JDA partner Hanbit Electronics. During the Q&A segment of the investor call, Holmes said...
Currently today, all of the solutions that are available are still limited by the length of the power cord. Whether it be a tightly-coupled solution or a loosely-coupled solution, all of these solutions still are limited by the length of their power cord and really don't play in the same market segment that we participate in, which is totally uncoupled solutions that allow you to power your products at a distance.

As it relates to companies in our segment, we continue to keep an eye on the companies that are out there that have gotten funding of late, whether they be in the RF space or in the ultrasound segment, but those two companies do not really appear to be close to commercialization in the next two years.
According to TechCrunch, one competitor, Ossia, announced a $10 million round of funding in January,
[With participation from a] Strategic partner that could help accelerate its transition to wider availability and usefulness. Japan's KDDI, the country's second-largest wireless carrier, has participated in Ossia's recent $10 million raise, which will help Ossia spur the development of its Cota wireless power technology.
Another company, uBeam, raised $10 million in venture capital last fall with an impressive slate of Silicon Valley powerhouses including Upfront Ventures, Founders Fund, Andreessen Horowitz, CrunchFund, Ludlow Ventures, Marissa Mayer, Zappos co-founder Tony Hsieh, Troy Carter, Shawn Fanning and Mark Cuban. According to TechCrunch,
uBeam wants to enable users to charge their phones without plugging in, and they're looking to do that through the use of ultrasonic sound waves. Those waves can't be heard by human ears, but can be converted to energy through the technology that uBeam has developed. To start, the company is looking to offer up a consumer-facing product that would resemble any protective phone case, but have the side benefit of being able to charge a device while in range of a uBeam transmitter. Unlike Mophie battery packs, uBeam wants to make its product as light and unobtrusive as possible - there will be no big battery sitting on the back of its case.
Despite the roster of high-profile investors, not everyone is impressed with uBeam. An anonymous blogger known solely as "Danny" wrote a manifesto shortly after the company's financing announcement entitled, "How putting $10M into UBeam illustrates everything that is wrong with tech investing today."
Some additional competitive information from management's ROTH presentation may be of interest to investors following the Energous story. It is posted below: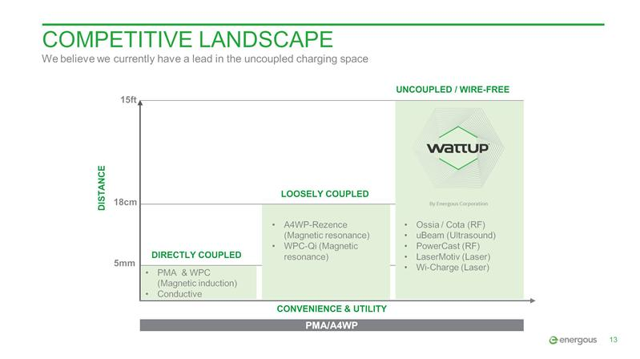 (Source: Energous corporate presentation)
Note that Energous has 15 other Joint Development Agreement (JDA) partners including Haier Wireless, Foxconn, Dialog Semiconductor, SK Telesys, Innovation First International (creators of the HEXBUG® brand), and various others. On that note, during the investor call, Holmes said,
Working to convert key JDA partners signed during the past year to development and licensing partners is a major priority. Our priorities are now pivoting on existing JDAs where we do have a green light to proceed. These include companies that are focused on transmitter and receiver technologies for products like the Internet of Things, cylindrical and packed batteries and gaming. We anticipate announcing additional licensing agreements in the balance of the year for these types of products.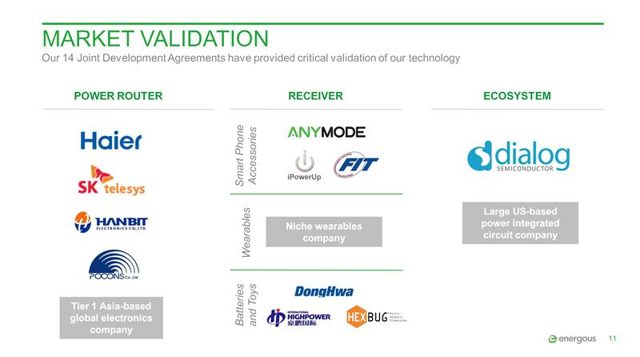 (Source: Energous corporate presentation)
Now that Energous has validated itself and its technology with a licensing agreement, I see a potential near-term catalyst for WATT shares coming from institutional coverage shining a light on the company's potential. Andrew Uerkwitz and Martin Yang of Oppenheimer initiated coverage on March 19, with an "Outperform" rating and $13 price target, stating,
We initiate coverage of WATT with an Outperform rating. We are believers in the next evolution of going wireless - with electricity. We also believe for broader adoption, consumers will want true wireless freedom, i.e. the ability to charge from long distances. Energeous is seeking to disrupt the wireless charging space with its RF-based, uncoupled, WattUp technology which has the ability to charge/power devices within a 15-foot radius. The potential market size (nearly any device that has a battery or small corded appliance) being so large combined with the long distance capability outweigh the risks associated with start-ups and the need for FCC approval.
I expect both ROTH Capital Partners, which acted as co-book runner in the December financing, and National Securities Corporation, a co-manager in the secondary, to follow suit with research coverage.
With approximately 13 million shares currently outstanding, Energous' market capitalization is roughly $130 million, which I believe is a 35-75% discount to the valuation it would fetch if the company was privately held and raising money through the traditional venture capital approach. Nasdaq.com reports the short interest in WATT shares has grown to 566,630 shares as of 3/13/15, more than double the number from 12/31/14, which is likely a factor in the stock's sluggish trading. Another possible contributor to the post-report sell-off was the company's $9 million in losses in Q4, up from $5.8 million in Q3 due to staffing up the engineering team and one-time charges associated with research and development, software development and marketing expenses primarily related to CES. I'm a cash-conscious Midwesterner at heart, and a $9 million spend in one quarter is eye-popping and cannot continue. However, I believe aggressive spending was necessary to make the splash Energous did at CES and to solidify a favorable agreement with its new tier-one partner. Rizzone assured me that the burn will be lower in coming quarters and the company's cash-on-hand will be sufficient to fund its operations into the 2nd quarter of 2016. I won't be surprised if they do another secondary offering toward the end of the year, though.
Finally, commercialization of WattUp technology must first pass the muster of the Federal Communications Commission, which was disclosed as a key "Risk Factor" in Energous' amended S-1 filed with the SEC on March 21, 2014:
Our remote charging technology involves the transmission of power using radio frequency (RF) energy waves, which are subject to regulation by the Federal Communications Commission (FCC), and may be subject to regulation by other federal, state and local agencies. We intend to design our technology so that it will operate in the 2.4/5.8 GHz radio frequency range, which is the same range as Wi-Fi routers and several other wireless consumer electronics. For those types of products, the FCC grants what is known as Part 15 approval if, among other things, the specific absorption rate is below certain thresholds. In addition, because our technology involves the transmission of power greater than the power threshold limits of Part 15, we also expect to need to obtain FCC Part 18 approval. To our knowledge, the transmission of power using RF energy waves by a consumer product at the ranges we are proposing is novel and there can be no assurance that we will be able to obtain this FCC approval or that other governmental approvals will not be required. Our efforts to achieve required governmental approvals could be costly and time consuming and if we are unable to receive any such required approvals in a timely and cost-efficient manner, our business and operating results may be materially adversely affected.
Updating investors on the status of the regulatory situation, Holmes said,
A big positive, though, is that our partner is aggressively working with us on this front and will be involved in the FCC process on each product they launch and launch with us. To-date we have received no showstoppers to stand between us and complete certification in 2015.
Conclusion
As I said last June when I first covered Energous on Seeking Alpha, "a wire-free charging future nears," and that prognostication is more evident than ever following the company's achievement of securing its first development and licensing agreement with a "tier one consumer electronics company." Admittedly, I thought WATT shares would be higher than ~$10 by now, given the milestones the company has reached in the nine months since my initial article. After all, as Rizzone remarked during the investor call,
We continue to say what we're going to do and do it.
So, I'm inclined to believe him when he concluded that,
We intend to fully capitalize on this great opportunity before us with the end objective of a ubiquitous WattUp solution as prevalent as Wi-Fi.
I recommend that aggressive investors with the appropriate tolerance for risk use the recent sell-off to your advantage and build a position in Energous Corp. It could very well be Silicon Valley's next unicorn.
Editor's Note: This article discusses one or more securities that do not trade on a major U.S. exchange. Please be aware of the risks associated with these stocks.