John B. Sanfilippo & Son, Inc. (NASDAQ:JBSS) has been aggressively making changes to its business that we expect to have a material positive impact on shareholder value.
In the early part of the last decade, Sanfilippo's gross margins were consistently above 15 percent. In the late 1990s and early 2000s, the U.S. consumer embraced the low carbohydrate or "Atkins" diet. A 2003 study found that in February of that year "about 1 percent of the population said they were on a low-carb, high-protein diet. Six months later that number tripled; it went from about 3 million people to 11 million people." Because nuts have low carbohydrate and high protein content, the demand for all nuts grew very rapidly and U.S. nut producers, processors, and marketers such as Sanfilippo benefited handsomely. U.S. nut processors and marketers were hit shortly afterwards with increasing nut prices due to growing nut demand in emerging markets such as China. After China's accession to the World Trade Organization in 2001, the country began to reduce trade barriers on many imported nut products. The pecan market illustrates this trend very well. Five years ago, China bought very few pecans from the U.S; by 2009, it bought one quarter of the entire U.S. crop. (Supply of pecans is fixed in the short term, as it can take up to 10 years to fully develop a new tree.) With a finite supply and rapidly growing demand, pecan prices have gone up by more than 50 percent since 2005.
(Click charts to expand)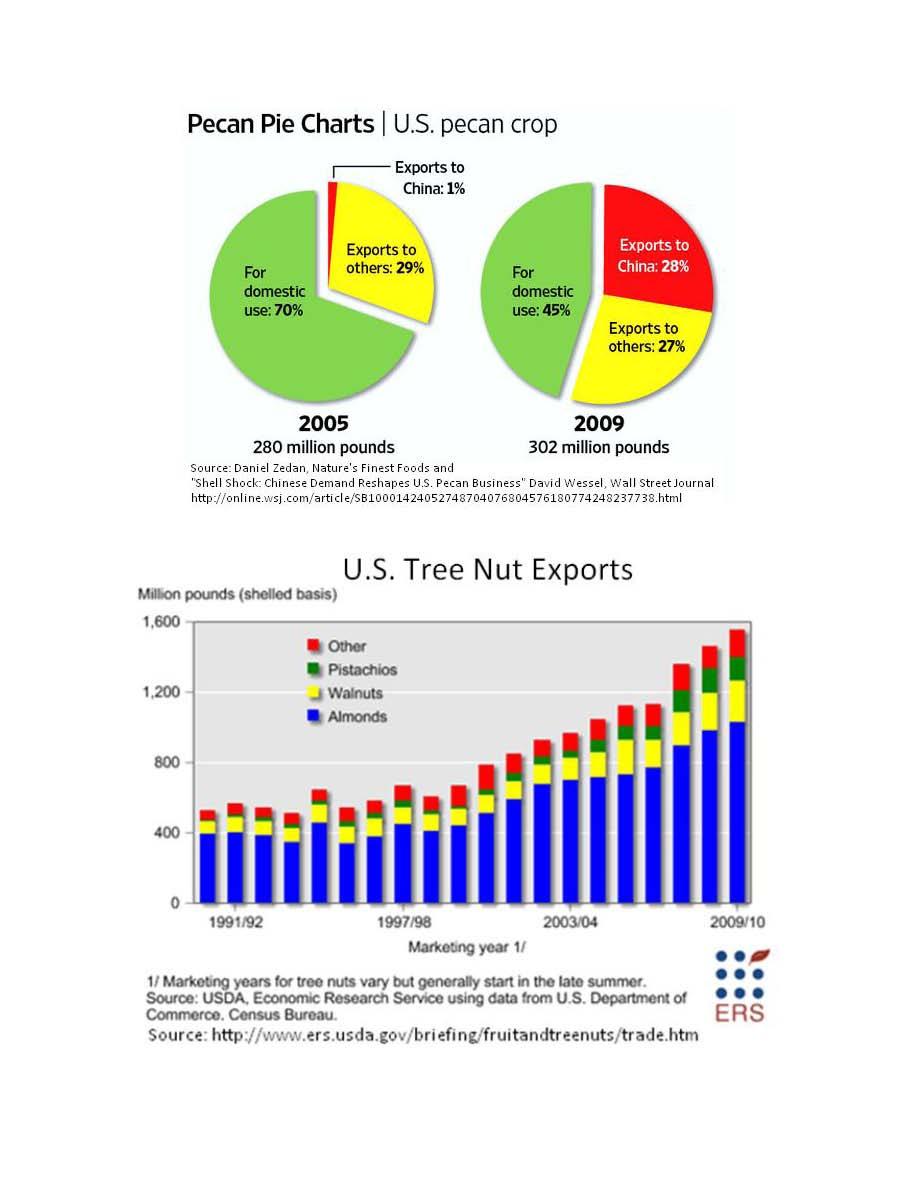 Consequently, this has made it more difficult to sell nuts to price sensitive American consumers. Since 2005, Sanfilippo has seen its production volumes, excluding acquisitions, decrease each year except 2010 due to the consolidation of production facilities and the rationalization of SKUs, which has lead to a more focused strategy aimed at selling to the most loyal nut consumers. The following graph illustrates the relationship between nut prices and Sanfilippo's gross margin.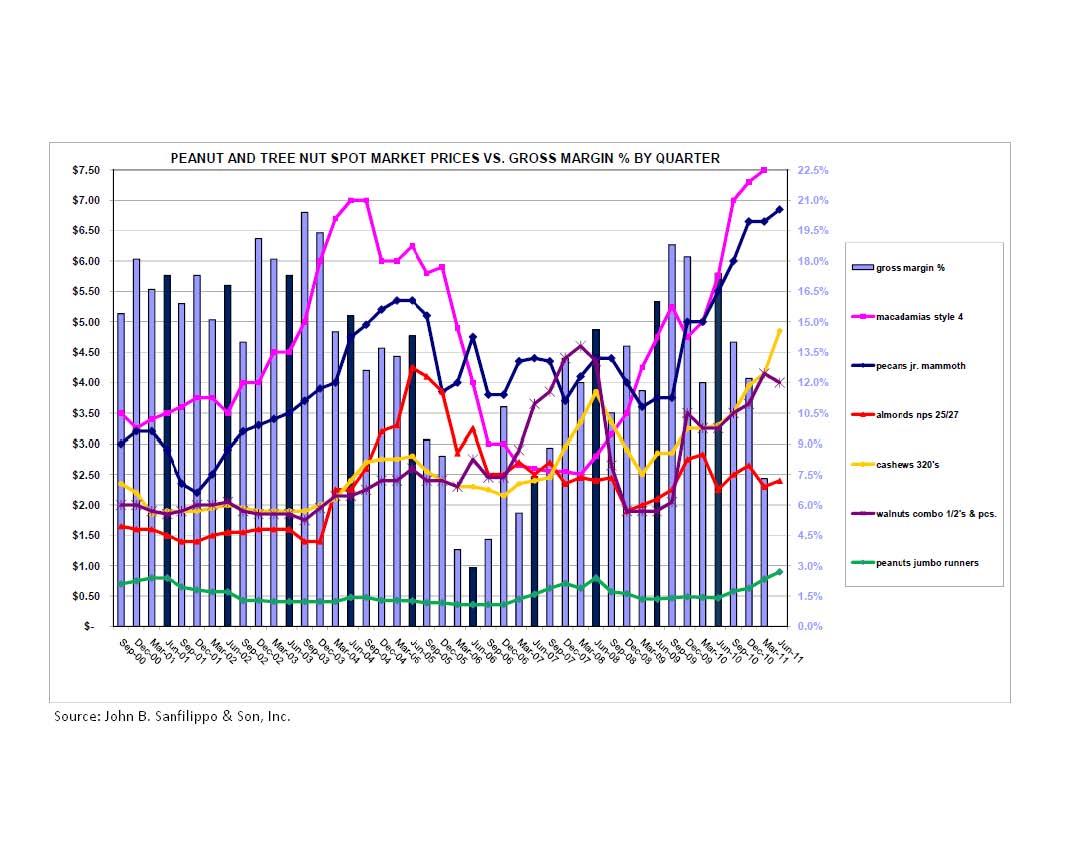 Sanfilippo's recent strategy provides shareholders with an interesting opportunity.
As of September 20, 2011, Sanfilippo, which sells Fisher and Orchard Valley Harvest branded products, had a market capitalization of approximately $85 million with a corresponding price-to-book ratio of .45 and price-to-sales ratio of .12 - arguably very cheap.
Sanfilippo has made significant capital expenditures in new property, plants and equipment, and recently has hired world class personnel. It also has made strategic changes and an accretive acquisition.
From 2004 to 2007 the company spent more than $116 million to expand its capacity at a newly acquired facility in Elgin, IL., while closing four local area plants. Since 2007, it made approximately $82 million in additional capital expenditures. These combined investments resulted in roughly 30 percent greater production capacity.
The company's investment in human capital beginning in 2008 has been very impressive and on par with its facilities investment. In 2008 the company reorganized internally and created several senior leadership positions including VP Consumer Sales, Strategy, & Business Development; VP International Sales; VP Food Safety/Quality; VP Marketing, Innovation & Customer Solutions; and VP Consumer Sales. It also added one new board position.
In 2008, John B. Sanfilippo & Son, Inc. hired Jose Cabanin as VP International Sales. From 1999 to 2008, Mr. Cabanin led international sales at two large product sales companies.
Also in 2008, the company hired Brenda Cannon as VP of Food Safety/Quality. Ms. Cannon worked at Sugar Foods Corp. for 14 years and The Cheesecake Factory Bakeries for three years.
In May 2009, Robert J. Sarlls was brought in as VP Consumer Sales, Strategy, and Business Development to help build Sanfilippo into a highly competitive food and agribusiness company. Mr. Sarlls has extensive experience executing strategic mergers and acquisitions. He was previously employed at RBC Capital Markets. Additionally he has advised the private equity community on food service transactions. Mr. Sarlls spent eight years as a VP with Rabobank International where he focused on domestic and international M&A.
In October 2009, Sanfilippo hired Dr. Nathan Rucker as Director of Corporate Continuous Improvement, a new position within the company. Previously Dr. Rucker was a VP with the consulting firm Marsh & McLennan Companies.
In order to develop a better marketing campaign, lead product development, and drive consumer sales, in 2010 Sanfilippo hired Howard Brandeisky, VP Marketing, Innovation, & Customer Solutions, as well as Christopher Gardier, VP Consumer Sales. Mr. Brandeisky previously worked for Kraft Foods (KFT). He now leads marketing and innovation across all brands and channels. Mr. Gardier was previously VP of Retail Sales in the natural division at the Hain Celestial Group. He also worked for Pepperidge Farm, Frito-Lay, and Kraft Foods.
In 2010, microbiologist Robson Ehioba, PhD. was hired. Dr. Ehioba had worked at the Thomas J. Lipton Co, Abbott Nutrition, Campbell Soup Co (NYSE:CPB), and Mars, Inc. He now heads the development and implementation of food safety and microbiological programs.
Also in 2010, Sanfilippo hired Everett Dudley as the new Director of Innovation. Previously Mr. Dudley worked as the Director of Research and Sensory Evaluation for a Chicago-based food and beverage consultancy firm. He had also worked for PepsiCo (NYSE:PEP) and Kraft Foods (KFT). He now leads the development of new products and technologies.
Finally, in January of 2011, Sanfilippo added a new board position, which was filled by Ellen Taaffe. Ms. Taaffe is currently President of Smith-Dahmer Associates LLC, a custom market research firm catering to Fortune 500 clients. She has held senior executive marketing positions at Whirlpool Corporation, Royal Caribbean Cruises Limited, and PepsiCo, Inc.
Sanfilippo has beefed up its executive talent in order to execute a strategy that we believe will lead to increasing revenue and higher profit margins.
Selling branded nuts in the aisle of the grocery store may have worked well when commodity prices were low and consumers were willing to spend larger sums of money, but in today's competitive environment it is necessary to not only understand who purchases nuts but also why. Understanding this enables the company to sell products at premium prices. Sanfilippo has invested time and capital into understanding the demographics and motivations of different nut consumers. The company has hired consulting firms to study the difference not only between consumers across geographic regions, but also between consumers who purchase nuts in various parts of the store. The company is using its new talent to develop a national marketing strategy aimed at its diverse customer base. It is evident that Sanfilippo is allocating a finite resource (limited supply of nuts) to the highest margin customer. In 2008, 54.2 percent of Sanfilippo's sales were to the consumer market, as opposed to industrial, food service, contract or export. By fiscal year 2011, this had climbed to 61.5 percent.
Sanfilippo's acquisition of Orchard Valley Harvest, Inc. (OVH) in May 2010, gave the company a presence in the store perimeter produce section. There is currently not a company with a national footprint in the produce section. Having presence in the store perimeter allows Sanfilippo to target a new and different consumer and sell a wider range of products, often at higher margins. OVH has approximately 100 SKU's - fifteen to twenty "straight" fruit products, and 7 chocolate based products. In 2009 and 2008 OVH had gross profits of $11.6 million and $9.3 million on revenue of $59.3 million and $47.4 million with corresponding gross margins of 19.6 percent each year. This compared with Sanfilippo's gross margins of 16.5 percent and 13.1 percent in like periods. The OVH acquisition created an opportunity for Sanfilippo to launch a nationally recognized, branded product line to be sold in the grocery produce section. We believe it will do so.
Sanfilippo is a vertically integrated company that controls its product from grower to consumer. Its historic core competency is in procurement. We believe the company has better visibility of nut growing conditions and level of industry supply than any of its competitors. This enables Sanfilippo to react quickly to changes in market prices. Being vertically integrated gives Sanfilippo the ability to manage raw material inventory proactively. The following illustrates its integration: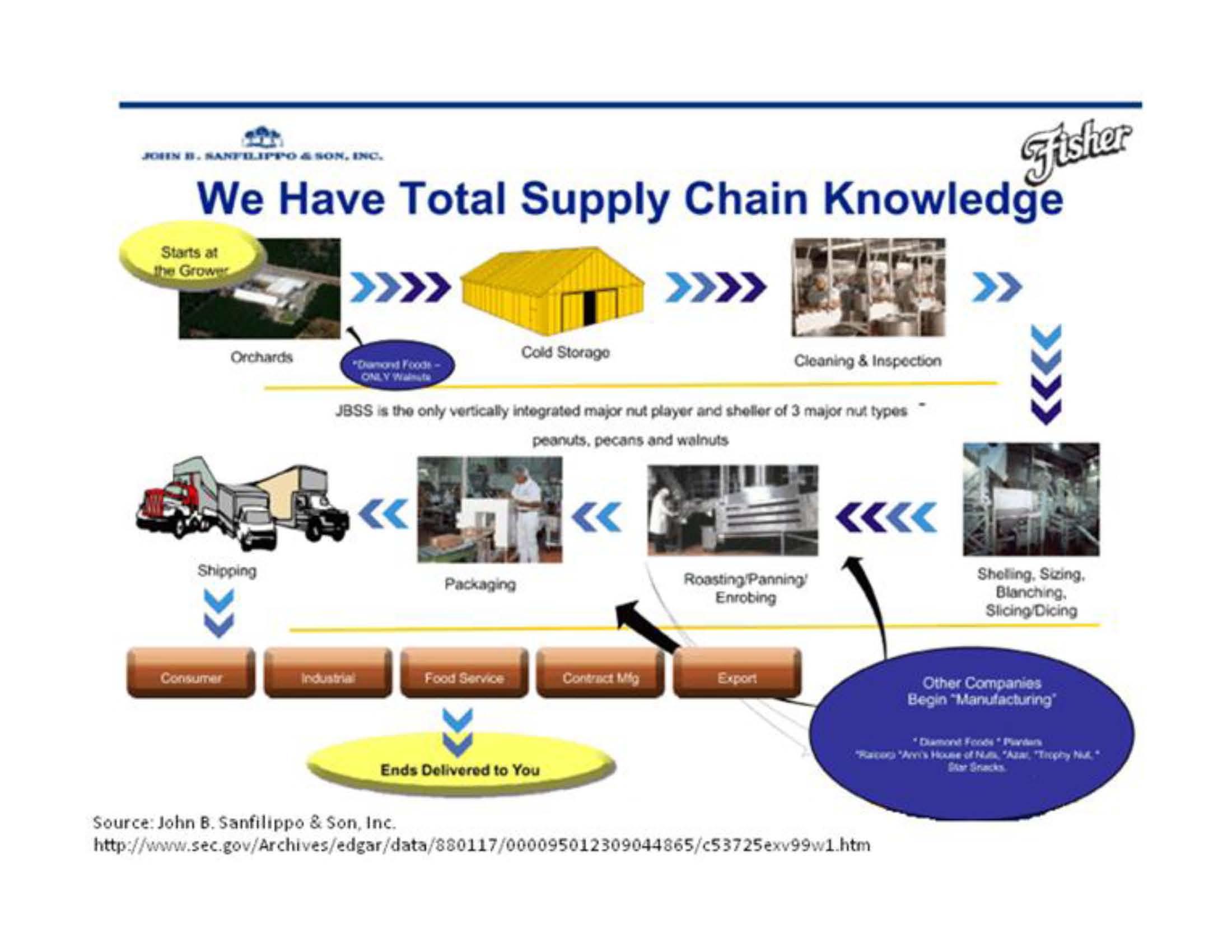 Assuming current raw material pricing represents a "new normal," consumers have shown that they are still willing to purchase nuts. U.S. per capita consumption (pdf) of nuts has risen steadily from 2.3 pounds in 1998 to 3.7 pounds in 2010. Moreover, the company has continued to make investments in valued brands, innovative products, talented personnel, and facilities upgrades, which we expect to lead to improved operating margins.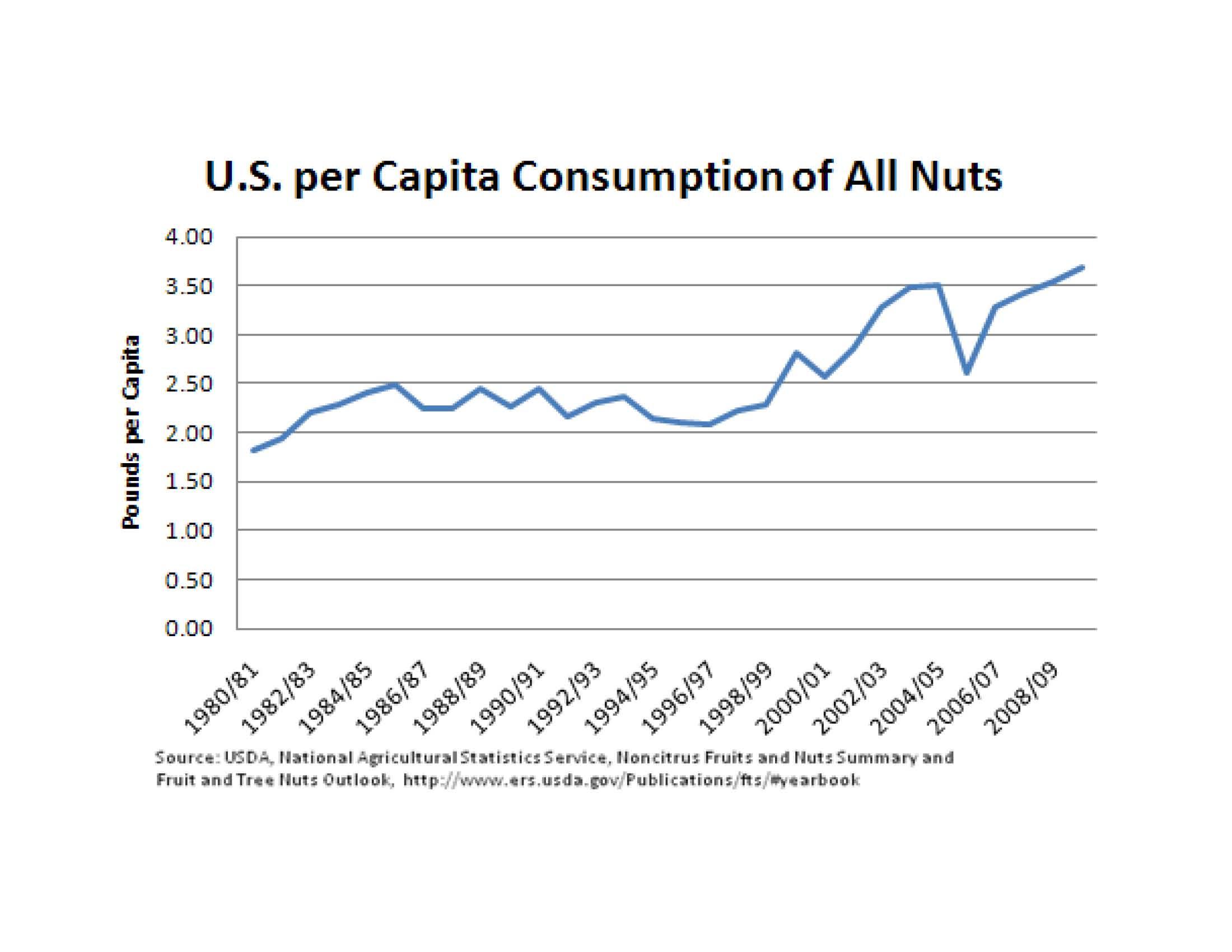 If Sanfilippo can achieve an 18 percent gross profit margin, then using trailing twelve month revenue of $674 million, it will realize $117 million in gross profit. Using last fiscal year's selling and administrative expenses of $68 million and the same interest and rental expenses of $6.4 million and $1.0 million as well as a 34 percent tax rate, Sanfilippo's estimated net income will be $27.5 million or $2.55 per share. In light of their substantial investments, JBSS is well positioned to realize significant future earnings and cash-flow growth.
These shares certainly merit a closer look while trading at just $8.50.
Disclosure: The security described in this article is owned by the contributor and clients of Milwaukee Private Wealth Management, Inc., an investment management firm owned by the contributor. Thus, the contributor has a financial interest in any future price increase of the security.