They say in the market, the rear view mirror is always clearer than the windshield. This has proven to be true time and time again because mistakes are often made, expectations sometimes fall short and then regret settles in. This is another way of saying that hindsight is 20/20. As investors, we have regrets all the time; there's always that one that got away. I guess you can say it comes with the territory. In fact, show me an investor who has never regretted a trade and I will show you someone who has never invested his or her own money.
Feeling that you have sold or bought too soon or have bought or sold too late is as common as the air we breathe. Because each time a transaction takes place, someone loses in the trade. The fact of the matter is very seldom are there two winners at the same time – but there are always two lessons.
On Monday, we discussed the current status of my buy-sell recommendations so far this year in an article titled – My Portfolio: The Good, The Bad, The Ugly and the 'What Were You Thinking?' The goal was to highlight my hits and misses as well as try to understand why either a hit or a miss occurred. Admittedly, the first part of the article was (to me) extremely fun to write because it highlighted my good trades, in this piece however, I would have to think of it as more dubious because it caused me to question my qualifications as an investor.
July 7 Picks
Click to enlarge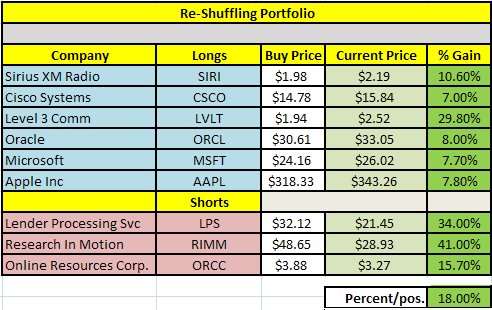 Just to recap from part 1 of this article, my "good" has been Apple (NASDAQ:AAPL), Cisco (NASDAQ:CSCO), LPS (NYSE:LPS), Microsoft (NASDAQ:MSFT) and Online Resources Corp. (NASDAQ:ORCC) which have netted me an average of 30% since my July 7 recommendation. These gains have more than made up for what follows.
The Bad
Sirius XM – Down 9%
The ones that made this list could also qualify as the "not so good" but what would be the fun in that? First on the list is Sirius XM (NASDAQ:SIRI). My recent article that suggests investors and authors alike should focus more on what the company is and less on what it isn't has apparently caused quite a stir, one that prompted contributors Rocco Pendola and Crunching Numbers to engage in some heated discussions. The company itself continues to perform exceptionally well, the stock however has been a disappointment and I think all Sirius investors will consider this assessment to be more than fair.
We know that I have categorized this trade as having been "bad," but it is hard to pinpoint exactly the extent of my "miss" with Sirius. On July 7, as noted in the above chart I became extremely bullish on the stock for what I then described as having been sufficiently consolidated after its recent earnings spike. If we consider that the buy-in price was at $1.98 as indicated in the table above, with the current price being $1.80, then the trade only netted a 9% loss. But we know that is not the case.
I love making predictions, some of which have been spot on and others have (let's just say) missed the mark. But that has not stopped me from seeing the positives that continue to lie ahead, a lot of which has had to do with what I see with the company to be improving fundamentals on all metrics. But considering that I expected the stock to hit $2.90 by the end of the year and seeing that it recently dropped to $1.27, I have no choice but to eat my humble pie, something that have caused me to leave the predictions on the shelf for a while. Though the "technical 9% net" seems uneventful, when coupled with the $2.90 prediction it is fair to say that the net loss is really closer to 40%. More humble pie!
Level 3 Communications – Down 21%
Speaking of bad predictions, as with Sirius, Level 3 (NASDAQ:LVLT) would also fit that category. I sold out of the stock with at a price of $1.52 on October 3 for a loss of 21% just before its recent 1:15 stock split. I always advocate being patient with investments, but this one really snuck up and bit me in the "you know where."
My mistake for Level 3 was that I hung on to the stock much longer than I should have even though I was extremely disappointed upon learning that the company reported a loss of $181 million, or 11 cents a share in its most recent announcement. This was compared to only a loss of $169 million, or 10 cents a share in the year-ago period. That should have been my signal to curb my enthusiasm about the stock. I think it had to do with some of the positives that were also included in the report.
The company reported continued core network services revenue growth as well as consolidated revenue of $932 million. Its network services revenue growth was 2% sequentially and 6% year-over-year while consolidated adjusted EBITDA increased to $226 million, or $234 million excluding costs associated with the Global Crossing transaction which eventually was successful.
The Ugly
Research In Motion - Down 18%
Last on the ugly list is none other than RIMM. It is hard to describe why RIM fits this category. Well, not really if you are assessing it from the standpoint of the current stock price. But (for me) it has been a case of miss-timed optimism which preceded some of what I would concede to be on-target analysis.
After successfully beating up the company for what then spanned two quarters, I decided to go long the stock for what I then perceived to be tremendous value and the suggested that the stock would likely reach $50. I found immediately how misguided optimism is a recipe for disaster.
During its most recent announcement, the company reported more numbers that disappointed the Street and the stock took a beating. I could not help but realize the gravity of its sequential poor performance. It was hard for me to imagine that this was the same company that once dominated the smart phone market and sent Palm to its grave. Now its own future is in doubt.
RIM reported second quarter net income that fell by almost 60% to $329 million, or 63 cents a share, a significant drop from $797 million, or $1.46 a share, in the same quarter a year ago. Revenue also fell by 10% to $4.2 billion, much larger than what any analysts were expecting. There is really no other way to spin this except to admit that this was a poor showing of execution.
During the conference call, the company's co-CEO, Jim Balsille attributed the poor sales to the company's aging line of smart phones. This is even though the company recently introduced seven new phones, a number of which are only updates to older models. I have to say that this has been a huge disappointment, and that's putting it mildly. But the question now is, where does the company go from here and can it recover?
The "What Were You Thinking?"
Netflix - Down 41%
Though I never did establish a position in Netflix (NASDAQ:NFLX) nor did I really make a firm recommendation of any sort, I still feel that I deserve some responsibility for suggesting that it merit consideration. On September 20, after having received an email apology from CEO Reed Hastings, I published an article suggesting that investors should forgive the company for its transgressions.
In that article, I said the following:
At current prices, I can't ignore the belief that Netflix has been seriously oversold. Value investors should consider taking a long look at its current valuation while at the same time making sure that its subscriber losses are not a trend. The reality is that the company is now a long-term buy in my opinion, at least until Google (NASDAQ:GOOG) and Apple can become a dominant force in home streaming. So far that is not the case. Investors have to also consider that (just as with Sirius), a good percentage of Netflix' churn will be offset by higher subscription revenue. Although the company looks pretty downtrodden at the moment, it may be time to look at it from another angle.
Upon the article's publication, Netflix closed at $130. Today, after its recent earnings disaster, the stock trades at $76 and appears to be heading lower. So if you couple my "slight oversold consideration" with its current trading price, one can arrive at a net loss of 41% if the "other angle" was actually glanced upon. Today, this qualifies as the best trade that I never made and one that caused me to say to myself (while in dark places) "what were you thinking?"
Disclosure: I am long SIRI, CSCO, AAPL, ORCL, RIMM.