The stock market is at a crossroads today. Through 2015, I see a stock-picker's market developing because of the plans of the U.S. Federal Reserve, which should stymie stocks on average. That means the market tracking the SPDR S&P 500 Trust ETF (NYSE: NYSEARCA:SPY) has less gusto, and could continue to trade range-bound through 2015. However, that is every stock-picker's ideal environment, where broader market concerns place their best ideas on sale.
The issue limiting S&P 500 upside is the weight of the Fed's monetary policy plans for this year. Stocks have a block against them as the market anticipates the first Fed rate hike this year, which in my opinion will come in September after the dollar has backed off some from the euro. The specter of rising interest rates and the coming increase in the cost of capital to American corporations makes the road ahead a harder go for companies. Returns must improve to overcome the rising cost of capital so that companies can generate the same level of economic value creation. If it gets harder for companies to create value, then the market value which reflects this will have a drag to it as well.
In the short-term, after breaching its 100-day moving average, the broader market could recover as it has in the past. However, further deterioration of the situation in Yemen or Greece could send stocks to test the 200-day average. While today's mark for the SPDR S&P 500 appears to offer good entry level if one believes these risks will abate, the full-2015 upside may be limited for the broader market, nonetheless.
The market is at a crossroads, and I believe investors are better off looking for individual stock ideas that are bearing systemic cost now, that they will later overcome as they report their earnings. Short-term profits may be easily attainable for day-traders from here, but long-term interests should seek out story stocks on sale in my opinion. I'll do my best to present some such ideas via future PRO submissions or publications to my blog, but recent picks of mine have included Facebook (NYSE: FB), Bank of America (NYSE: BAC), the Global X FTSE Greece 20 ETF (NYSE: GREK) and gold; each has its own company specific reasoning you can find at my column.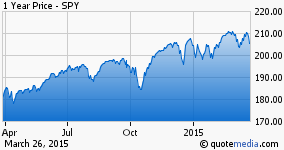 1-Year Chart of SPDR S&P 500 at Seeking Alpha
The SPDR S&P 500 is again retesting its 100-day moving average. It's a test the SPY has passed time and time again, but even so, recent rallies of the S&P 500 have been short-lived. The latest rally, post the Fed's dovish monetary policy statement, was stymied in my opinion by the specter of inflation stirred up through the recent Core CPI uptick. Today, Saudi Arabia's bombing of Yemen, with ground troops on the way, have stocks confirming the downturn. There's just another 2% of downside to the 200-day moving average for the SPY, but the market tracker does not seem to have the stomach for it given its stall today at the 100-day. It would take another surprise for stocks to sink further, which is entirely possible. Don't look for it in U.S. economic data though.
In my opinion we are starting to exit the dreary winter period, as I am starting to see green sprouts in fresh economic reports. More frequent consumer reports are showing something is developing. This week, Redbook's same-store sales measure showed an uptick in sales to 2.8% year-to-year. Bloomberg's Consumer Comfort Index, which is a weekly take on the consumer mood, spiked higher today. Tomorrow we get the Reuters/University of Michigan Consumer Sentiment measure, and economists expect an improvement to 92.1, from 91.2 at the start of March. Sentiment had declined all through the winter, but spring has sprung, and consumers are saving a significant amount of money on gasoline. You would expect the flow of good news I see coming to serve stocks, and it normally would, but news that is too good these days could spur the Fed into faster action.
Stocks are at a crossroads. Every reason they find to appreciate is short-lived because of the weight of the Fed. Yet, every decline to the historical trend lines draws capital from investors and supports the value of the market. Thus I say, let others make the market decision, and seek out individual names to best navigate this stock-picker's market. Fantastic stocks are being discounted by the market's concerns, and this offers investors an opportunity to benefit from broader market indecision. So, avoid the SPDR S&P 500 and other broader market investment vehicles, and instead seek out great individual stocks. I cover the SPY and the market regularly and invite interested parties to follow my column here at Seeking Alpha.