It's rare to find a monthly pay option-income closed-end fund (CEF) these days as most have either converted to quarterly pay or started out as quarterly pay. Generally speaking, monthly pay CEFs earn higher valuations than quarterly pay funds, so it's even rarer to find one trading so far below its Net Asset Value (NAV) with a NAV that has at least kept up with its Russell 1000 benchmark since inception. But that's where we find ourselves today with the Eaton Vance Enhanced Equity Income fund II (NYSE:EOS).
I've written a couple times on EOS and I am at a loss as to why this fund's market price has fallen so far out of favor when it used to be a fund that could quickly outperform the market and move to a premium. That seems to be ancient history however as so far this year EOS' discount has just become wider and wider and wider. In fact, EOS hasn't seen its current -14.3% discount this wide since the spring of 2009 when the markets were recovering from their bear market lows. Here is EOS' one-year premium/discount graph as investors continue to sell down EOS' market price even as its NAV performs well against its benchmark Russell 1000 index and CBOE buy/write indices.
Click to enlarge

Now two dividend cuts in 2010, the latest this past December which started the dramatic fall from a premium to a discount, probably has made investors nervous about another cut at some point. I don't think that's likely to happen any time soon. First, just about every option-income fund cut their dividends over the past few years, some up to four times, so EOS is not unique. The reason is because option-Income funds don't perform as well in a ramp-up, low volatility market like we saw during most of 2009 and 2010. As a result, most fund families were forced to rebalance their fund's distributions with their income. 2011 has shaped up to be a much better year for option-income funds as enhanced volatility and trading ranges have made their sell option strategy more effective.
The other reason why I don't think investors should have any concern about another dividend cut is because it is much easier for EOS to meet its distribution demands as its current $1.11 annualized distribution per share is significantly lower than its $1.73 per share a few years ago. At EOS' -14.3% discount, that translates to a generous market price yield of 10.6% though its NAV yield is a much more manageable 9.1% based on the $1.11 annual distribution and current $12.13 NAV. NAV yields are the true yield the fund is actually paying and any NAV yield over 12% is in danger of a distribution cut, in my opinion. Just so investors understand, most of these funds came public 5-7 years ago at roughly 9% inception yields, and this when interest rates were quite a bit higher so funds that are able to maintain 10%-plus yields in a zero interest rate environment are very attractive, particularly the monthly pay funds.
EOS needs to generate about $4.5 million per month to meet its $0.0922 per share monthly distribution on 48.5 million shares outstanding. EOS' income comes mostly from option premium sold on individual stock positions in the funds portfolio but it can also come from investment income as well as portfolio appreciation. EOS sells a relatively low 47% option coverage on its portfolio, meaning the fund can capture a lot of market upside in a strong market environment. Some quick math from EOS' latest Semi-Annual report as of June 30, 2011, shows that EOS had received $7.6 million in option premiums from July and August expirations. What this means is that even though EOS sells options on only 47% of its fund's notional value, it can still roughly meet its distribution demands on a month to month basis if the options expired worthless. This generally doesn't happen every month so often EOS will often pay part of its distributions from unrealized portfolio appreciation which results in a high percentage of Return of Capital (ROC) in its distributions. This does not necessarily mean that EOS is not "earning" its distribution however and in fact, many CEFs rely on portfolio appreciation (unrealized or realized) to help pay for their distributions.
Now EOS' NAV performance since inception has been good but not outstanding. It recently lagged its benchmark average, the Russell 1000 growth index (represented by the iShares Russell 1000 ETF ticker IWB) though it has outperformed its correlated CBOE buy/write S&P 500 and Nasdaq indexes this year. Generally, option-income funds will hold up much better in flat to down markets and can even outperform in up markets if there is enhanced volatility and markets stay in a trading range. As you can see in the following table, EOS' NAV holds up much better during difficult market periods but will lag in strong up periods. The table shows quarterly performances of EOS since inception on January 26th, 2005, compared to the Russell 1000 (NYSEARCA:IWB) with all dividends and distributions simply added back, i.e. not reinvested.
Click to enlarge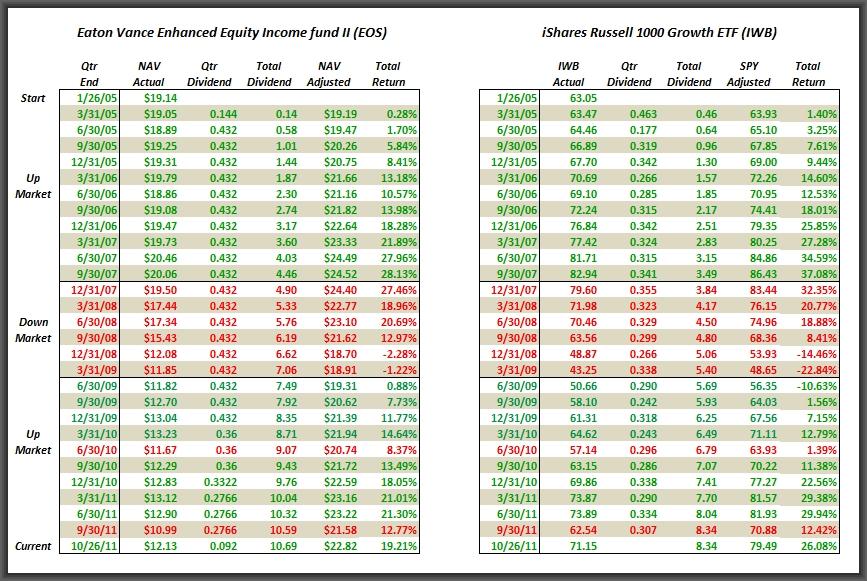 EOS is a solid fund for defensive minded investors looking for monthly income as well as a deep discount that assumes a lot more bad news than this fund is currently reflecting, in my opinion. With its top holdings mimicking the Russell 1000, EOS' portfolio of about 160 growth stocks includes the following top 10 as of August 31, 2011:
It should be noted that EOS has a significantly higher percentage of Apple in its portfolio at 6.5% than the Russell 1000 at 2.8% and this may be accounting for EOS' recent NAV underperformance as Apple has been underperforming the Russell 1000 as a whole recently. Still, up until a few months ago, EOS was outperforming the Russell 1000 YTD and if EOS can just maintain pace with its benchmark index, it will outperform its true benchmarks, the CBOE S&P 500 and Nasdaq buy/write indicies and I believe, begin to narrow its historically wide discount from such depressed levels.
Disclosure: I am long EOS.