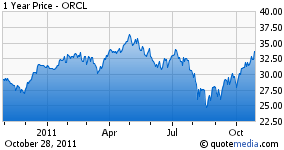 Database giant Oracle (NYSE:ORCL) always had what I consider "routine success." Unlike some of the prominent tech companies over the past two decades, such as Microsoft (NASDAQ:MSFT) or even Adobe (NASDAQ:ADBE), Oracle has continued to discover innovative ways to remain at the top of the technology heap by focusing on what it does well. Its ability to be forward looking has caused it to set its sights not only on virtualization but also cloud computing technologies, which is (in my opinion) the future of computing services.
As it did with its Sun Microsystems acquisition last year; one that has proven to be extremely fruitful, Oracle once again went on the offense. This time it has acquired RightNow CX (NASDAQ:RNOW), the customer experience suite designed to help organizations deliver exceptional customer experiences across the web, social networks and contact centers, all delivered via the cloud. RightNow has more than 10 billion customer interactions and nearly 2,000 clients around the globe.
The deal announced Monday is said to be for $43.00 per share or approximately $1.5 billion net of RightNow's cash and debt. According to the press release, it stated:
"Oracle is moving aggressively to offer customers a full range of Cloud Solutions including sales force automation, human resources, talent management, social networking, databases and Java as part of the Oracle Public Cloud," said Thomas Kurian, Executive Vice President, Oracle Development. "RightNow's leading customer service cloud is a very important addition to Oracle's Public Cloud."
"RightNow's products add leading customer experience capabilities that help empower companies to interact with and provide a consistent experience to customers across channels," said Greg Gianforte, CEO and founder, RightNow. "We look forward to combining our complementary capabilities along with maintaining and expanding our presence in Bozeman, Montana, in order to better service our customers."
Initially I questioned the merits of this deal but then I studied it a bit closer and realized that for Oracle, it makes perfect sense. I first learned of RightNow when Sirius XM (NASDAQ:SIRI) announced in mid July that it had signed an agreement with the firm to help it with its customer care experience, a known deficiency with Sirius. During the announcement, Sirius' Chief Service Officer Joe Zarella described it this way:
"Delivering even better experiences across all customer interactions is critical to achieving our goals of increasing customer retention and driving incremental revenue opportunities. We are pleased to employ RightNow as part of our customer experience initiative."
I felt if companies such as Sirius XM were taking notice of RighNow's value of delivery, then it is a company worth exploring. In Oracle's case, it felt RighNow was a company worth acquiring for no other reason other than the fact that it helps better position the company in its race for the cloud with the likes of Cisco (NASDAQ:CSCO), SAP (NYSE:SAP), Hewlett-Packard (NYSE:HPQ) and of course Salesforce.com (NYSE:CRM).
By paying $43 per share in the all cash deal, Oracle is paying only a 20% premium above RightNow's recent closing price as of the announcement; which comes to a deal valued at roughly 1.5 billion. When one considers its current net cash position of $16 billion and its $5 billion of free cash flow, it is hard to assess this transaction as an enormous deal, speaking only on its cash value, not potential.
This deal along with its purchase of Sun Microsystems, it is clear that the company now has its sights set strategically to be a "one stop shop" for clients. It wants to provide customers with mission-critical solutions that integrate easily and rapidly and can also span both hardware and software. As I have said previously, I was mildly angered when the company first announced the Sun deal, but it has proven to be one of the best decisions that it has ever made. Acquiring RightNow will prove equally beneficial if not more.
Summary
Clearly Oracle remains ahead in the race. It will be interesting to see what other M&A speculation surfaces as a result of this deal. I know for certain that Hewlett-Packard, Microsoft and IBM (NYSE:IBM) are paying attention. By the recent run of the stock, it would suggest that investors are also keeping a watchful eye. Since August 19 the stock has risen 36% with no clear signs of slowing down. This is why I have always maintained that Oracle is the one stock that every value investor should own.
Disclosure: I am long SIRI, ORCL, CSCO.