It's been slow coming. After a rare quadruple bottom, the U.S. stock market has risen this month (October, no less!) amidst continuing angst and warnings. The whisper economic reports ("psst… they're actually looking better") remained out of the spotlight as Europe, politics and other negative "stuff" was tossed about as proof that we were not out of the woods.
Then came Thursday's U.S. stock market sharp rise. Although the reasoning is that Europe's problems appear solved, the gains contain much more information than that.
Signs of the stock market's newfound strength
The move launched from an already rising market (up 10% in 3+ weeks). Stocks across the board pierced resistance barriers and 200-day averages on increased volume, a sign of broad-based buying and short covering.
The following table shows the strength within the market's rise.
(Click charts to enlarge)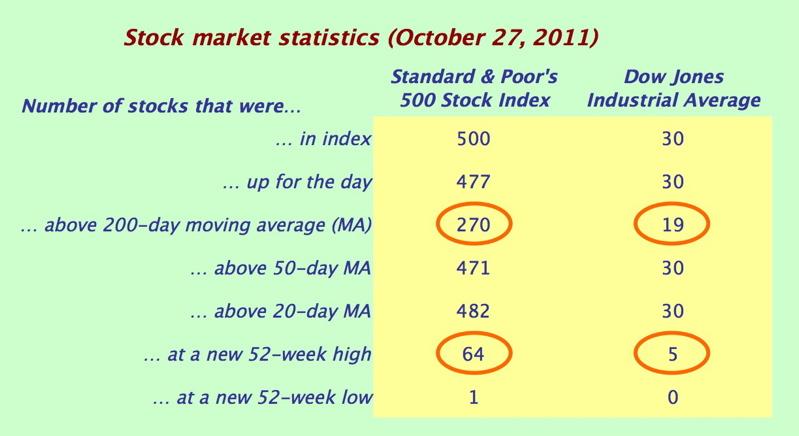 (Data source: Financial Vizualizations -- FinViz.com)
Note the two sets of circles. The number of stocks now above their 200-day moving averages is a good measure of how far many stocks have risen. Ditto for the number now making new 52-week highs. These are signs of more than a market bouncing off a bottom.
Today's strength from important sectors
What should we expect if this is a real bull market, built on forecasts of real economic growth? Certainly basic materials and industrial goods stocks (all possessing high levels of operating leverage) should be showing leadership. That's what has been occurring in this market's rise (both lead, up 20+% over the past month). Thursday's burst had them leading again, with an exception: Financials were #1.
The financial sector should show strength for two reasons: (1) economic growth spurs lending and other financial activities, and (2) the financial sector has had its large, special problems that are being rectified. Thursday's 8% rise was likely a combination of the European good news along with a delayed realization of real progress among higher quality companies. The three top Wall Street financials that I recently discussed scored significant gains:
As the chart below shows, these gains built on top of the rises this month to date.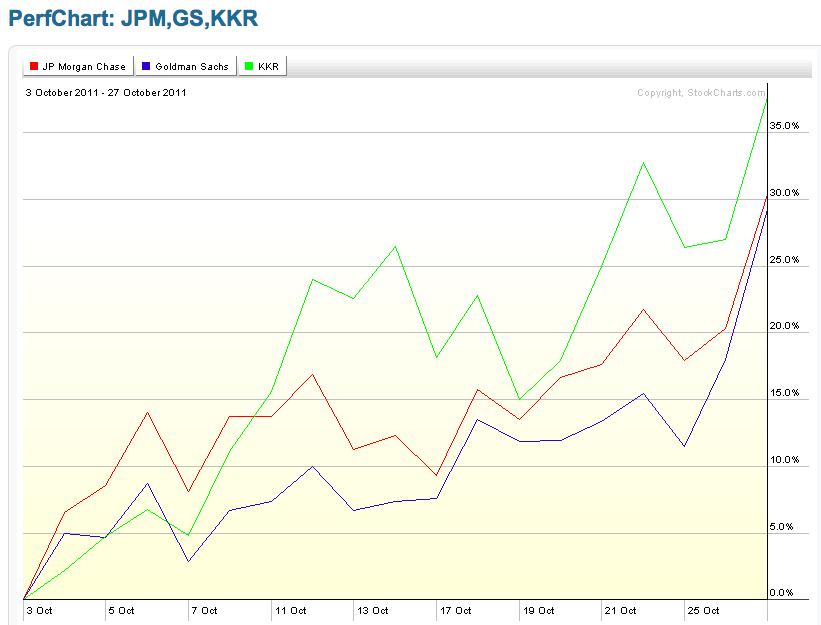 (Stock charts courtesy of StockCharts.com)
Coming driver for further rise?
Thursday's rise, on top of the recent market climb, could be the catalyst that finally ignites the driver of bull markets: Individual investor interest. Investor psychology reached an especially negative point around the end of September, but that is not a long-term, sustainable position. Any positive glimmers, or even normality, could break the gloom. If it does, there is a lot of catch-up and adjustment to be done, from underweighted stock allocations to overly cautious holdings.
An example of the latter group is investors in buy-write programs. They are suffering a double whammy: The loss of their stock holdings at now cheap prices plus the loss of their once-higher dividend yields. Ironically, this supposed risk protection strategy is now exposed as a double risk proposition – triple, if you count the return of cash in this near-zero yield environment.
The bottom line
Thursday, October 27, could be a day to remember. The market's currents appeared to have coalesced into the new bullish trend that has been forming this month. Built on a strong foundation, in which shares transferred from nervous hands to strong ones, this rising market could last for an extended period.
Here is the updated graph from my early October article showing the formation of the stock market's foundation.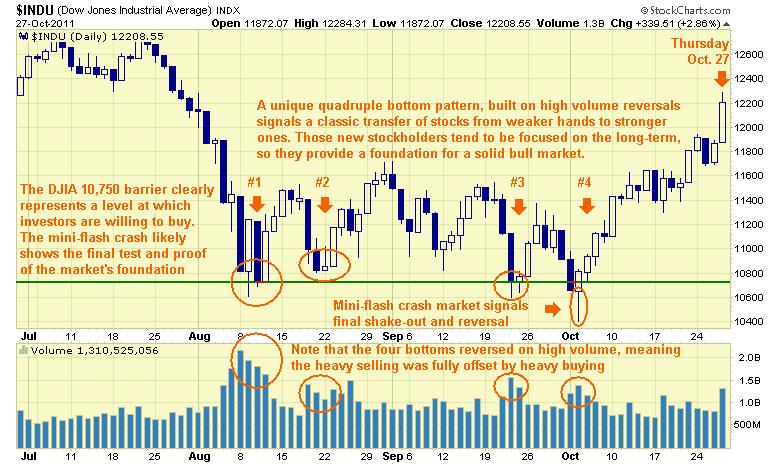 Disclosure: Long U.S. stocks and U.S. stock funds