Although the European debt crisis has been making headlines across the globe for quite a while now, U.S. sovereign debt is in fact in a much greater state of disarray than the eurozone's situation. Diagram 1 illustrates sovereign bonds maturing before the end of this year, shown as a percentage of GDP.
Diagram 1
Click to enlarge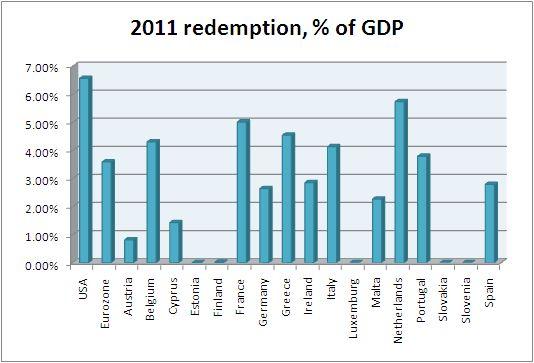 It is plain to see that the United States exceeds not only the eurozone average, but also that of any of the 17 member states of the monetary union. In absolute terms, the U.S. is scheduled to redeem almost USD 1 tn worth of bonds, while the eurozone faces debt redemption equal to USD 500 bn. (see Table 1)
Table 1.
Click to enlarge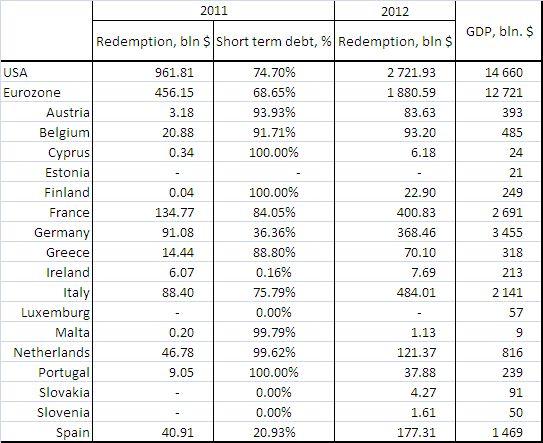 Source: Reuters, CIA, EUR/USD 1.38
To calculate the bonds slated for redemption next year we added short-term bonds maturing before the end of this year to the bonds scheduled for redemption in 2012, since we believe that the U.S. Treasury will place new bonds with maturity of under one year equal in amount to those that are set to be redeemed before the end of 2011. Diagram 2 illustrates our findings.
Diagram 2.
Click to enlarge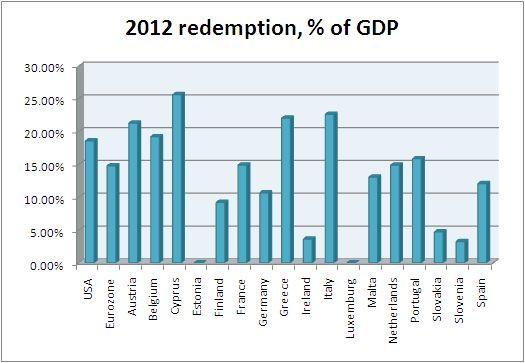 Although Italy faces the toughest year next year in terms of the proportion of total debt scheduled for redemption and the absolute value of sovereign debt, the eurozone is, nevertheless, in overall better shape than the U.S.
That is why, in our view, some sort of a single Finance Ministry should be established in the eurozone. As little as unveiling a roadmap toward that goal could go a long way toward helping ease speculative pressure on European bonds.
We would also like to note that almost all eurozone member states have been taking steps to cut their budget deficits, pressing ahead with some fairly unpopular, albeit effective, measures such as, for instance, raising the retirement age, cutting government spending, scaling back social programs, etc. and the effects from those measures should be felt within 2-3 years.
Meanwhile, the U.S. finds itself in a state of paralysis of power ahead of the 2012 presidential election. Any major initiatives by President Obama are doomed to filibuster at the hands of the largely Republican Congress, while any moves by the Republicans are bound to be blocked by a presidential veto. Therefore, any program that would call for a sizable reduction in the budget deficit and government debt is unlikely to see the light of day before mid-2013.
To recap, as Europe is taking, albeit slowly, steps in the right direction, the lack of headway by the U.S. in tackling fiscal imbalances could, in our opinion, cost it dearly and result in an adverse scenario panning out on the country's bond market.
Disclosure: I have no positions in any stocks mentioned, and no plans to initiate any positions within the next 72 hours.