Silver-related exchange-traded funds could outshine other precious metals as favorable fundamentals provide support.
Year-to-date, the iShares Silver Trust ETF (NYSEARCA:SLV) rose 8.2%, the ETFS Physical Silver Trust ETF (NYSEARCA:SIVR) gained 8.6% and the PowerShares DB Silver ETF (NYSE:DBS) increased 8.4%. In contrast, the SPDR Gold Trust ETF (NYSEARCA:GLD) only added 0.6% so far this year.
COMEX silver futures are now hovering around $17.0 per ounce, trading around a one-month high.
Unlike gold, silver has greater industrial applications. For instance, consumers may find silver in electronics, optics and biotechnologies, writes Dominic Frisby for MoneyWeek.
On the more mainstream demand side, silver jewelry demand is still rising due to increased consumption among emerging markets, notably in China, where we are seeing a rising middle class with increased discretionary money.
On the supply side, silver miners are finding less deposits, and producers are expanding into new projects, which suggests that silver could be in shorter supply ahead.
Additionally, there is the money valuation angle. As central banks keep dumping money into the world economy, paper money becomes less valuable and hard assets, like silver, become a better store of wealth.
However, there are some drawbacks to the precious metal. Specifically, in the currently strong U.S. dollar and slightly deflationary environment, silver may flounder. The recent pullback in the USD, though, has helped provide a nice lift in silver prices, following the Federal Reserve's more dovish stance on its rate outlook.
For the chart watchers, SLV has re-tested its $15 support and is currently showing a bullish divergence in its relative strength index, which is making a higher low, a potentially positive sign, writes Andrew Thrasher for See It Market. Consequently, Thrasher is now seeing if SLV can target a relative strength index reading above 50, break above its $18 support and trade above its short-term, 50-day moving average.
iShares Silver Trust ETF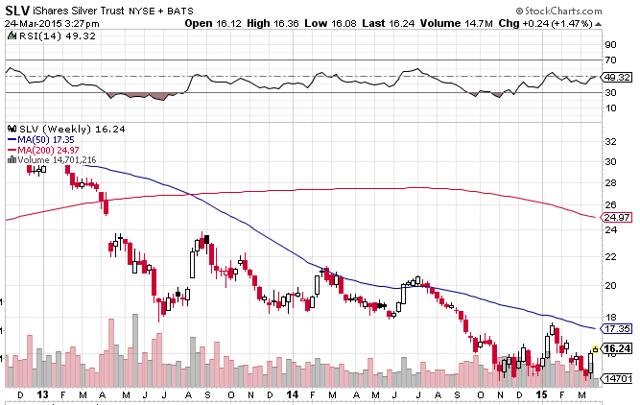 Max Chen contributed to this article.
Disclosure: The author has no positions in any stocks mentioned, and no plans to initiate any positions within the next 72 hours.
The author wrote this article themselves, and it expresses their own opinions. The author is not receiving compensation for it. The author has no business relationship with any company whose stock is mentioned in this article.