Click to enlarge
Market Opinion: The market has made a series of surprising breakouts this month. First the S&P 500 broke through 1200, then 1220, followed by the 1250 level, and now it's at 1285. The SPY is up 13.2% month-to-date which by far out-performs the historical max of 10.24% on the S&P. I'm waiting to see when this momentum will wane, because I think the market has rallied too far too fast. I'm watching the Diamonds (NYSEARCA:DIA) Nov'19 115 strike put options as well as the 125 strike puts on the SPY. I think the market has broken out and we'll remain in an uptrend from the August low. The market is setting up for a Christmas rally into the 13,000 area on the Dow Jones Industrial.

As for the Dow 30, I cannot see any buys at the moment. As I said last weekend Caterpillar (NYSE:CAT) would probably reach the 200 SMA in short time, we see it now above the 200 SMA and I'm no longer as bullish as before. I continue to be bearish in the short term on Wal-Mart (NYSE:WMT).
As for the momentum stocks; I plan on entering an 8% out of money Nov'19 bull put spread on Apple (NASDAQ:AAPL) next Monday as an additional trade in our optional positions. The Apple trade will probably be the 360/355 bull put spread. Salesforce.com (NYSE:CRM) looks like it might be a good short under $135 if we can get a down day in the market. Bidu (NASDAQ:BIDU) is approaching its breakout level at $150, and I'm thinking about purchasing Dec'17 170 strike call options. As for commodities, we missed the big run in gold this week, but the precious metal still has a lot of upside for November. If we are fortunate enough to see a large pull back in GLD next week, we will initiate some call options. Oil seems a bit toppy. It's seasonally very strong this year. But given that tensions in the Middle East seem to be fading one would think oil would be a sell (even inventories were up this week). USO is a tough short at the moment and the market is acting irrational in the oil space right now.
Positions Update
Credit Spread Portfolio:
VXX - The VIX index was obliterated yesterday and so was the VXX as it gaped down over 10%. Additionally, VXX has some headwinds moving into November because the Nov contract is more expensive than the Oct contract causing the ETF to lose value rolling into the next month. Price Target: Wait for Spread to Expire Worthless
AAPL - With Apple above $400 our Nov'19 345/340 bull put spread seems in good shape. Price Target: Wait for Spread to Expire Worthless.
Optional Positions:
VXX - This position is even further out of the money than our credit spread portfolio bear call spread. Price Target: Wait for Spread to Expire Worthless
GLD - Good thing I reversed my sentiment in gold as early as I did this week. Our bull put spread looks like it's in good shape today. Price Target: Wait for Spread to Expire Worthless
Daily Data: Apple

We're looking to enter a pull but spread near the close next Monday based on the following information: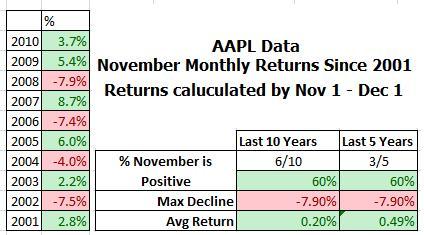 The data above shows that Apple's worst monthly return is -7.9% in November since 2001. Next Monday is the final day of October, and I'll be placing an additional bull put spread on Apple taking into account an 8% decline in the stock. Based on today's price an 8% decline would put Apple down at $371.50, so if you're interested in entering a new trade today you could enter the 370/365 bull put spread for 0.45 (9.89% return). However, I prefer to wait until near the close of next Monday because it's closer to what this data is based off of. Additionally, the market has rallied very far already, and we could get a better price for our bull put spread if we wait.
Disclosure: I am long AAPL, GLD.
Additional disclosure: I am short VXX.