For the last several years we have been hearing great things about the many new prolific oil shale fields, especially the Bakken and the Eagle Ford. The Utica is perhaps the newest truly prolific oil field. It is actually divided into many areas and many states. Many of these are natural gas plays.
The exciting Utica plays are thought to be in Ohio, although there could be much we still do not know. The Ohio Utica is thought to be divided into three different windows: the dry gas window on the eastern border with West Virginia and Pennsylvania, the wet gas window running north to south just west of the dry gas window, and the oil window, mostly west of the wet gas window (roughly in central Ohio). The oil window of the Utica in Ohio is thought to be as rich or more rich a find than the Eagle Ford. The dry gas window is present in many other states, and even in Canada. The picture below gives an approximate description of the most interesting part of the Utica: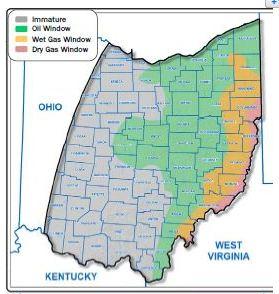 Another map shows the bigger picture of the gas window: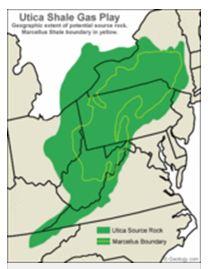 Chesapeake Energy (NYSE:CHK), which has 1.25 million net acres in leaseholds in mostly the oil window, stands to benefit hugely. Chevron Corp (NYSE:CVX) has 600,000 net acres in leaseholds. CONSOL Energy (NYSE:CNX) has 200,000 net acres of leaseholds in the oil window. Devon Energy (NYSE:DVN) has 110,000 net acres of leaseholds in the oil window and another 300,000 net acres in the Michigan Basin, which may be prospective for the Utica, although perhaps only for the dry gas or the wet gas windows. Rexx Energy (NASDAQ:REXX) has 11,000 net acres in the oil window. REXX has 58,000 total net acres in the Utica.
Many other companies own lease holdings, but most of the others that I have identified own leaseholds in the dry gas window. At the time of this writing natural gas holdings are not nearly as valuable, although this may change in the future. A few of the big leaseholders in the dry gas window are Forest Oil (NYSE:FST) -- 269,000 net acres, Talisman Energy (NYSE:TLM) -- 310,000 net acres, and Range Resources (NYSE:RRC) -- 1.3 million net acres.
Investors will probably be most interested in the companies with holdings in the oil window. Of these, Chevron has good holdings; but it such a big company, they probably won't have a dramatic effect on Chevron's stock price. The same might be said of Devon Energy (DVN). The others (CHK, CNX, and REXX) seem worthy of a stronger look.
If one takes CHK's "as good or better" comparison of the Utica oil window to the Eagle Ford oil window, one might ballpark estimate 500M EUR per well. A well spacing of 3 wells per 640 acre parcel is common in the Eagle Ford, although some are experimenting with as little as 50 acre spacing. For simplicity's sake $100/barrel oil is assumed. Further assume that 75% of possible sites in the Utica oil window are good drill sites. Using these figures, the Utica holdings of each of the above will translate into the below:
CHK: 4219 drillable sites = $211B in value in ground. 10% of this is $21.1B, which is close to CHK's estimate of value added by its Utica holdings. This is more than the $18.64B market cap of CHK, and CHK has leaseholds of about 15 million other acres in other areas. My ballpark estimate above is very close to CHK's estimate of $15B to $20B in added value for CHK share holders.
The difference may be that CHK intends to sell 25%-33% of its current lease holdings in the Utica to a third party to pay for all of the acquisition costs (and some development costs). The selling price will be much less than the in ground value estimated above. Given this, my ballpark estimate agrees well with CHK's estimate.
CNX: 703 drillable sites = $35.2B in value in ground. 10% of this is $3.52B. This is a sizeable chuck of CNX's $10.19B market cap. This property should give this coal miner a significant lift.
REXX: 39 drillable sites = $1.95B in value in ground. 10% of this is $195 million. This is a sizeable chunk of REXX's $712.64 million market cap. This should give REXX a significant lift.
The technical charts of these stocks may give direction about potential investment.
The two-year chart of CHK is below: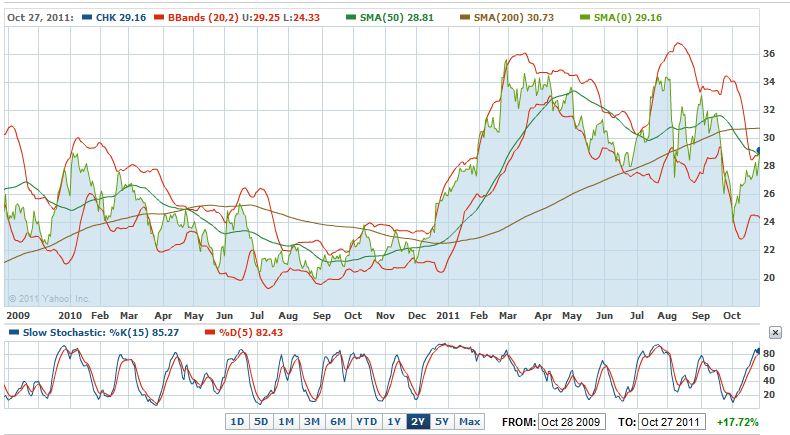 The two-year chart of CNX is below:
The two-year chart of REXX is below: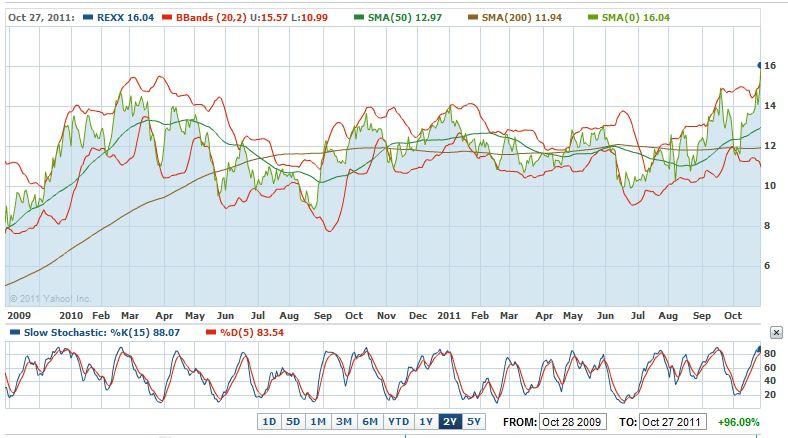 The Utica shale value is clearly not factored into the CHK or the CNX price yet. The announcement from CHK was within the last 6 months. There has been no stock pop that comes close to adequately reflecting the likely value of either company's Utica oil window lease holdings. Both CHK and CNX are overbought on their slow stochastic sub-charts after the recent run up of the overall market. Yet both are still under their 200-day SMAs. Both are oversold on a longer-term basis. Both can be bought, although legging in is likely a good strategy.
REXX is also overbought on its slow stochastic sub-chart. However, it is significantly above its 200-day SMA. As such, it is not oversold in the long term. You might want to watch this one, but the technicals do not support a buy decision at this point. One still might argue that the fundamentals do support a buy decision, but I prefer much more clean-cut trading cues. 
Disclosure: I have no positions in any stocks mentioned, but may initiate a long position in CNX, CHK over the next 72 hours.