After closing one of the better weeks in recent memory, investors were content to see most major asset classes finish out the week in the black. As October comes to a close and we enter the Halloween weekend, the outlook on the overall economy is anything but scary. In fact, with stunning GDP growth, renewed EU debt deal and rallying markets, it appears that our economy may be showing initial signs of getting itself back on track. Oil finished out the week at $93.50/barrel, marking a massive increase from its Monday open of roughly $88/barrel. Gold also saw a healthy increase this week as the elusive metal appreciated by nearly 100$/oz.
Markets fell relatively flat today, with the S&P gaining half a point and the Dow jumping a modest 22 points. But even for markets to hold their ground is a positive sign. After a week of such strong growth in major indexes, some were worried that markets would correct themselves back down once the momentum faded. The coming week will bring a number of important data releases, making it key to determining our future economic state. But for now, we outline two of the most notable performances from Friday's trading session.
One of the ETF biggest winners on the day was the United States Natural Gas Fund LP (NYSEARCA:UNG), which tacked on an impressive 3.9% on the day. Though natural gas is usually volatile for what may seem like minuscule reasons, the fossil fuel had very good reason to surge today. A new deal has been announced with a Texas-based firm to export a massive amount of LNG to the U.K. in the coming years. The deal, totaling in $8 billion, will last for two decades and it only scratches the surface of our export potential, as the use of LNG across the globe is expected to skyrocket in the near future. UNG, which tracks natural gas future contracts, nearly doubled its three month average volume by changing hands over 17 million times on the day. The fund is down about 27% on the year.
Click to enlarge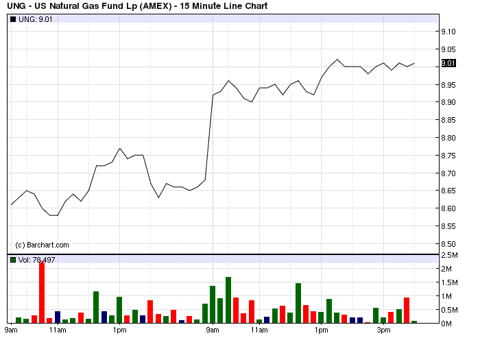 One of the biggest ETF losers from the week's final session came from the European ETF (NYSEARCA:VGK), which, after enjoying a robust week, shrank by 1.3% on the day. This movement seems like a natural behavior in profit-taking from active traders. After watching VGK soar on the week, those content with their 2%-3% gains pulled out, creating a downward pressure on the fund today. The buy and hold sellers held their assets in the product, allowing it to correct out to a more sustainable level that is still much higher than this time last week. Even with the losses on the day, VGK is still up an impressive 4.5% on the week, as the Euro debt deal has done wonders for this ETF. Now the only question that remains is whether or not it will do wonders for the flailing region.
Click to enlarge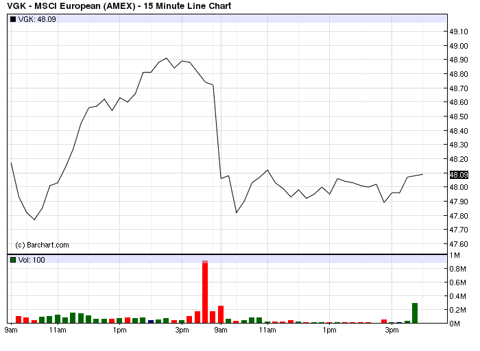 Disclosure: No positions at time of writing.
Disclaimer: ETF Database is not an investment advisor, and any content published by ETF Database does not constitute individual investment advice. The opinions offered herein are not personalized recommendations to buy, sell or hold securities. From time to time, issuers of exchange-traded products mentioned herein may place paid advertisements with ETF Database. All content on ETF Database is produced independently of any advertising relationships.