Yesterday another hedge fund titan went public discussing the inquiry his firm received from the Securities & Exchange Commission, or SEC, and the US Attorney's office in New Jersey. We are talking about Omega Advisors and its founder Leon Cooperman. The news was surprising as Mr. Cooperman is viewed almost like a Warren Buffett figure in the hedge fund world, known not only for his returns but also his wit and integrity. We hope that this turns out to be nothing but recent history does have us concerned.
Oil is falling sharply today, with the sell-off beginning shortly before the market opened. Readers might want to look at the Japanese economic data, which shows that the economy is not growing as fast as hoped, and is in fact quite close to once again experiencing deflation. US GDP did hold steady with the headline number, although there were some minor changes that took place in the subset data points.
Chart of the Day:
The US 10-Year Treasury continues to trade below the 2.00% level as the markets now are coming around to our belief that the Federal Reserve will be quite dovish when it comes to raising rates moving forward and can point to the weak economic data for doing so. Even as the Fed raises rates, we think that the market will move to keep rates low as there will be demand for Treasury notes.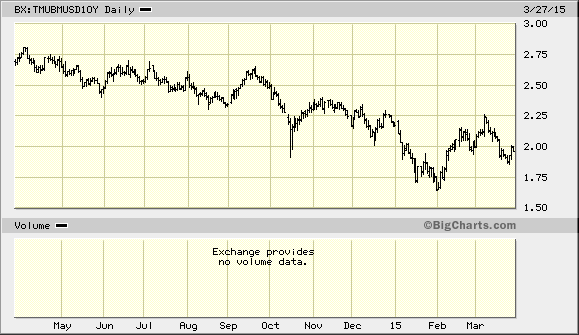 Source: BigCharts
We have economic news today, and it is as follows:
GDP - 3rd Estimate (8:30 a.m. EST): Est: 2.4% Act: 2.2%
GDP Deflator - 3rd Est (8:30 a.m. EST): Est: 0.1% Act: 0.1%
Michigan Sentiment (10:00 a.m. EST): Est: N/A Act: 93.0
The Asian markets are higher today:
All Ordinaries - up 0.70%
Shanghai Composite - up 0.27%
Nikkei 225 - down 0.95%
NZSE 50 - up 0.36%
Seoul Composite - down 0.14%
In Europe, markets are mixed today:
CAC 40 - up 0.29%
DAX - up 0.14%
FTSE 100 - down 0.50%
OSE - down 0.10%
Dow To Shed Chlorine Unit
As it looks to overhaul its business portfolio to focus on higher margin businesses, Dow Chemical (DOW) has been evaluating which business units it will keep and which it will dispose of. This brings us to today's news that Dow Chemical will sell its chlorine business to Olin Corporation (NYSE:OLN) in a cash and stock deal that will create an industry leader. Olin will pay Dow $2 billion in cash, $2.2 billion in stock and assume $800 million in pension liabilities, for total consideration of $5 billion. The stock portion of the transaction means that Dow Chemical shareholders will own 50.5% of the new company with the remaining 49.5% owned by Olin shareholders.
The combined company is expected to have $200 million in annual cost savings. Shares in both companies are trading higher on the news.
Yahoo Increases Share Buyback Program
As Yahoo (YHOO) continues to worry about activist investors, specifically Starboard Value, while also preparing the company for the spin-off of its Alibaba (NYSE:BABA) stake, the company and its management have been looking for ways to keep investors happy. Now that Yahoo's buyback plan only has a bit over $700 million left on its current share buyback plan, the company felt it right to announce a new buyback plan in the amount of $2 billion which is good through March 31, 2018.
This plan does fall short of requests by investors such as Starboard who have asked for as much as $4 billion in share buybacks, but continues Yahoo's recent moves to return capital to shareholders. The good news for the activists is that for every dollar Marissa Mayer returns to shareholders, she has that much less to spend on acquisitions.
More Bank Breakup Talk
First it was a Goldman Sachs analyst calling for JP Morgan Chase (NYSE:JPM) to breakup, but now we have more Wall Street analysts and even shareholders of Bank of America (NYSE:BAC) saying that the Charlotte, NC based banking giant should look at breaking up. The argument is that the bank is worth more broken up than it is together, as some analysts estimate that certain units trade at up to a 25% discount based on a sum-of-the-parts analysis.
While we have not broken down the potential value for some of these units which could be spun off, we do think it might be best for the big banks to simplify their business models and focus on what they do best, banking. The banks with simple models that we follow seem to have done better than the larger, more complicated bank holding companies recently and until regulatory issues have been resolved we would not be surprised for this trend to continue.
Disclosure: The author has no positions in any stocks mentioned, and no plans to initiate any positions within the next 72 hours.
The author wrote this article themselves, and it expresses their own opinions. The author is not receiving compensation for it (other than from Seeking Alpha). The author has no business relationship with any company whose stock is mentioned in this article.
Additional disclosure: BAC & JPM have previously been recommended.