The average casino group stock has tripled since the 2008-09 recession lows, and some such as casino resort operators Wynn Resorts Ltd. (NASDAQ:WYNN) and Las Vegas Sands Corp. (NYSE:LVS) up as much as ten-fold or more from those lows. While stock prices have kept pace with the strong earnings growth at casino companies so far, the average stock in the group now trades at a historically high 16 times forward earnings and at 2.2 times book value. Meanwhile, looking forward the outlook for the casino group may not be as promising as earnings growth is projected to slow down significantly due to difficult conditions both here and abroad. In the U.S., the Las Vegas market is likely to continue to be slow due to the overall slowing U.S. economy. And over in China, there is concern over slowdown in mainland China's economic growth as well as a possible clamp-down on Macau by the Chinese government to restrain growth in the former Portuguese colony.
In this article, we identify casino group companies that are being accumulated and those being distributed by legendary or guru fund managers such as Warren Buffet, George Soros, Carl Icahn, Steven Cohen and Mario Gabelli, based on our extensive database of the buying and selling activities of over 60+ such managers. Overall, gurus are neutral on the casino group. During the June quarter, guru fund managers together added a net $23 million to their prior $1.43 billion position in the group, selling $241 million and buying $264 million worth of stocks in the group. Furthermore, overall they are under-weight in the group, and taken together, the 60+ guru funds have invested 0.3% of their assets in the group, less than the 0.5% weighting of the group in the overall market.
The hedge fund and mutual fund managers included in this select group include only high profile names who by virtue of their long-term market-beating returns have earned their standing in the investment community and are worthy of our attention. They include well-known names such as those mentioned above, as well as perhaps relatively lesser-known names that also have a stellar long-term history of beating the markets, such as Seth Klarman, John Griffin, Prem Watsa, Robert Karr and Lee Ainslie.
The following are the casino group companies that these guru fund managers are most bullish about (see Table):
The following are the casino group companies that these guru fund managers are most bearish about (see Table):
Melco Crown Entertainment (MPEL): MPEL is an operator of casinos in Macau, the former Portuguese colony now a part of China. Guru funds cut a net $103 million from their $354 million prior quarter position. Tremblant Capital Group was the top seller, selling $102 million. Overall, the largest institutional investor in MPEL is Capital Research Global Investors that owns 1.1% of the outstanding shares.
Las Vegas Sands Corp. (LVS): LVS owns, develops and operates various integrated resort properties in the U.S., Macau, and Singapore, including The Venetian Resort Hotel Casino, The Palazzo Resort Hotel Casino, and The Sands Expo and Convention Center in Las Vegas, Nevada; the Sands Macao, The Venetian Macao Resort Hotel, the Plaza Casino, and the Four Seasons Hotel in Macau, the People's Republic of China; and the Marina Bay Sands in Singapore. Guru funds cut a net $47 million from their $152 million prior quarter position. The top sellers were Viking Global Investors ($21 million), Soros Fund Management ($12 million) and Driehaus Capital Management ($11 million). Overall, the largest institutional investor in LVS is Capital World Investors with 3.9% of the outstanding shares.
International Game Technology (NYSE:IGT): IGT manufactures computerized casino gaming machines and systems such as spinning reel slot and video gaming machines. Guru funds cut a net $20 million from their $167 million prior quarter position. The top seller was Private Capital Management ($23 million. Overall, the largest institutional investor in IGT is T Rowe Price with 6.2% of the outstanding shares.
Table: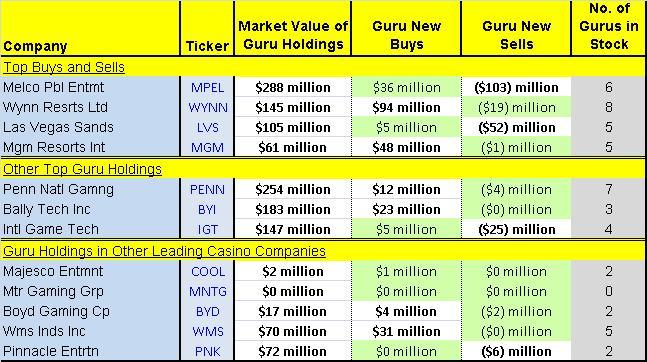 General Methodology and Background Information: The latest available institutional 13-F filings of over 60+ legendary or guru hedge fund and mutual fund managers were analyzed to determine their capital allocation from among 50+ different industry groupings, and to determine their favorite picks and pans in each group. Each guru has been carefully selected based on their long-term performance and standing in the investment community. Furthermore, the credentials of most of the 60-odd guru funds that justify their inclusion in this elite group were detailed in our previous articles, many of which can be accessed by clicking on the hyperlinks referencing them in the above Table and in article.
These legendary or guru fund managers number less than one percent of all funds and yet they control almost ten percent of the U.S. equity discretionary fund assets. The argument is that institutional investors have the resources and the access to information, knowledge and expertise to conduct extensive due diligence in informing their investment decisions. When high alpha generating or guru Institutional Investors by virtue of their fund performance, low volatility and elite reputation in the investment community, invest and maybe even converge on a specific investment idea, the idea deserves consideration for further investigation. The savvy investor may then leverage this information either as a starting point to conduct his own due diligence or even go as far as constructing a model diversified portfolio based on the guru funds best picks.
Disclaimer: Material presented here is for informational purposes only. Nothing in this article should be taken as a solicitation to purchase or sell securities. Before buying or selling any stock you should do your own research and reach your own conclusion. Further, these are our 'opinions' and we may be wrong. We may have positions in securities mentioned in this article. You should take this into consideration before acting on any advice given in this article. If this makes you uncomfortable, then do not listen to our thoughts and opinions. The contents of this article do not take into consideration your individual investment objectives so consult with your own financial adviser before making an investment decision. Investing includes certain risks including loss of principal.
Disclosure: I have no positions in any stocks mentioned, and no plans to initiate any positions within the next 72 hours.