In my previous write-up on the AUD on January 27, I had cited that the currency would continue its depreciation against the USD, citing falling commodity prices and uncertainty regarding potential rate cuts by the Reserve Bank of Australia. The currency did indeed continue its depreciation against the USD before climbing back from a level of 0.76 earlier this month: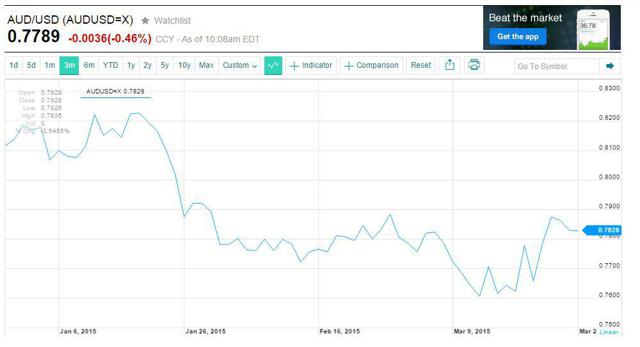 Source: Yahoo Finance
Before discussing the Aussie Dollar specifically, it is important to point out the context of the recent shift. The fall of the U.S. Dollar in mid-March has largely been due to uncertainty regarding interest rate rises and growth prospects in the United States. On March 18, the Federal Reserve had announced that interest rate rises may be less aggressive than anticipated given uncertainties regarding economic growth. In this context, we can see that the reason for the recent AUD appreciation is the concerns of U.S. growth, and not due to any factors specific to the Australian economy. In this article, I wish to outline three key reasons why I see AUD appreciation as merely being a temporary fluctuation, and why it is likely the Aussie Dollar is set to depreciate further.
1. Weak iron ore demand is placing pressure on Australian exports. With weak economic data coming out from China, iron ore prices have sank to $54.20 per tonne, which is a record low for the commodity. Additionally, iron ore prices have more than halved in the past year - one of the key reasons being a drop as large as 20% in capacity utilisation rates by Chinese mines. With less demand for a key Australian export, this will place further pressure on the Aussie Dollar.
2. Further rate cuts are speculated by the Reserve Bank of Australia. With a slowdown in commodity prices, further speculation has ensued that the Reserve Bank of Australia will decrease rates from the current cash rate of 2.25 percent to 1.75 percent. As a result, investment management company PIMCO has signaled that it will take a short view on the Australian Dollar vis-a-vis the USD. The possibility of lower rates is likely to lead to a weaker AUD in the medium term, as investors and institutions sell in anticipation of the same.
3. A weaker Chinese yuan is expected to hinder Australian exports further. In addition to weaker economic growth in China, speculation is mounting that the People's Bank of China will take measures to encourage a weaker Yuan against the U.S. Dollar. While weak economic data is already contributing to organic weakness, weakness in Europe and Japan's currencies is not good news for China, given that these nations are China's largest trading partners. In this regard, action will likely be taken to weaken the Chinese Yuan further, and this will have the knock-on effect of making imports from Australia more expensive for Chinese citizens.
In conclusion, while the Aussie Dollar is up briefly against the U.S. currency, I see this as a temporary fluctuation. Economic conditions in Australia simply do not align with a strong currency, and I expect that the AUD will continue to weaken as a result.
Disclosure: The author has no positions in any stocks mentioned, and no plans to initiate any positions within the next 72 hours.
The author wrote this article themselves, and it expresses their own opinions. The author is not receiving compensation for it (other than from Seeking Alpha). The author has no business relationship with any company whose stock is mentioned in this article.