The Brazilian real continues to fall as economic growth remains weak, while inflation pressures grow. WisdomTree Brazilian Real (NYSEARCA:BZF) is down over 27% since September, seen below.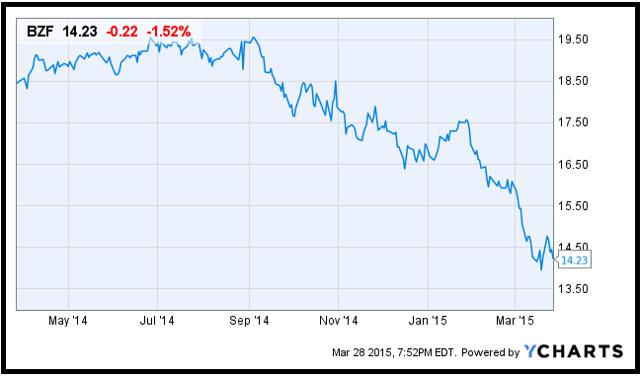 Although economic growth surprised to the upside last week, it still remains in contraction territory. In the fourth quarter, the economic growth figure came in at an annual pace of -0.2%, up from a revised reading of -0.6% the previous month, while exceeding estimates for -0.7%. Over the last year, Brazil's economy has steadily contracted, seen below. Industrial production and investment were among the main factors weighing on the growth figure.
"The government changed its GDP calculations in the fourth quarter, and the last three months of the year showed the economy shrank 0.2% as investment and industrial output contracted. For the first time, in the fourth quarter, GDP calculations changed to include investment in research and development, in line with international standards, The Wall Street Journal reports, adding:

Investment shrank 5.8% in the fourth quarter from the same period a year earlier, and industry contracted 1.9% in the same period, [Brazil's] statistics agency said," reported Barron's.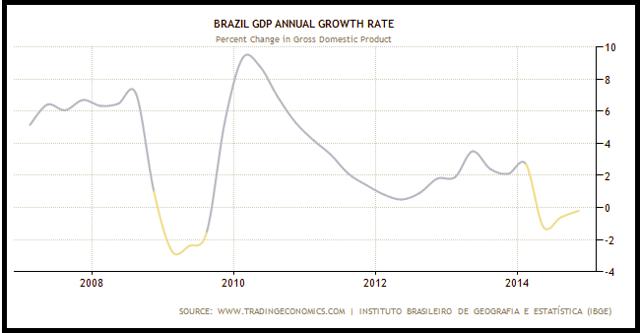 Meanwhile, alongside falling economic growth, inflation measures have drastically risen. In February, the inflation figure came in at an annual pace of 7.70%, above the previous month's reading of 7.14%, while also exceeding estimates for 7.54%. Since 2012, inflation has risen from a 5% annual pace, to current levels. Recent austerity measures have been largely to blame for rising inflation.
"Brazil's consumer prices accelerated more than expected to 7.7 percent in February of 2015, the highest level since May of 2005 when inflation reached 8.05 percent. The number came well above the 6.5 percent ceiling of the central bank's target range.

In the beginning of 2015, recently re-elected Government adopted a number of austerity measures and tax increases aiming at balancing overall budget which in 2014 was in a deficit of nearly 7 percent of the GDP. The new taxes have raised prices for basics like electricity, bus fares and gasoline and contributed directly to the rise in inflation rate," according to Trading Economics.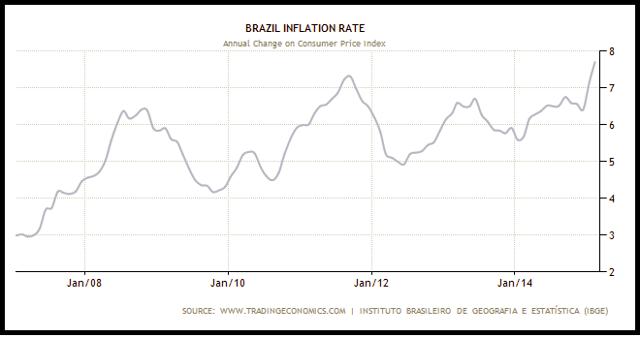 Lastly, interest rates have similarly been increased to offset rising price pressures. In March, the benchmark lending rate was raised to 12.75%, 50 basis points higher than the previous month's rate of 12.25%, while coming in line with estimates for 12.75%. Over the past year, rates have risen from 10%, to current levels. While policy has been tightened to cut off inflation, it has also adversely affected growth measures.
"Brazil's central bank raised the Selic rate to a six-year high of 12.75 percent on March 4th. The decision was widely expected in a wake of stubbornly high inflation.

Policymakers raised rates for the fourth straight meeting, in an attempt to stop the real depreciation and curb inflationary expectations. Yet, given that the Brazilian economy may fall into recession, it is not urgent to tighten monetary policy anymore," according to Trading Economics.
Brazil's economy is in a difficult position currently, attempting to offset rising inflation, while managing economic growth. Inflation has drastically risen due to new policy initiatives, with lending rates also increasing to offset the price pressures. This has weighed on investment, as well as economic growth. The Brazilian real will likely continue to fall against foreign currencies as policymakers attempt to balance the economy.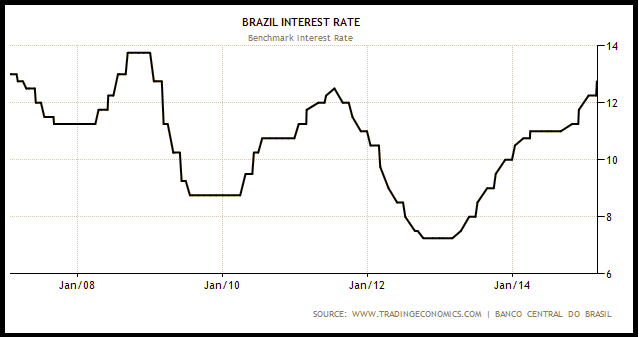 Disclosure: The author has no positions in any stocks mentioned, and no plans to initiate any positions within the next 72 hours.
The author wrote this article themselves, and it expresses their own opinions. The author is not receiving compensation for it (other than from Seeking Alpha). The author has no business relationship with any company whose stock is mentioned in this article.