Whirlpool (NYSE:WHR) has been struggling to adopt to the tough economic environment. The recent earnings guidance from the company further confirms that business isn't going to get better any time soon. In the U.S., current demand remains at recessionary levels. The company projects demand to decline 3 to 5 percent in the region over the next four years. Demand in Europe and Latin America has also been negative to flat.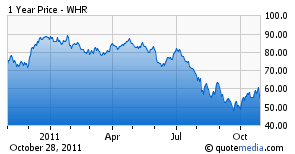 Whirlpool also has to face the obstacle of increasing material costs. These costs have a large impact on the company. Resins and copper have increased about 24% in the third quarter compared to the same quarter in the previous year. Oil, aluminum and steel have also had sharp price increases over the same period. If prices were to continue to increase, Whirlpool's earnings could be greatly affected.
Given the current economic environment, the company now expects a sharp decline in full year earnings. Whirlpool previously expected earnings per share to come in at $7.25 to $8.25 per share. The company now expects earnings to come in at $4.75 to $5.25 per share. Free cash flow guidance was $160 million to $260 million positive; expectations are now $150 million to $200 million negative.
Whirlpool is trying to adapt to the market by cutting costs and capacity. The company is looking to reduce $400 million in fixed structure costs by the end of 2013. The company is also looking to benefit from price increases it plans to launch worldwide. The U.S. Price increases are planned to take effect next year. The company is also looking to reduce its workforce by about 5,000 positions. The reductions will mostly take place in the United States and Europe.
I'm bearish on Whirlpool and will look to short rallies. The risk for Whirlpool is to the downside. There are no short-term catalysts that will change consumer confidence any time soon. The European markets are still in turmoil and the U.S. still faces a weak economy. The most recent earnings report place appliance demand at 2009 levels so I wouldn't be surprised to see Whirlpool retest the 2009 low of $19.
I ultimately believe that Whirlpool will survive this weak economy as long as it executes the strategy the company outlined. The company's plan to cut capacity and fixed costs will play a big part in allowing the company to weather the storm. I do expect the future to be real rough for Whirlpool over the next couple years. I don't expect the cuts to allow Whirlpool to achieve profitability for the next few quarters. I expect slowing demand to outpace cost cutting measures until 2013 when all the cost cutting measures are in effect.
Disclosure: I have no positions in any stocks mentioned, but may initiate a short position in WHR over the next 72 hours.