Apple (NASDAQ:AAPL) has been trading in a sideways range over the last few months between $350 and $426. The market is not sure how to respond to the recent iPhone 4S launch. I have been bullish on Apple for some time now and expect a rally once holiday sales figures start rolling in. The fourth quarter is the busiest time of the year for electronic goods and I expect this year to be a lot busier for Apple.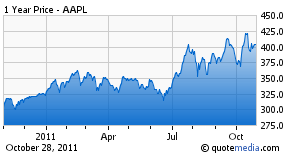 This time three wireless carriers now have the ability to sell the iPhone in the U.S. This will easily beat last years sales figures as well as generate huge earnings for Apple. Many wireless phone contracts end in November and December which is why this time of the year is the busiest for cell phone companies. It has now been about 18 months since the last iPhone launched in the United States. This perfectly coincides with the ability of many wireless consumers to upgrade to a new device. This should further fuel the demand for the iPhone 4S during the holiday season.
Apple's current stock price doesn't reflect the launch of the iPad 3. I expect the iPad 3 to launch the middle of next year. Apple currently controls 80% of the tablet market and a new product launch will bring strong sales from Apples strong base. Read more about the iPad 3 launch here.
Here are more points I like about the Apple story:
- Revenue for the quarter was $28.3 billion, representing year-over-year growth of 39%. The year-over-year increase was fueled primarily by strong growth in iPad, Mac and iPhone sales.
- Operating margin was $8.7 billion, representing 30.8% of revenue. Net income was $6.6 billion, increasing 54% year-over-year and translating to earnings per share of $7.05.
- Apple established a new all-time quarterly record with sales of 4.89 million Macs, exceeding the previous record set in the last December quarter by 760,000 Macs, representing a 26% increase over the year-ago quarter's results. Mac sales increased strongly in each of the company's operating segments led by Asia-Pacific with growth of 61% year-over-year.
- Recognized revenue from iPhone handset and accessory sales was $11 billion during the quarter compared to $8.8 billion in the year-ago quarter, an increase of 24%. This is even as the company transitioned to the iPhone 4S launch.
- Apple set a new record with sales of 11.1 million iPads during the September quarter compared to 4.2 million in the year-ago quarter, an increase of 166%. The iPad 2 launched in 20 additional countries, ending the September quarter with distribution in a total of 90 countries. Recognized revenue from sales of iPad and iPad accessories during the quarter were $6.9 billion compared to $2.8 billion in the year-ago quarter, an increase of 146%.
I'm bullish on Apple and view pullbacks as buying opportunities to ride the wave higher towards the $500 mark. This would place Apple's market cap at about $460 billion. Apple has a strong pipeline that is performing strongly in all segments. I don't see any reason why Apple's sales would slow going into next year. I also expect the rumored Apple TV product to open a huge new potential market for the company if it were to launch late next year.
Disclosure: I have no positions in any stocks mentioned, but may initiate a long position in AAPL over the next 72 hours.