In this week's Barron's, Dan Strumpf suggests that Brent Crude and West Texas Intermediate Crude (WTI) are "set to reconcile" and grow closer into year end.
It's certainly been a weird year for the oil market. WTI oil has been trading at a deep discount to Brent crude when traditionally it trades at a slight premium. The key reason? WTI is deliverable in Cushing, Oklahoma, which is an essentially landlocked delivery point that can't easily be sent outside the US.
Brent, on the other hand, is delivered in tankers that can be sent pretty much anywhere. Over the past year, WTI has been exceedingly cheap because inventories had been piling up in Cushing. But apparently, that inventory is declining.
According to Barron's:
U.S. oil inventories now are on a downward trend, with the volume of oil held at storage tanks, refineries and the like declining 9.7% from a two-year high reached in May. In Cushing, Okla., the storage hub where the WTI contract is settled, inventories have tumbled 25% from their all-time high, reached in April.

Many analysts expect inventories to continue falling. U.S. petroleum demand could rise from current weak levels as refiners complete seasonal maintenance and begin churning out winter-grade gasoline. Refiners have an added incentive to run down their oil in storage: Doing so reduces their year-end tax bill.

"The perception that inventories are high is being eroded," says Bill O'Grady, chief market strategist at Confluence Investment Management in St. Louis.
As for Brent oil, the expected return of Libyan oil production is now putting downward pressure on this form of crude oil. Here's a look at the prices of Brent and WTI crude oil – and the spread between the two since January 2010: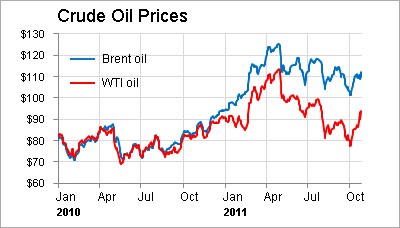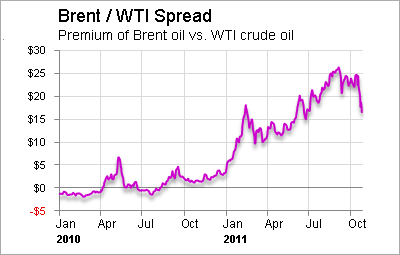 That spread reached almost $28 a couple of weeks ago, but is now about $12 lower.
Dan Strumpf thinks that "investors can feel secure in betting on a price reconciliation." If that's the case, one way to take advantage of this opportunity would be to short the Brent oil futures ETF (NYSEARCA:BNO) while simultaneously buying the US Oil ETF (NYSEARCA:USO), which tracks WTI oil futures
Here's a look at the relative year-to-date performance between the two: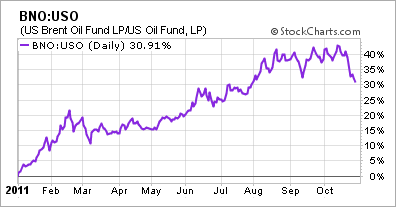 If you'd shorted USO and purchased BNO on January 1, 2011, you'd have a decent profit on that trade. If Dan is right, then it's time to unwind that trade and perhaps reverse it – going long USO and short BNO.
Another sign that WTI prices are likely to rise? Backwardation. After spending the summer and early fall in contango, WTI prices for more distant months now trade at a discount to the nearby contracts as this chart from CNBC shows: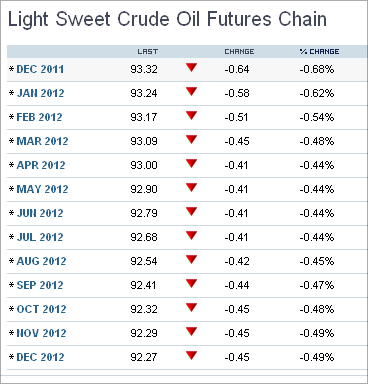 Huge refining margins now shrinking
If WTI oil becomes a lot less cheap compared to Brent, then US-based refiner profits could fall – especially those with easy access to that previously "cheap" WTI oil.
One way to view the profitability of refining crude oil is to look at the "crack spread." This compares the prices of refined products (gasoline and heating oil) against the raw cost of the crude oil. A widely followed "3:2:1 crack spread" assumes that three barrels of crude oil yields two barrels of gasoline (84 gallons) and one barrel (42 gallons) of heating oil.
(Note that this is a theoretical analysis because there are so many different grades of crudes, each with its own specifications, but it's an easy way to get a general idea of the profitability of refining crude oil.)
This chart shows the net profit from refining a barrel of WTI crude and how the spread would look if you used Brent oil instead.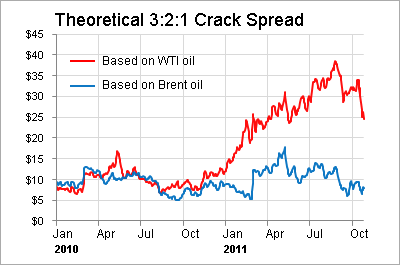 Time to buy SUN and VLO?
Refining WTI oil has been highly profitable. In fact, back on June 14, I wrote an article based on CNBC contributor Joe Terranova's suggestion to avoid shares of refiners such as Valero (NYSE:VLO) and Sunoco (NYSE:SUN), These companies did not have access to "cheap" WTI oil and were paying more Brent-like prices for crude.
If the WRI/Brent spread narrows, then it's probably time to think about buying some of the companies Joe said to avoid back in June.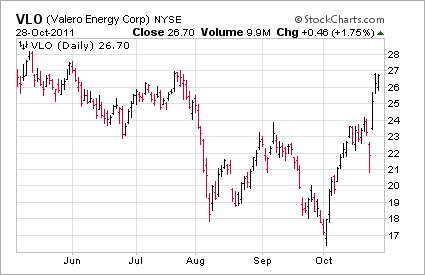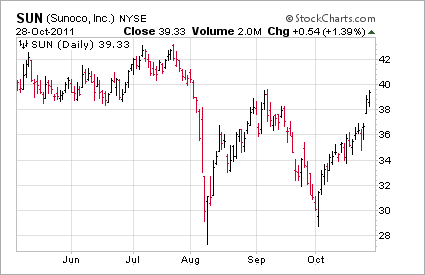 It does appear as if Sunoco and Valero have bounced and may be worth taking a look at, But I'd probably wait for a pullback as these stocks were up sharply in October – Valero by more than 50% and Sunoco by 30%.
While I agree that the Brent/WTI spread will continue to narrow, it could be a volatile ride and these stocks might offer a better entry point.
Disclosure: I have no positions in any stocks mentioned, and no plans to initiate any positions within the next 72 hours.