*All data are as of the close of Friday, March 27, 2015. Emphasis is on company fundamentals and financial data rather than on commentary.
The Accident & Health Insurance industry is one of those spaces that really accentuates the ups and downs in our portfolios. During bear markets and tough economic times, their products and services are among the first expenses consumers cut back. Conversely, the industry enjoys rising sales when the economy improves through more jobs and higher wages, which leave consumers with a little extra in their budgets to broaden their insurance coverage.
While this feast-or-famine characteristic of the industry can be a little frustrating to investors, it can serve as something of a blessing in disguise for market-timing strategies, especially after a correction. Don't misunderstand me; market-timing is unsustainable longer term, as no one can successfully time the markets consistently over time. But the pattern of the Accident & Health Insurance industry's stock performance is undeniable. Buying on the dips in this space works.
For instance, investors who invested in the industry at the bottom of the Q3 2011 correction and held until the next correction in mid-January of 2014 would have laughed all the way to the bank, as graphed below up to the green vertical line.
Where the broader market S&P 500 index [black] had gained 67% over that period, five of the six largest U.S. companies in the space all beat the market in the following order:
• 4th largest CNO Financial Group Inc. (NYSE: CNO) [beige] with gains of 265%,
• 5th largest StanCorp Financial Group Inc (NYSE: SFG) [blue] with gains of 165%,
• 3rd largest Assurant Inc (NYSE: AIZ) [gray] with gains of 100%,
• Largest AFLAC Inc. (NYSE: AFL) [orange] with gains of 90%, and
• 2nd largest Unum Group (NYSE: UNM) [yellow] with gains of 75%.
Throughout that growth spurt, 6th largest ProAssurance Corporation (NYSE: PRA) [purple] was the only one of the six to fall short with gains of 37%.
Notice which two stocks lead the way up? We'll see more of such stellar performances from them later.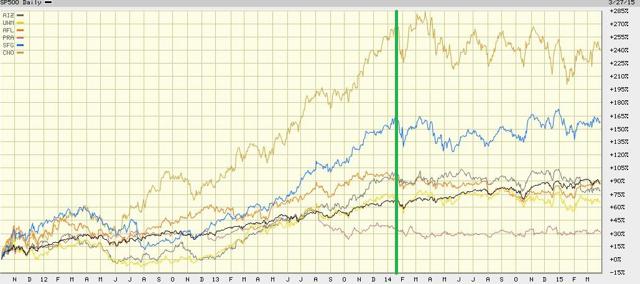 Source: BigCharts.com
Of course, the industry has been very uneventful since then, trending sideways for all of 2014, proving once again that market timing is difficult to master and foolish to attempt. Nevertheless, the increasing volatility in the markets has presented us with many more opportunities to buy down and sell up.
At least four such opportunities have surfaced over the past six months since the last major correction of September/October 2014, as graphed and tabled below. While the graph encompasses all four of those dips and rebounds, the table breaks them up into separate segments lasting a mere two to three weeks each.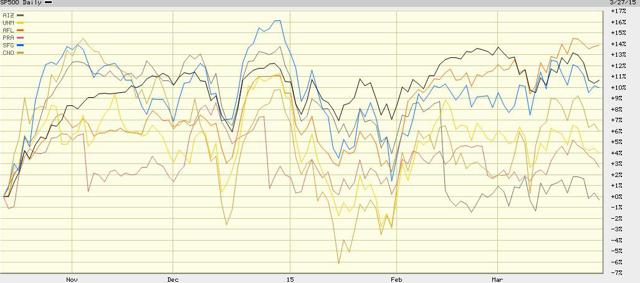 Source: BigCharts.com
While we really can't expect any investor to hit all the bottoms and tops so perfectly, the table does serve a purpose in identifying which of the six largest U.S. companies in the A&HI industry afford us the juiciest dip-buying opportunities. The most dip-buying-friendly stocks of this lot are the top two performers of the past several years noted earlier - namely CNO and SFG, which consistently rebound the most after a sharp dip in the market.
The only catch is you have to jump out very quickly, within two or three weeks. Not for the faint of heart, is it? This is due to the six companies' exceptionally high betas, as ordered below from highest to lowest:
• CNO Financial Group Inc = 1.75
• Unum Group = 1.70
• Assurant Inc. = 1.29
• StanCorp Financial Group Inc. = 1.26
• AFLAC Inc. = 1.17
• ProAssurance Corporation = 0.60
Notice how well the beta rule holds true with these stocks? The company with the lowest beta, 6th largest PRA, beat the S&P the fewest times as tabled above - only once out of four dips. Meanwhile, the company with the highest beta, 4th largest CNO, beat the S&P the most - four out of four dips. UNM and SFG are simply there to put a little fuzziness in our otherwise clean-cut rulebook.
Given such high betas for five out of the six companies, and given the return of volatility in the marketplace, Accident & Health Insurance stocks may not be well suited to the buy-and-hold passive investor, but they would certainly be great candidates for any number of buy-down and sell-up strategies popular with active traders.
But what about these companies' future prospects? Given the past year of relative stagnation, the industry's near-term prospects should come as no surprise at all, as tabled below where green indicates outperformance, while yellow denotes underperformance relative to the broader market.
During the current and next quarters, the industry's earnings are expected to grossly underperform the broader S&P with shrinkage to a serious degree.
Yet over the longer term, the industry is expected to outgrow the market at some 1.26 times its rate averaged annually over the next five years.

Zooming-in a little closer, most of the industry's six largest U.S. companies offer not much better prospects, as tabled below.
Over the closest two quarters combined, only two of the six companies are seen beating the broader market in earnings growth - they being our usual outperformers, CNO and SFG. Of the remaining four, three fall into moderate to heavy earnings shrinkage - they being PRA, AIZ, and AFL.
Over the next five years, however, all six companies offer positive earnings growth. Though here too only two of the six companies are seen beating the broader market, with CNO again in the lead, followed this time by AIZ in 2nd place. At the low growth end, the largest AFL is once again at the back of the line.


Yet there is more than earnings growth to consider when sizing up companies as potential investments. How do they compare against one another in other metrics, and which makes the best investment?
Having already compared America's 3 Largest Accident & Health Insurance Companies, AFLAC, Unum, and Assurant, we'll now look at the next 3 largest U.S. companies in the industry: CNO, SFG and PRA.
Our comparison of company fundamentals will use the following format: a) financial comparisons, b) estimates and analyst recommendations, and c) rankings with accompanying data table. As we compare each metric, the best performing company will be shaded green, while the worst performing will be shaded yellow, which will later be tallied for the final ranking.
A) Financial Comparisons
• Market Capitalization: While company size does not necessarily imply an advantage and is thus not ranked, it is important as a denominator against which other financial data will be compared for ranking.

• Growth: Since revenues and expenses can vary greatly from one season to another, growth is measured on a year-over-year quarterly basis, where Q1 of this year is compared to Q1 of the previous year, for example.
In the most recently reported quarter, PRA delivered the greatest trailing revenue and earnings growth year-over-year, while CNO delivered the least, which were negative along with most other readings, denoting shrinkage.

• Profitability: A company's margins are important in determining how much profit the company generates from its sales. Operating margin indicates the percentage earned after operating costs, such as labor, materials, and overhead. Profit margin indicates the profit left over after operating costs plus all other costs, including debt, interest, taxes and depreciation.
Of our three contestants, PRA enjoyed the widest profit and operating margins, while CNO and SFG split the narrowest margins between them.

• Management Effectiveness: Shareholders are keenly interested in management's ability to do more with what has been given to it. Management's effectiveness is measured by the returns generated from the assets under its control, and from the equity invested into the company by shareholders.
For their managerial performance, PRA's management team delivered the greatest returns on assets, where SFG's team delivered the greatest returns on equity. At the low end of the scale, SFG's and CNO's teams delivered the smallest returns.

• Earnings Per Share: Of all the metrics measuring a company's income, earnings per share is probably the most meaningful to shareholders, as this represents the value that the company is adding to each share outstanding. Since the number of shares outstanding varies from company to company, I prefer to convert EPS into a percentage of the current stock price to better determine where an investment could gain the most value.
Of the three companies compared here, SFG provides common stockholders with the greatest diluted earnings per share gain as a percentage of its current share price, while CNO's DEPS over current stock price is lowest.

• Share Price Value: Even if a company outperforms its peers on all the above metrics, investors may still shy away from its stock if its price is already trading too high. This is where the stock price relative to forward earnings and company book value come under scrutiny, as well as the stock price relative to earnings relative to earnings growth, known as the PEG ratio. Lower ratios indicate the stock price is currently trading at a cheaper price than its peers, and might thus be a bargain.
Among our three combatants, CNO's stock is the cheapest relative to forward earnings, company book value, and 5-year PEG. At the overpriced end of the spectrum, PRA's stock is the most expensive relative to earnings and PEG, where SFG's is the costliest relative to book value.

B) Estimates and Analyst Recommendations
Of course, no matter how skilled we perceive ourselves to be at gauging a stock's prospects as an investment, we'd be wise to at least consider what professional analysts and the companies themselves are projecting - including estimated future earnings per share and the growth rate of those earnings, stock price targets, and buy/sell recommendations.
• Earnings Estimates: To properly compare estimated future earnings per share across multiple companies, we would need to convert them into a percentage of their stocks' current prices.
Of our three specimens, CNO offers the highest percentages of earnings over current stock price for all time periods, while PRA offers the lowest percentages for all periods.

• Earnings Growth: For long-term investors, this metric is one of the most important to consider, as it denotes the percentage by which earnings are expected to grow or shrink as compared to earnings from corresponding periods a year prior.
For earnings growth, CNO offers the greatest growth over most time periods, SFG offers it for the next quarter, while PRA offers the slowest growth for all periods, most of which is negative, denoting earnings shrinkage.

• Price Targets: Like earnings estimates above, a company's stock price targets must also be converted into a percentage of its current price to properly compare multiple companies.
For their high, mean and low price targets over the coming 12 months, analysts believe SFG's stock offers the least upside potential and greatest downside risk, where CNO's offers the greatest upside and PRA's offers the least downside.
It must be noted, however, that CNO's and PRA's stocks are already trading below their low targets. While this may mean increased potential for sharp moves upward, it may warrant reassessments of future expectations.

• Buy/Sell Recommendations: After all is said and done, perhaps the one gauge that sums it all up are analyst recommendations. These have been converted into the percentage of analysts recommending each level. However, I factor only the strong buy and buy recommendations into the ranking. Hold, underperform and sell recommendations are not ranked since they are determined after determining the winners of the strong buy and buy categories, and would only be negating those winners of their duly earned titles.
Of our three contenders, CNO is best recommended with 5 strong buys and 0 buy, representing a combined 55.56% of its 9 analysts, followed by PRA with 1 strong buy and 2 buy ratings, representing a combined 42.86% of its 7 analysts, and lastly by SFG with 0 strong buy and 1 buy recommendation, representing 10% of its 10 analysts.

C) Rankings
Having crunched all the numbers and compared all the projections, the time has come to tally up the wins and losses and rank our three competitors against one another.
In the table below, you will find all of the data considered above plus a few others not reviewed. Here is where using a company's market cap as a denominator comes into play, as much of the data in the table has been converted into a percentage of market cap for a fair comparison.
The first and last placed companies are shaded. We then add together each company's finishes to determine its overall ranking, with first place finishes counting as merits while last place finishes count as demerits.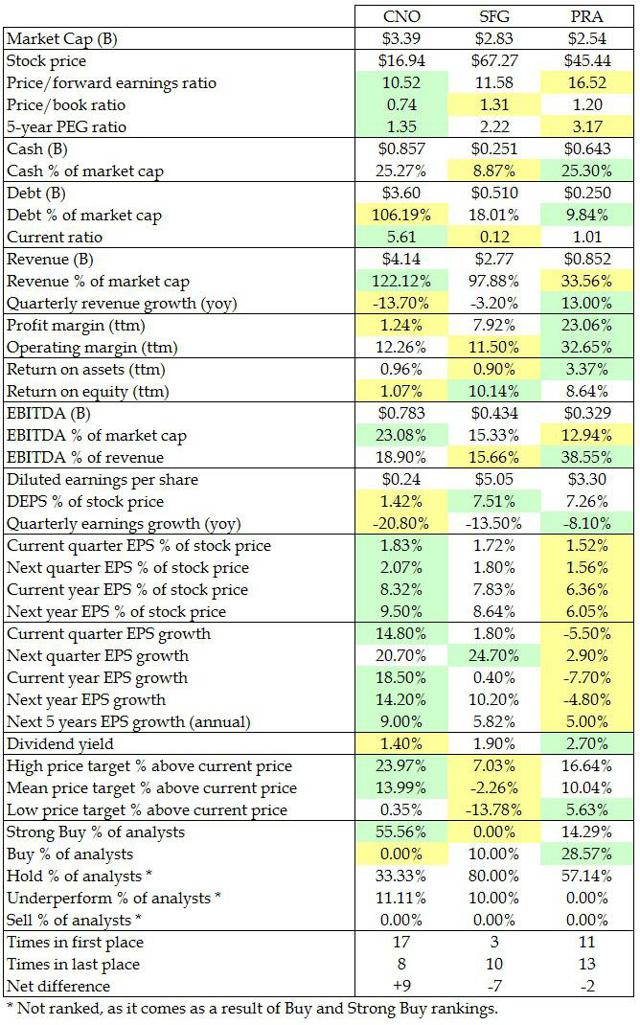 And the winner is… CNO by a sizable premium, outperforming in 17 metrics and underperforming in 8 for a net score of +9, followed by PRA with a little whiplash in second place, outperforming in 11 metrics and underperforming in 13 for a net score of -2, and with SFG all banged-up in third place, outperforming in 3 metrics and underperforming in 10 for a net score of -7.
Where the Accident & Health Insurance industry is expected to underperform the S&P broader market substantially this and next quarters, underperform moderately next year, then outperform modestly beyond, the next three U.S. companies in the space are expected to split perform going forward much as they have in the past - with highest beta CNO beating everyone including the broader market, lowest beta PRA trailing all with some earnings shrinkage here and there, and moderate beta SFG somewhere in between.
After taking all company fundamentals into consideration, CNO Financial Group Inc. ensures investors of the strongest financials, given its lowest stock price ratios, highest current ratio, highest revenue and EBITDA over market cap, highest future earnings over current stock price, highest future earnings growth overall, best high and mean price targets, and highest strong buy recommendation percentage - decisively winning America's Next 3 Accident & Health Insurance Companies competition.