Retirees require monthly income for living expenses. High quality dividend stocks provide income which is reliable, non speculative, and higher yielding than the Treasury Bond markets. The Treasury markets currently provide inferior yields to support retirees' increasing utility bills, medical expenses, gas prices, and many food products. This article is laser focused upon not the highest yielding stocks, but solid dividends from companies with pristine reputations.
Abbott Labs (NYSE:ABT)
Abbott Laboratories engages in the discovery, development, manufacture, and the global marketing and sales of health care products. Abbott Laboratories has four core business units. These units, and their respective 2010 sale percentages, include: pharmaceutical products (56.5%); nutritional products (15.7%) vascular products (9.1%); and other (7.9%). The company is selling at about 12x price to earnings multiple (P/E).
Dividends and Earnings
Abbott Labs should earn close to $5.00 in 2012. The equity pays a 3.5% yield. The company has a quality financial balance sheet and recognition as a blue chip business model.
Catalysts
On October 21st, Abbott Labs announced plans for a spin-off. The pharmaceutical business spin-off is targeted to generate $18 billion in sales (45% of 2010 total sales). This includes the core brand names, including blockbuster drug Humira. The remaining Abbott units include product devices, diagnostics, nutritional, and branded-generics units. The medical products company has a higher growth profile. The focus is upon the emerging markets. The transaction should be closed by the end of fiscal year 2012.
The spin-off has been recognized as an effective way to increase value by a well known book and its author: "You Can Be a Stock Market Genius: Uncover the Secret Hiding Places of Stock Market Profits" by Joel Greenblatt. Mr. Greenblatt makes the case for spin-offs creating shareholder value. This has been proven over time. The book's title may seem "silly", but it is a practical and enjoyable read. Mr. Greenblatt explores why spin-offs are effective, and potentially lucrative to shareholders.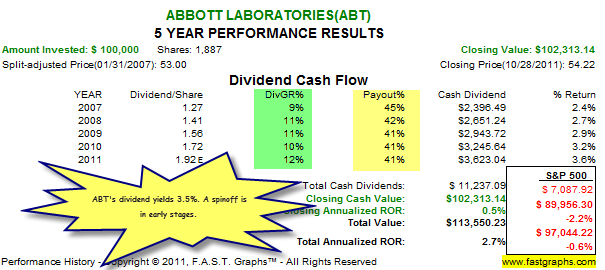 AT&T (NYSE:T)
AT&T is a widely known equity recognized by most dividend investors. The company is currently the number two wireless carrier behind Verizon (NYSE:VZ). AT&T is rapidly evolving into a serious presence in the wireless smartphone sector. Retirees are well equipped to remember a time when the only option was a land line phone for the home or business. Times have drastically changed due to technology.
Dividends and Earnings
AT&T reported their third quarter earnings on October 20th, 2011. The discussion of the proposed T-Mobile acquisition was muted, as the legal teams are working towards a positive resolution.
AT&T announced, on September 30th, a quarterly dividend of 43 cents a share. The record date was October 10th, and the payable date is November 1, 2011. The annual dividend yield is 5.8%. This is significantly higher than Treasury yields.
Earnings were a bit lower than expected because of the Apple (NASDAQ:AAPL) iPhone 4S roll out. Many wireless users were waiting for the new iPhone prior to making a purchase. All in all though, earnings met analyst projections. Earnings should pick up in the fourth quarter due to the launch of the iPhone 4S and a projected strong fourth quarter in holiday sales.
AT&T is experiencing double the demand for the Google (NASDAQ:GOOG) Android operating system phones. This data, in the quarterly conference call, was reported for the month of September.
Catalysts
AT&T is currently in negotiations with the Department of Justice. The company is attempting to agree to terms for the T-Mobile acquisition. T-Mobile USA is the fourth largest wireless carrier in the U.S. Investors remain optimistic about the planned merger. AT&T is riding the success of the smartphone market as a stand alone business.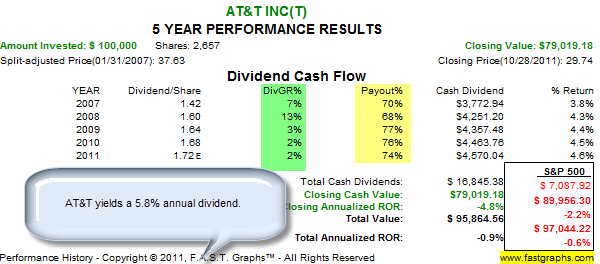 Alternative Wireless Dividend Opportunities
Verizon Communications Inc. (VZ)
Verizon is AT&T's number one competitor within the U.S. Verizon was created by the merger of Bell Atlantic and GTE in June 2000. The company is a diversified telecom enterprise providing service to over 91 million customers.
The company is offering a 5.3% yield based upon October 28th closing Verizon stock price. The smartphone sector is fierce and highly competitive. Verizon wants to maintain their number one wireless ranking and wants to prevent the AT&T merger with T-Mobile from occurring. Retirees can not go wrong with Verizon as a key dividend stock in their portfolio.
Vodafone Group plc (NASDAQ:VOD)
Vodafone Group Plc (VOD) is a leading international telecom enterprise providing cellular, paging, and customized communication systems to their customers. Vodafone currently operates in 26 countries. The company has close to 380 million customers and has a strong partnership with Verizon Wirelesss. Vodafone owns 45% of Verizon Wireless which has proven to be a key alliance and a profitable one.
Vodafone provides a 6.7% dividend yield. Investors should keep in mind the dividends are paid twice a year versus the quarterly payments within the U.S. This is a high quality holding worthy of ownership by retirees. Communications is a utility service recognized by growing segments in many emerging countries.
ConocoPhillips (NYSE:COP)
ConocoPhillips was formed in 2002. At that time, Phillips Petroleum merged with Conoco. ConocoPhillips is an integrated oil and petrochemicals company with assets across the globe. ConocoPhillips is simply a buy for the retirees out there. There is zero need to be cute or try and save a few cents on a buy trade. Buy ConocoPhillips and recognize the benefits you will enjoy. Patience is your friend versus a mutual fund's window dressing for a third or fourth quarter holding position.
Dividends and Earnings
ConocoPhillips announced, on October 26th, the third quarter earnings of $1.91 per share.
ConocoPhillips is trading at $71.04. The P/E ratio is less than 10x. The upstream and down stream divisions are being separated into a spin-off. This creates value for the patient investors. I addressed the spin-off in this article: "ConocoPhillips Spin-Off Will Create Larger Dividend Stream".
Catalysts
ConocoPhillips will spin-off the refining and marketing division from the exploration & production business segment. My recommendation is recognition that a replacement for oil and natural gas has not been created, and is not likely to exist in our lifetime. We, as investors, can profit by a cheap dividend stock with a catalyst to create shareholder value. What more can we ask? A written invitation is not in my mailbox.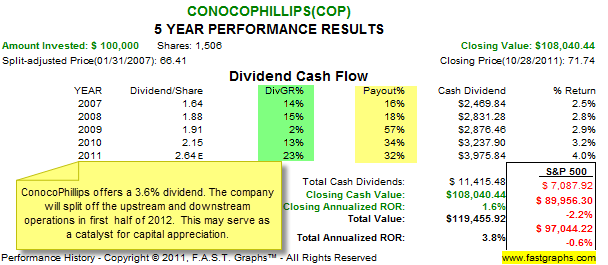 Other Energy Income Stocks
I wrote a piece titled: SandRidge Permian Trust (NYSE:PER): High Dividends Provide Short-Term Downside Protection. This equity is for retirees seeking guaranteed distributions with a high payout for the next three to four years.
I truly believe in the words of Heraclitus, "You could not step twice into the same river; for other waters are ever flowing on to you." It is clear that every investor is in their own unique situation based upon their life experiences. Some investors may seek a higher guaranteed income for the immediate future.
For those individuals SandRidge Permian Trust (PER) may be an appropriate investment due to the guaranteed high yield distributions in the early years. The dividends are based upon hedged positions.
Summary
There will always be a wide variety of names to buy. Retirees are in a position where their core working years have passed and they can not afford to lose their life savings. My view is these investors need to be highly selective and not be offered a cookie cutter investment strategy. The above mentioned names are a few ideas to begin your due diligence and live without daily stress caused by volatile stock market action.
A key criteria is to compare the dividend yields versus the U.S. Treasury yields. A 5 year Treasury bond, as of October 28th, yields 1.13%. A 10 year Treasury bond yields 2.34%. The above mentioned dividend stocks not only have higher yields, but offer the opportunity for annual dividend increases. The end result is the stock's yield on the retiree's cost basis is higher.