By Mark Goldstein
While many of the world's business sectors have struggled and are still reeling from the effects of the global economic crisis, the exploration and production (E&P) industry continues to surge forward. Although the energy sector has been rocked by accidents and shaken by geo-political unrest, the top E&Ps in North America have recently enjoyed robust gains and strong revenues as they continue to expand their capacities and in turn, their bottom line.
With continued dominance of the crude oil markets by OPEC, Venezuela, Brazil and other countries, the U.S. has been seen as a declining source of gas for many years. That sentiment has changed as companies in both the United States and Canada experience increased production and strong revenues, particularly due to pioneering horizontal drilling techniques.
Among the businesses savoring this success are top 5 producers like Anadarko Petroleum, Devon Energy, EOG Resources Inc, EnCana Corporation and Chesapeake Energy. Specifically, these companies have experienced (1) the most proven, undeveloped (PUD) reserve growth on a barrel of oil equivalent (BOE) basis and (2) the most drilling acreage growth. We care about these metrics because they are the best indicators of future earnings growth, in our opinion. Without reserves and acreage an operator cannot drill. In addition, as the largest North American operators, these names have the cash or access to capital to develop their acreage. As a final point, experience counts in this industry. Thus, I chose the five names that have the most experience drilling in key U.S. and Canadian fields-- Bakken, Marcellus, and Permian basin. Here is my analysis:
Chesapeake Energy (NYSE:CHK)
Headquartered in Oklahoma City, Oklahoma, Chesapeake is the second largest natural gas producer in the United States and as of mid-2011, the most active driller of new wells in the country. Through 2010, the company has enjoyed 21 consecutive years of production growth and boasts a workforce of more than ten thousand employees. This success has been achieved largely by developing conventional and nonconventional natural gas reserves onshore in the United States.
The company has been recognized for its successful efforts, twice winning the prestigious Platts' Energy Producer of the Year award. In 2010, Chesapeake recorded net income of $1.77 billion on revenue of $9.37 billion and operating income of $2.9 billion.
Of the top five E&Ps, it's not surprising that Chesapeake appears to be the weakest option. In spite of a respectable PE of 19.8, a competitive EPS of 1.38 and a growing market cap, the company's weak dividend rate of 0.35 and its one-year trend suggest other firms might be better options. Sell.
EnCana Corporation (NYSE:ECA)
One of the leading North American producers of natural gas, EnCana Corporation is based in Calgary in the Alberta province of Canada. The company is an award-winning enterprise, claiming a top spot on the Best 50 Corporate Citizens in Canada and receiving international acclaim from its inclusion on the widely recognized "Corporate Knights Magazine's Global 100 Most Sustainable Corporations" list.
EnCana has also become one of the largest E&P firms on North American soil as it focuses the majority of its efforts on natural gas production. In 2010, the company generated 95% of its $8.87 billion revenue from natural gas. For the year, the company had operating income of $1.5 billion and a net income of $665 million.
Encana is a P&E that appears to have the potential for an increase. Although its EPS has a weak EPS of 0.43 and a pedestrian dividend rate of 0.80, it offers a strong PE of 57.6 and an impressive dividend yield of 3.9 and its trend seems to suggest a rebound after declining close to its 52-week low. Buy.
EOG Resources Inc (NYSE:EOG)
Another Fortune 500 company, EOG Resources is a new arrival to the E&P scene. Unlike many of its competitors, the company was founded in 1999 and has already become one of the largest independent natural gas and oil producers in the United States. In its first year, EOG had net proved reserves of 3.6 trillion cubic feet and nearly 90% of its production came from North America.
Employing a strategy of maximizing return on investment by controlling operating and capital costs, EOG Resources was recognized by Fortune magazine in 2010 as one of the publication's "The 100 Best Companies to Work For." For the year, the corporation had an operating income of $523.3 million and a net income of $160.7 million.
As with its competitors, EOG is a mixed bag of investment data. The company balances a market cap that is virtually unchanged from 2010 and a low dividend yield of 0.73 with a strong PE of 56.5 and a respectable 1.55 earnings per share. Buy.
Devon Energy Corporation (NYSE:DVN)
The second largest E&P firm in North America in 2010, Devon Energy Corp is another of the prosperous independent producers of natural gas and oil found here. Recognized by Fortune magazine as both a most admired company and one of the top firms to work for, the company continues to generate strong revenues.
Recognized as an environmentally responsible business, Devon has won a number of awards for items such as cleaner oil and natural gas production and mobile recycling technology for reclamation of wastewater coming from gas well completions. By balancing its reserves and production between natural gas and liquids, the company is a member of the Fortune 500 list as a top US company, ranking 261st in 2010 with total revenues of $8.96 billion.
Devon has been experiencing a downswing and its numbers reflect the strain. The company's market cap has dropped 25% and it has a paltry 4.50 PE. In spite of its difficulties, the company continues to create a strong dividend yield of 1.1 and a very good EPS of 13.56. Buy.
Anadarko Petroleum Corporation (NYSE:APC)
Not only is Anadarko the largest independent E&P company in North America, this Texas-based petrochemical giant is one of the largest independents in the entire world. By the beginning of 2009, the corporation was producing nearly 206 million barrels of oil equivalent (BOE) while holding 2.3 billion BOE in proved reserves.
In 2010, this world-class producer generated a net income of $821 million on revenue of $10.98 billion and an operating income of $1.8 billion. Starting 2011 with over 4,400 employees in more than a dozen countries, Anadarko's BOE was derived primarily from the U.S., Mexico and Algeria, with over sixty percent coming from onshore activities in the United States.
With its lofty position, Anadarko has some mixed signals as an investment option. The company's 2011 market cap has climbed to $38.1 billion and its share price remains close to its 52-week high with a PE of 46.20. In spite of its positives, Anadarko's earnings per share ratio is only 1.68 and its yield is just above 0.46, the lowest of the top E&P firms. Buy.
The strong performances for North American E&Ps have translated to their bottom line as a number of these publicly held companies continue to generate positive results. The top five, as ranked by their respective market caps, are:
| | |
| --- | --- |
| Anadarko Petroleum Corp | $37.7 billion |
| Devon Energy Corp | $33.9 billion |
| EOG Resources Inc | $23.2 billion |
| Encana Corp | $21.5 billion |
| Chesapeake Energy | $16.9 billion |
With greater emphasis on environmentally responsible means of locating and collecting crude oil and natural gas, the effort to reduce dependence on foreign oil has been an objective of North American energy firms that specialize in exploration and production of reserves. This ongoing struggle has created a number of investment possibilities for people interested in these natural resources.
Click to enlarge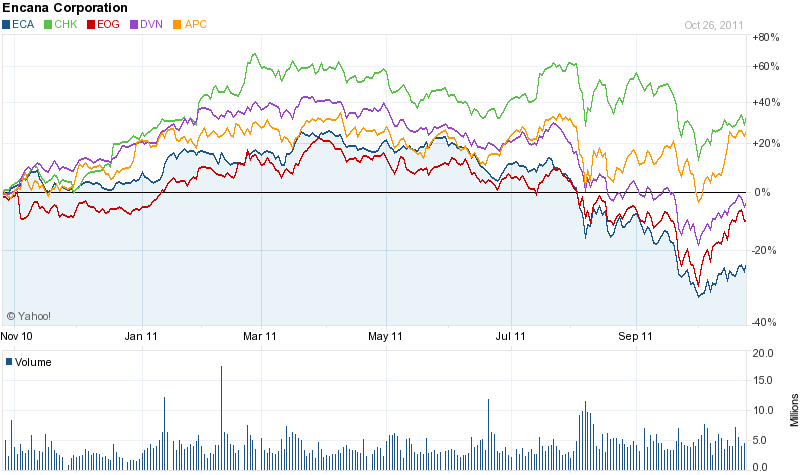 Natural disasters, foreign conflicts and changes in the political landscape make finding domestic energy sources more important than ever. Large E&P firms like Anadarko, Devon, EOG, Encana and Chesapeake have created reputations that allow them to have strong potential as investment vehicles. While many other business sectors have seen significant declines in profitability during the past few years, the exploration and production firms in the United States have continued to be promising investment alternatives for many people.
Disclosure: I have no positions in any stocks mentioned, and no plans to initiate any positions within the next 72 hours.