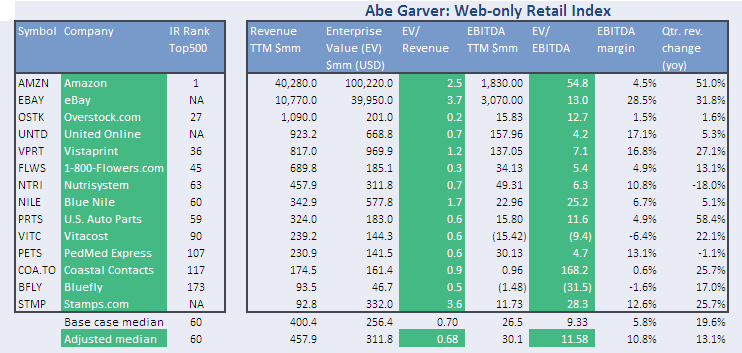 Click to enlarge
As the creator of the Web-only Retail Index, Seeking Alpha followers asked me to opine on how Amazon.com's (NASDAQ:AMZN) disappointing forecast would impact its stock price in the months to come, so I did at Amazon's On Steroids, Only Worth $52 A Share.
Given the enormous amount of feedback the story generated, I thought you would appreciate my sharing the best follow-on questions which came from Don Davis, Editor of Internet Retailer Magazine and Cheryl, my best friend and wife.
I like Amazon. I've brought acquisition targets to it and would like to continue to do so in the future. I think everyone in the world respects it in one way or another. However, we're not here to vote for homecoming queen.
When Seeking Alpha contributors write, our purpose is to share actionable investment commentary. In other words, is there a valuation discrepancy? Based on my judgment as an M&A investment banker in the sector I believe this is such an instance.
So the first question from Don Davis, Editor, Internet Retailer magazine.
"Interesting analysis. But it doesn't address the reason Amazon's stock price is so high: Investors believe that it's investing heavily now in ways that will make it even more dominant in the future. Sure, its profits are down. But that's because it's opening up new distribution centers and buying companies and investing in technology in other ways that will give it a bigger lead over competitors in the future. And its lead is online, which is where most of the growth in retail is coming. And the economics of online retailing scale really well. Once you've got the distribution centers and Web site in place, every additional sale yields a lot more profit than a sale of the same item in a physical store. I'm not telling anything you don't know. But it does seem worth addressing the very good reasons investors have for ignoring today's financials and expecting much larger future profits."
Don, Thanks for your brilliant questions. Quite simply value is in the eye of the beholder. I know what I would pay for the business and will continue to expand on that thesis in this and future articles.
Bright minds in the herd of investors who are ignoring today's financials and expecting much larger future profits are the folks we need to redirect your question to. Hopefully this article lights a spark under that kindling (Kindle pun intended).
When bankers help clients buy and sell companies we create base case and multi-scenario financial projections to study changes in investment on the discounted value of future earnings as well as to draw comparisons with public guideline companies and comparable transactions.
In my base case scenario for Amazon I have a $40 billion mass-market retailer whose business model boasts a sales tax advantages over brick and mortars but has frictional costs associated with delivery. I have assumed that the sales tax advantage is going away.
That's a separate issue, and my thoughts as well as those of 10 companies that could be impacted - like eBay.com (NASDAQ:EBAY) and O.co (also known as Overstock.com (NASDAQ:OSTK)) - can be found at Valuations Of Web-Only Retailers Could Drop 25%.
Costco (NASDAQ:COST), whose revenue is twice that of Amazon, trades at an enterprise value (market cap plus debt, minority interest and preferred shares, minus total cash and cash equivalents)/revenue multiple of 0.38.
Since Amazon doesn't have enough earnings to generate a meaningful EV/EBITDA multipe, we could ask ourselves how much its revenue would be worth if it had (and would continue to) moved through Costco.
The answer is that $40 billion of mass-market retail revenue would be worth $15.2 billion in EV. With 453.94 million Amazon shares outstanding, that equates to about $33.50 a share for all of Amazon's mass-market retail business.
We all agree there is value in Amazon beyond the mass-market retail. Amazon Web Services as an example is valuable. What's it worth? I'm not certain but agree we should add that premium on top of the $33.50 a share.
Because of the possible loss of sales tax advantage for Amazon and the businesses it has built around that moat, my base case model offers a 50%+ premium suggesting $52 per share.
At the moment the herd's base case model calls for a 650%+ premium, and voila we now trade at $220 a share.
I'm not a dumb guy, have read every sell side analyst report on the street and I have no idea why we have a 650%+ premium. Hopefully the many bight minds reading this article will be able to better inform my thinking.
Amazon was built around a key inflection point which is price.
Not having to pay state and local taxes on high average order transactions like Cheryl's and my $75 order from Diapers.com and Soap.com (owned by Amazon which as of Monday now sells groceries including peanut butter and jelly) this week influenced our decision not to pick up what we needed at Costco.
Finally my wife Cheryl gets credit for the $98.6 billion dollar question (Amazon's current market value).
"Free markets tend toward equilibrium. If the state and local government take away web-only retailers' tax advantage, how would it change our (consumer) behavior?"
Luckily I'd already researched the issue for Valuations Of Web-Only Retailers Could Drop 25%, so said based on detailed data from one retailer and three earlier studies one could expect revenue for Web-only retailers to fall between 10.0% and 13.0% in the short run.
In any event are there any bright minds out there who can better inform our thinking in regard to why the herd pays a 650% premium for a business whose sales tax advantages appear to be going away (e.g. California)?
Needless to say the best responses will likely be featured in my next article.
Web-only Retail Index companies include Amazon, eBay, O.co (also known as Overstock.com), United Online (NASDAQ:UNTD), Vistaprint (VPRT), 1-800-Flowers.com (NASDAQ:FLWS), Nutrisystem (NASDAQ:NTRI), Blue Nile (NASDAQ:NILE), U.S. Auto Parts (NASDAQ:PRTS), Vitacost (NASDAQ:VITC), PedMed Express (NASDAQ:PETS), Coastal Contacts (CSOAF.PK), Bluefly (NASDAQ:BFLY) and Stamps.com (NASDAQ:STMP).
Disclosure: I have no positions in any stocks mentioned, and no plans to initiate any positions within the next 72 hours.