View my Enlightened-American Portfolio: +10.8% through Oct 29, 2011 (my actual IRR, including cash balance)
Dow Jones Industrial Average:+5.7%
Nasdaq: +3.2%
S&P 500: +2.2%
DJ Wilshire 5000: +1.2%
Russell 2000 (small-cap): -2.9%
October's stock market melt-up has pushed most indices back into positive territory for the year. While my portfolio is outpacing the broader market, I lost ground during the month, as my large cash position equates to less exposure to market rallies (but conversely, better insulation against drops). I did manage to put some cash to work during the down days of August and September, opening/bolstering positions in Telefonica (NYSE:TEF) and Devon Energy (NYSE:DVN). In last month's portfolio review, I spotlighted both stocks as opportunities. While it is early days yet, and a rising market tide has lifted almost all boats, both DVN and TEF have outperformed the S&P 500: Note my actual return on DVN is slightly lower than shown here since I am using the verifiable Seeking Alpha published date of Oct 3rd.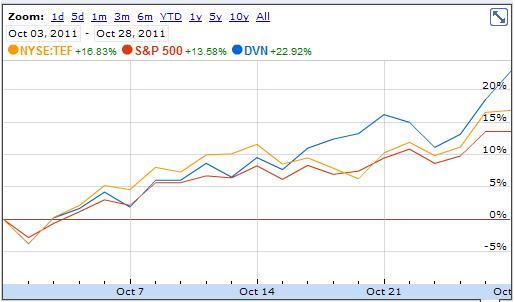 Readers can find more analysis on Telefonica here. I also expounded further on Devon Energy (DVN), explaining why I liked DVN better than longtime holding, Chesapeake Energy (NYSE:CHK). Coincidentally, DVN outperformed CHK during this time period. In addition, extensive use of options generated gains in names like Cisco (NASDAQ:CSCO), American Eagle Outfitters (NYSE:AEO), Xerox (NYSE:XRX), Yamana Gold (NYSE:AUY) and Hudson City Bank (NASDAQ:HCBK) while buffering against risk of further market drops. With the exception of Yamana Gold, most of these options look likely to expire worthless, allowing me to pocket 6-10% premiums for a few months' work.
While it's generally beneficial to close out these type of positions early, I may be willing to let a few run through expiration, as I would not mind saving on commisions or owning these stocks if prices took a drastic turn down. This is especially true in the case of Xerox (XRX), which reported strong earnings last week and perhaps more importantly, a boost in long-term signings. As I pointed out in my previous bullish article on XRX, the market has not fully grasped Xerox's transformation into a services company, which now accounts for 55% of revenue. While everyone loves seeing their portfolio gain value, the huge rally and high correlation makes for fewer opportunities on the horizon. Unlike previous months, when I pointed out DVN, TEF or CSCO as good prospects, the market's current valuation is closer to fair value. As such, value investors may just have to enjoy the holidays and wait out the year-end drift up. Despite Mr. Market's current positive mood, long-term structural problems persist both in Europe and the U.S. Additionally, savvy watchers are extremely concerned with the imbalanced Chinese economy and the subsequent fall-out when it finally topples. I expect patient investors may get chances to put money to work soon.
Disclosure: I am long AUY, CSCO, DVN, TEF I am also long AEO, HCBK, XRX via options and long CHK preferred D shares.