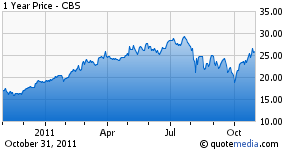 Driven by shareholder-friendly management, iconic media company CBS (NYSE:CBS) has seen its shares rise by 234% since the start of 2009. As successful investments in cable and broadcasting continue to generate substantial free cash flow, investors can look forward to accelerating share repurchases and dividend distributions. During the first half of 2011 alone, management bought back an impressive $2B worth of shares - twice as fast as last year. As the third quarter's earnings call is nearing, I present a few predictions below.
Overall, I believe the call will express not only favorable results, but the exploration of value creating opportunities. In particular, I am expecting mid-single-digit growth for revenue in content, cable, and entertainment - above market expectations. TV revenue will likely take a hit, partially due to poor news coverage in Japan and Middle East, but will be offset by growing returns in radio and outdoor. Given the commitment to efficiency, I further expect an announcement of particular cost-cutting measures or a shift to higher margin segments. Currently, CBS has gross margins of 36.1% versus Time Warner's (NYSE:TWX) 41.8% and needs trimming on the cost-side.
While I am bullish on the 3Q11 results, ultimately, I am a value investor and focus on the long-term. The fundamentals and developments at CBS thus provide the basis for my "strong buy" rating. 2 Broke Girls presents an exciting catalyst, since it is already the new leading comedy series. Its premier reached 19.2M viewers, the highest fall premiere in comedy since Fall 2001. TBS is also now syndicating the hit comedy series The Bing Bang Theory, which was the former leader in its field. In the 2011-2012 season to date, CBS leads in ratings and continues to successfully market titles.
Much has already been written about the TWX and CBS deal to stream the CW on Netflix (NASDAQ:NFLX) - worth up to $1B for 8 years with CBS' take at around 40%. While noteworthy, one should keep in mind that it will represent only a small portion of 2012 revenue at no more than 3%.
More promising is the strong growth that is exceeding both guidance and investor expectations - a key to improving valuation. At the second quarter earnings call Jeffrey Bewkes noted:
"Overall, the second quarter was another pretty successful quarter for us. We posted our highest revenue growth in 4 years, up 10%. We grew adjusted earnings per share by 20%, and we continue to buy back our stock at a faster pace than last year, acquiring another $1 billion worth, for almost 3% of our equity base since we last reported earnings to you. And as you saw in our outlook released this morning, we remain fully on track to meet, if not exceed, our guidance for the full year. More important, this quarter, we had significant progress toward our key strategic objectives. We continue to invest aggressively to make sure that our businesses each remain at the top of their competitive sets. At the same time, we continue to advance to new digital business models that will enable us to thrive as technology and consumption patterns evolve."
Towards this end, the company has reached agreements with Apple (NASDAQ:AAPL) to offer tablet editions for print subscribers of People, TIME, FORTUNE, and Sports Illustrated at no extra charge. At the same time, the company plans on offering its 21 domestic magazines distribution through all the major tablet producers by the end of the year.
And in Networks, CBS is beating investor expectations. Says Bewkes,
"As you know, the upfront marketplace was very strong, particularly for TV. This year, the National Cable Network reportedly pulled in higher dollar commitments than broadcast for the first time ever. Turner performed even better than its peers. Our large-reach entertainment networks, TNT and TBS, both saw in its solid double-digit CPM increases, putting them at the high end of all of TV, broadcast or Cable. It marks the third time in the last 4 years that our CPM increase has outstripped the average of the broadcast networks, providing more evidence that we're narrowing the CPM gap in broadcast."
HBO is strong with 85% of GO users increasing viewership. Cartoon Networks experienced double-digit gains in primetime for its key demo, while both TruTV and Adult Swim saw solid volume and pricing increases. TNT also had the best quarter yet in primetime for the second quarter with lucrative broadcasting of the NBA. And advertising revenues were up a staggering 11% for the quarter.
On the competitive side, however, CBS faces strong competition from Time Warner. As I argued earlier, Time Warner's problems are exaggerated given its innovative diversification in media platforms. Both stocks trade roughly in line with one another at approximately 11.5x forward earnings, although Time Warner offers a dividend yield of 2.7%, 110 basis points higher than that of CBS. While CBS' slice of the pie may get comparatively smaller, I anticipate it also getting bigger in absolute terms above what the market appreciates. As the deal with Netflix proves, media companies can work with one another to maximize shareholder value.
Consensus estimates for EPS are that it will increase by 67.6% to $1.86 in 2011 and then by 19.4% and 12.6% in the next two years. I model revenue growing by a CAGR of roughly 5.1% for the next two years. As the stock has a beta of 1.29, investors can expect high risk-adjusted returns should ratings and viewership continue to improve. While the bulls have already driven the company up in line with its competitor Time Warner on a multiples basis, the stock still trades below the intrinsic value modeled by analysts.
Disclosure: I have no positions in any stocks mentioned, and no plans to initiate any positions within the next 72 hours.