This article's focus is to identify dividend growth stocks for the upcoming 2012 calendar year. In the process of identifying 5 excellent companies, the annual dividend growth is impressive. The companies are excelling even during a slowing economy. These dividend growth companies possess business models that permit long-term ownership. A common theme is the companies are major leaders in their respective business sectors.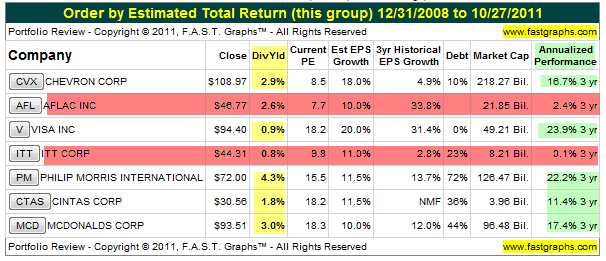 Cintas Corporation (NASDAQ:CTAS)
Cintas designs, manufactures, and distributes corporate identity uniform packages. The company is the industry leader. Additional core revenue markets include providing entrance mats, restroom supplies, promotional products, document management, fire protection, and safety products. The company has over 800,000 clients.
Dividend
Cintas pays an annual dividend. Projections, per analysts, for the fiscal year 2012 are 54 cents. If the dividend is 54 cents, then this would represent a 10.2% dividend growth rate.
Earnings
Cintas's fiscal year ends May 31. The company reported first quarter earnings on September 22, 2011. Cintas reported 7% revenue gains in 2011 compared to 2010. Earnings increased by 13% in 2011 compared to 2010. The company spent $500 million to buy back approximately 16 million shares in fiscal year 2011.
I like the business model. It is a mundane business model which performs extremely well in all business cycles. Investors should note the May fiscal year for financial reporting and the annual dividend payment versus quarterly dividends.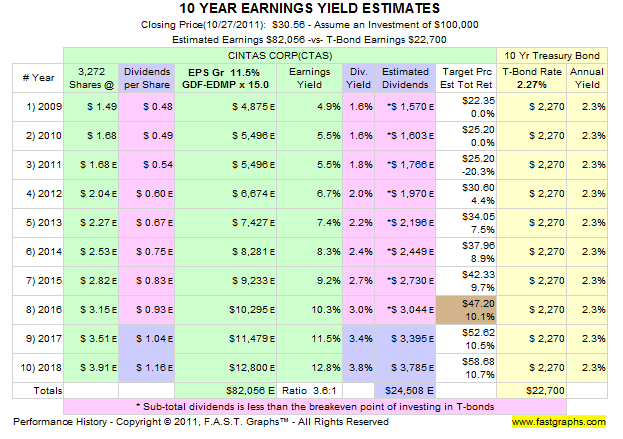 Visa, Inc. (NYSE:V)
Visa represents the future in payment transactions. Although the yield is not significant, I would be hard pressed to find a business model with a more lucrative dividend growth rate. The company is the world's largest retail electronics payment network. The payment platforms include credit cards, debit cards, and commercial payments. The brand names include the Visa brand, but also Visa Elecron, Interlink, and PLUS brands.
The company has zero debt. The business model is focusing upon markets outside the United States. This is truly a growth story, focused upon capital appreciation in Visa stock, but also in the dividend growth.
Dividend
The dividend was 21 cents in its first year, 2008. This figure has increased to an expected 68 cents in 2012, an increase of 223% in 5 years. I will be the first to admit the dividend is not a high-yielding percentage. The growth projections, however, are tremendous. This is a blue chip company with a promising business model for as far as the eye can see. At the very least, set a tracking price on Visa. If the markets waver and Visa goes on sale, I would strongly recommend taking advantage of the offer.
On October 19, Visa announced a 22 cent quarterly dividend. This represents a 46% dividend increase over the prior quarter.
Earnings
In March 2008, Visa went public. The company had the largest initial public offering (NYSEARCA:IPO) in history. 406 million shares were sold at a price of $44 per share. The company raised $18 billion.
The company currently trades at a 17x price-to-earnings multiple (P/E). Earnings should be at the very minimum $5.00 for 2011 and $5.50 for 2012. The currrent price represents an attractive entry point. The P/E multiple is reasonable, and the business has an eye-popping 50%-plus operating margin.
The below table highlights Visa's strong dividend growth prospects. The dividend and growth rate are projected at 20% levels.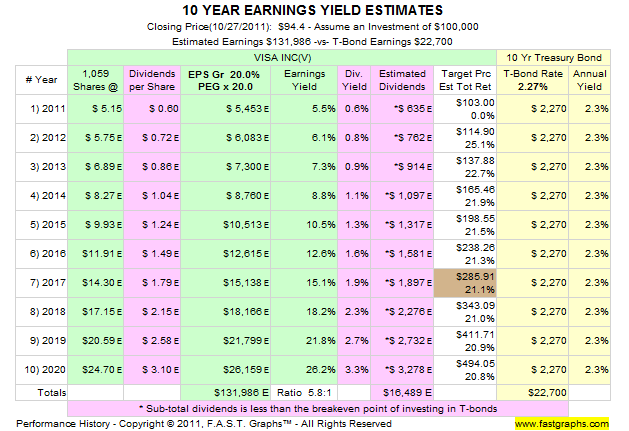 McDonald's Corp. (NYSE:MCD)
McDonald's excellent third quarter offers proof of the company's economic resiliency. In the United States, unemployment remains north of 9% and the housing market continues to languish, yet McDonald's still thrives. Customers want consistent quality, value, and convenience. McDonald's, globally, provides these attributes.
Dividend
The dividend is a compelling and growing 3.1%. Management, via its stock buyback plan, uses free cash flow to increase annual dividend payouts while retaining adequate capital for new restaurant build-out. The financial condition is in premiere shape. Value meals will be a necessity in down and up economic times.
On September 22, McDonald's increased it quarterly dividend by 15%. This increase now represents a quarterly dividend of 70 cents per share.
Earnings
I discuss McDonald's strong business model here. The company's business model (below) shows the high earnings and growth rate projections for the next 10 years.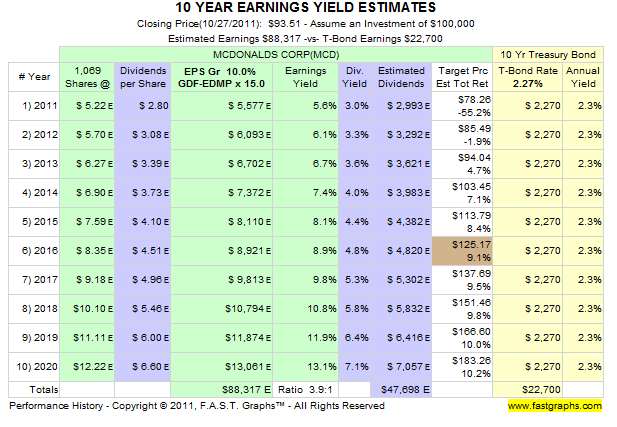 Philip Morris International, Inc. (NYSE:PM)
Philip Morris is simply delivering outstanding results, as I discuss here. The company increased the annual dividend by 20%. The company is building out its brands in new markets. Earnings, revenues, and share holdover value are increasing at a notable pace.
Dividend
The equity currently offers a 4.5% annual dividend yield. The $3.08 per share annual dividend was increased in September. The company focuses upon increasing the annual dividend each year along with a 2011 $5 billion stock buyback plan.
Earnings
The stock has risen in recent days to $72 per share. The equity is priced at a 15x P/E multiple. Management is truly intent on acquisitions, stock buybacks, dividend increases, and results. Tobacco, historically, has been a resilient consumer item during difficult economic times. The international markets do not have the high tax prices added to each pack of cigarettes as in the U.S.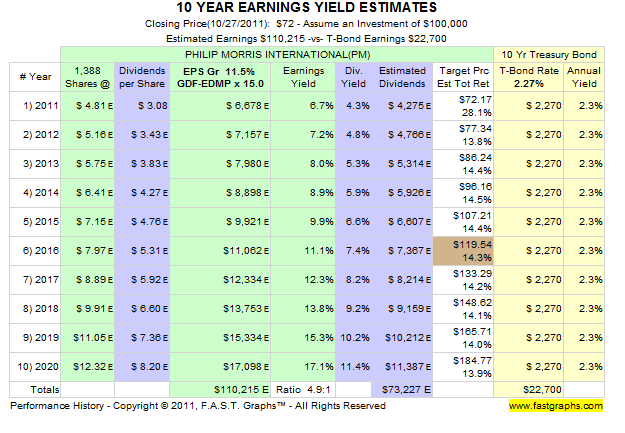 Chevron Corporation (NYSE:CVX)
Chevron is the world's fourth-largest oil company when looking at the company's oil reserves. The company decided not to spin off the upstream operations from the downstream operations, in contrast to ConocoPhillips's decision to separate into two entities.
Dividend
Chevron did announce a 3.8% increase in its quarterly dividend. The quarterly figure is 81 cents per share. This represents the second 2011 increase in quarterly dividends. In total, the annual increase is 12.5% from 2010 levels. Management has raised the annual dividend for 24 consecutive years.
The company repurchased $1.25 billion of its common stock in the third quarter. This reduces the number of outstanding shares, therefore increasing value for remaining stock holders.
Earnings
On October 28, Chevron announced very strong results. Third-quarter earnings per share were $3.92. In total, the company earned $7.8 billion. This compares to 2010's third-quarter earnings per share and net $3.8 billion quarterly earnings.
The equity trades at a single price-to-earnings multiple and offers a compelling 2.9% annual dividend yield. The equity has a blue chip financial pedigree.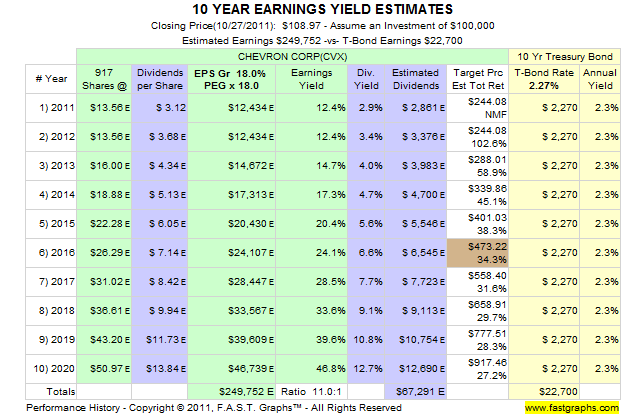 AFLAC Inc. (NYSE:AFL)
AFLAC is the world's largest underwriter of supplemental health and life insurance. A significant percentage is sold in Japan, most of which is sold through businesses and employee organizations there. Japanese sales amounted for 75% of revenues and 77% of profits in 2010.
AFLAC accepts client premiums and invests the proceeds for protection injury and illnesses. In the second quarter, AFLAC reported losses of 96 cents per share in the second quarter and 79 cents in the first quarter. These losses were due to bond losses. AFLAC has also reduced its sovereign and financial investments in European countries from 5.9% of total investments to 2.9% as of June 30, 2011.
Because interest rates are so low, and premiums will receive low yields on cost, I recommend avoiding this security until further interest income can be achieved. AFLAC has provided shareholders a 2.4% total annualized rate of return over the past 3 years. The tragedy in Japan, 2011 Tōhoku earthquake and tsunami, is likely to have unknown consequences which could impair AFLAC's earnings.
ITT Corporation (NYSE:ITT)
ITT is a name I want to avoid at the present time. The company is going through a transformation period. At the same time, the U.S. Federal Government is looking at reducing annual expenditures. The corporate transformation includes the following actions:
On October 5, 2011, per the SEC 10-Q, the ITT Board of Directors "declared a pro rata dividend of Exelis common stock and Xylem common stock (the Distribution), to be made on October 31, 2011, or such other date whereby conditions to the distribution are satisfied or waived, to ITT's shareholders of record as of the close of business on October 17, 2011 (the Record Date). Each ITT shareholder will receive a dividend of one share of Exelis common stock and one share of Xylem common stock for every one share of ITT common stock held on the Record Date."
The valuation metrics are difficult to place on ITT at this time. Due to the potential budgetary constraints on the defense industry, the revenue and earnings per share are in jeopardy of coming in on the low end for future quarters. The Department of Defense has projected cutting $500 billion, over the next 10 years, from the U.S. Federal Budget. I would wait and see how the spin-offs occur, and then invest accordingly.
Summary
Every dividend portfolio should be reviewed on a regular basis. Business models change, as do macroeconomic events. Successful dividend investing requires avoiding struggling companies and retaining strong performers.
Disclosure: I am long CTAS, V, MCD, PM, CVX.