Back in November I had the pleasure of attending a presentation at the unassuming Boulder, Colorado headquarters of a little-known "weed company" called Surna (OTCQB:SRNA). In this case, the term "weed company" warrants quotation marks because, while Surna is an ancillary to the booming marijuana industry in Colorado and beyond, the company itself never touches marijuana.
I started watching the stock soon after and wrote an article that barely scratched the surface of the investment opportunity.
The stock closed at $0.421 the day I visited Surna. Fast-forward to today, a little more than four months later. The stock ended last week with a price of $0.165 per share, a decline of more than 60%.
Zooming out further, the story told by the chart below is not a happy one.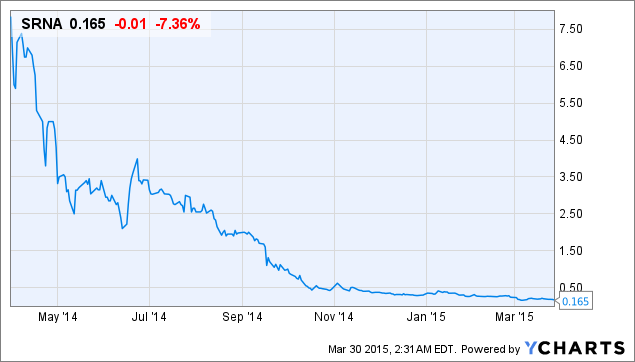 SRNA data by YCharts
Some quick background
Surna appears to be the result of a reverse IPO, a process through which a company that wishes to go public buys or merges with a defunct publicly traded company to essentially hijack its ticker symbol. This bypasses the expense, length and regulatory scrutiny of the traditional IPO process. As someone trying to dig into the history of a company to make assumptions about its future, it's incredibly important to know that the "old-Surna" died when its sole shareholder disposed of his entire stake on March 24, 2014. "New-Surna" was born on March 31, 2014 when the current management took over the ticker symbol "SRNA."
To look at old-Surna's financials and assume they have anything to do with new-Surna is a huge mistake, one made in a most egregious manner by the author of a short thesis I will discuss further down. But first, let's turn back to the dismal picture painted by Surna's stock chart.
The stock hit a high of $8.73 per share the day new-Surna was born. It hasn't looked back since, falling more than 98% from this 52-week high. The only month in new-Surna's history during which the stock has risen was June 2014, when the stock rose just $0.01 per share.
Still, I believe the shorts are wrong about this stock and that it is a hidden gem among junky penny stocks and, more specifically, a growing list of marijuana stocks.
The shorts are wrong
This article about Surna has been difficult to write because there just isn't a lot of information available. The stock has no analyst coverage and very little has been written about the company. The ticker symbol isn't supported by Stocktwits (despite my request that it be added) and only appears on Seeking Alpha in two articles. Because of that, I can only write to what the company has announced publicly, what has been filed with the SEC, the few articles written about the company and a couple of responses I have received from Surna's CFO, Doug McKinnon.
In a September 2014 article, Alan Brochstein published an interview with Tom Bollich on Seeking Alpha. Bollich is a co-founder of Zynga (NASDAQ: ZNGA) and the current CEO of Surna.
In his responses to Alan Brochstein's questions, Bollich lays out the Surna investment thesis:
I've seen the birth of an industry before during my time at Zynga so I know what it looks like. All the signs point to cannabis being the next big industry, maybe the biggest since the explosion of the Internet. The main difference between this and online gaming is that people get tired of games, but I haven't seen many people get tired of cannabis.

There are not many opportunities to get in on the ground level with a company that intends to dominate the infrastructure of a multi-billion dollar industry. Beyond cannabis, our products hold great potential to move into other markets including server farms, commercial agriculture, and other technology fields. We truly believe we are creating a GE-type opportunity for cannabis.
Note: Tom Bollich recently announced that he will step down from his role at Surna on April 15, 2015. More on this later.
I personally find the investment thesis to be very compelling. Nevertheless, the stock continues to fall. Shares have declined roughly 90% since the publication of the article mentioned above.
What do the shorts have to say?
There is only one article on Seeking Alpha containing a short thesis for Surna and I find it to be less-than-compelling.
The article, Surna Inc.: Why This Hyped Stock May Go All The Way Down To Zero, centers around three points.
"We have received numerous e-mails touting SRNA from various stock promoters."
"The recent financials of the company appear to be very bleak."
"Shares of the company are held by third parties and are ready to be dumped into the market."
Let's take a closer look at each of these arguments point-by-point.
1. "We have received numerous e-mails touting SRNA from various stock promoters."
Paid and otherwise suspicious stock promotion is a very valid concern. The short thesis article includes screen shots of compensation disclosures found at the bottom of the e-mails pumping Surna's stock. This is concerning, though doesn't seem to be uncommon for either penny stocks or marijuana stocks.
I consider this to be the only valid concern raised by this article and I plan to ask Surna's management about it when I reach out to them after the upcoming earnings report. I want (and expect) them to tell me they aren't directly or indirectly compensating stock promoters.
2. "The recent financials of the company appear to be very bleak."
I strongly disagree with this assertion. The article includes the following screen shots of Surna's financials (highlighting annual revenue figures):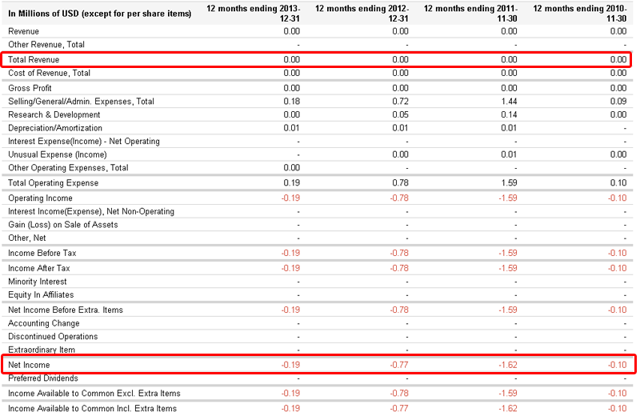 As you can see, Surna had no revenue in 2013, 2012, 2011 or 2010.
To stop doing your research here is a mistake. Why? Because these are old-Surna's numbers. Remember that new-Surna didn't exist until March 31, 2014. According to SEC filings, the company generated $5 in revenue during Q1 2014; $346,559 during Q2 2014; and $859,488 during Q3 2014.
These numbers are clearly not "zero." But there's more.
CFO Doug McKinnon pointed out that these numbers do not include the revenue of Hydro Innovations, which was acquired by Surna. This is described in footnote 1 to the financial statements contained in the Q3 2014 earnings report.
When you include the Hydro Innovations revenue, new-Surna actually generated revenues of $380,000 in Q1 2014; $616,000 in Q2 2014; and $859,488 in Q3 2014.
This means Surna generated $1,855,488 in revenue during the first nine months of 2014. This is also not "zero."
3. "Shares of the company are held by third parties and are ready to be dumped into the market."
Here, too, I disagree with the author. Five Surna executives have significant stakes in the company:
Tom Bollich, outgoing CEO
Stephen Keen, VP of Research & Development
Brandy Keen, VP of Sales
Tae Darnell, General Counsel
Doug McKinnon, CFO
According to the highest fully diluted share count I have seen in SEC filings (112,988,948 shares outstanding) as well as insider ownership filings, these five executives own a whopping 67% of Surna's shares. The table below further illustrates this huge insider ownership. To date, there has been zero insider selling from any of these executives.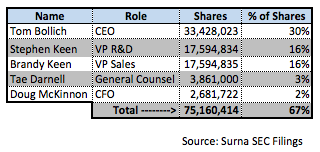 One concern I have is that Tom Bollich will depart as CEO in the middle of April. What he will do with his 33.4 million shares of Surna - roughly 30% of shares outstanding - is a huge question mark. I look forward to asking Surna's management about this issue.
Still, the assertion that "shares of the company are held by third parties and are ready to be dumped into the market" seems baseless and ignores the fact that only 33% of the company's shares outstanding are held outside of these five Surna executives.
Finally, let's talk about the opportunity.
I don't own shares of Surna simply because I think the short thesis is incorrect. I own shares of Surna because I believe, as CEO Tom Bollich said, this is an opportunity to invest on the "ground level with a company that intends to dominate the infrastructure of a multi-billion dollar industry."
According to the investor presentation made public in February, Surna currently offers:
Industrial chillers for temperature control
A patented light reflector for increased efficiency and yield
Humidity control with Surna's dehumidifiers
Monitoring and legal compliance with proprietary software
This tiny $17 million company you've probably never even heard of can cut the energy bill of a large-scale marijuana growing operation by as much as 50%. That is real money and real competitive advantage for growers in what is becoming an increasingly competitive landscape.
Surna also seems to have a pretty clear strategic plan. The short version of this plan is laid out on the slide below: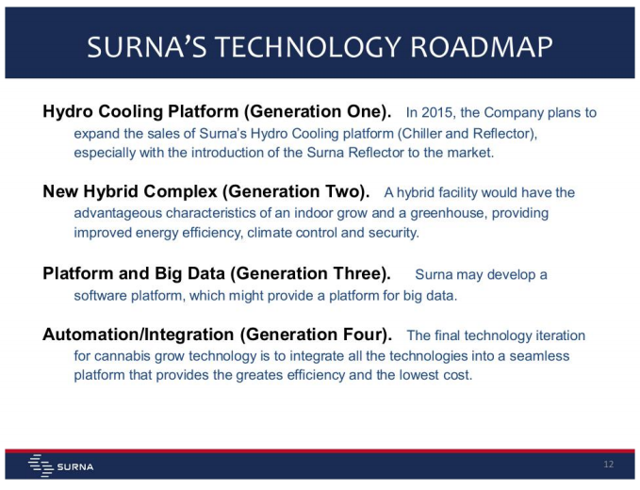 When I visited Surna the company had just returned from a conference in Nevada and their backlog had grown considerably.
I learned through a January 2015 SEC filing that the company secured a contract with "CWNevada" worth $1,061,744 of revenue. When I asked Surna's CFO Doug McKinnon about when the company will be able to realize this revenue he said: "Estimated Q3 and Q4."
To date, new-Surna has generated $1,855,488 in revenue. Here, with one contract, we have an additional $1,061,744 in revenue lined up for the second half of 2015.
Below is the slide in Surna's investor presentation that discusses revenue growth.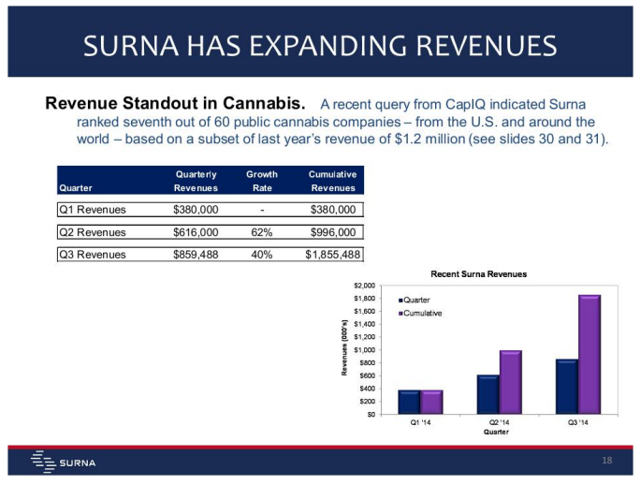 As you can see, Surna experienced sequential revenue growth of 62% in Q2 and 40% in Q3.
Conservatively assuming zero revenue growth in Q4, Surna will have generated $2,714,976 in revenue during 2014. Considering Surna's closing price of $0.165 per share and shares outstanding of 112,988,948, Surna has a price-to-sales ratio of 6.87.
This is considerably higher than the current price-to-sales ratio for the S&P 500 of 1.78. However, for reference, it is considerably lower than the price-to-sales ratios of Alibaba (NYSE: BABA) at 18.45 and Facebook (NASDAQ: FB) at 18.7.
The bottom line
The point I'm trying to make is that the stock seems very inexpensive to me at these levels, especially when you consider its strong position in a rapidly growing market.
Don't get me wrong - I know (and you should too) that this is a high-risk penny stock operating in the high-risk marijuana industry.
This is a highly speculative and high-risk investment!
I don't expect the market to wake up to Surna's real value overnight. But I do expect it to happen. This is a real company with real offices, real revenues, real products and real opportunity in a really great industry.
The shorts would have you think otherwise.
Surna has 90 days to file its annual report from the end of the last quarter. That clock is about to expire. Earnings numbers are coming and, if they are anything other than terrible, they are very likely to result in an upside surprise.
I'm long Surna. Let me know what you think in the comments below.
Editor's Note: This article covers one or more microcap stocks. Please be aware of the risks associated with these stocks.