Recently I read an excellent article in Harvard Business Review by Chris Zook and James Allen, both with Bain & Company, called The Great Repeatable Business Model. In it, the authors provide valuable strategies for leveraging simple formulas that allow companies to create new and lasting differentiation methods:
The power of a repeatable business model lies in the way it turns the sources of differentiation into routines, behaviors, and activity systems that everyone in the organization can understand and follow so that when a company sets out on a particular path, it knows how to maintain the differentiation that led to its initial success.
Based upon The Conference Board's latest U.S. consumer confidence levels, the U.S. economy is at its worst since March 2009 -- the height of the recession -- and NPR's Giles Snyder recently provided some insight into U.S. consumer behavioral patterns. An interview with Dan Ariely, a behavioral economist at Duke University, included the following exchange:
Snyder: The numerous hits to the economy have caused consumers to basically shut down. It's something psychologists call "learned helplessness."

Ariely: If you take an animal and you give the animal shocks – punishment – in unexpected intervals, the animal gets very depressed and after awhile just lays around in the cage. Even if you put it in a new cage, it doesn't explore, it doesn't look for ways to escape.

Snyder: In Ariely's scenario, the American consumer is the animal. We've been shocked repeatedly and unexpectedly – by the mortgage crisis, by the bank bailout, by losing a job. So, our confidence is shot. We've stopped exploring. We've even stopped to escape.
And so as U.S. consumer behaviorism has evolved into what Ariely describes as "learned helplessness," the U.S. consumer lending model has also evolved with more strategically enhanced "necessity-based" products aimed to assist consumers with differentiation and simplicity. One of these more innovative and strategically differentiated alternative consumer lending options is Advance America, Cash Advance Centers Inc. (NYSE:AEA).
Advance America
Founded in 1997 by George D. Johnson and William M. Webster IV, Advance America is now the largest non-bank provider of cash advance services in the U.S. With around 5,600 employees in 29 states, the Spartanburg, South Carolina-based company provides short-term, unsecured cash advances that are due on the customer's next payday. The company's primary business is offering cash advance services, which consist primarily of cash advances but also include installment loans and lines of credit.
In most states, the company originates cash advance services under the authority of state statutes where the cash advance ranges from $50 to $5,000 (a typical advance is $50 to $1,000). In addition, the company offers strategically aligned financial products, such as check-cashing, pre-paid debit cards, money orders, money transmission, and bill payment services. Products and terms vary by state.
The Great Repeatable Payday Loan Model
What many refer to as the "payday" lending model has evolved into a highly regulated consumer finance products industry, where lending products are regulated under individual state statutes. Over half of U.S. states permit payday lending activities, and several states are enacting regulation to return to the demand-based products. According to Advance America's most recent 10-Q, the company operates around 2,299 cash advance centers in 29 states. In addition, the company has 18 centers in Canada and 25 centers in the U.K. The combined store count of 2,342 centers has decreased from its highest count of 2,853 in 2006. Here is a snapshot of the company's historical store count from its IPO (in 2005) thru October 1, 2011 (excludes limited licensees in the U.K.):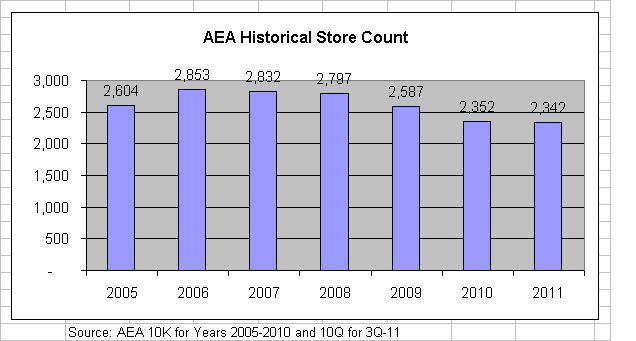 The payday industry is a highly fragmented business, and there are thousands of small, medium, and large operators. As noted by Zook and Allen in the Harvard Business Review:
Companies with a sustained, high level of performance (over many years), had a kind of well-defined and easily understood differentiation at the center if their strategy. ... Over the long run, a company's strategic differentiation and execution matter far more to its performance – our research suggests as least four times as much – than the business it happens to be in.
And as announced in Advance America's recent earnings call, the payday leader intends to expand its differentiation strategies by acquiring 300 retail stores from CompuCredit Holdings. As Patrick O'Shaughnessy, the company's CEO, explained:
On October 10, we completed our largest acquisition in 10 years … these centers are located in nine states … the purchase price is approximately $46.7 million…and this acquisition will return value to our shareholders quickly and we expect they will be accretive during 2012.
As I will detail later in this article, the economies of scale of Advance America's repeatable business model should provide strong support of its product and service differentiation. Here is a snapshot of the company's historical store count, including the recently acquired 300 CompuCredit facilities (excludes limited licensees in the U.K.):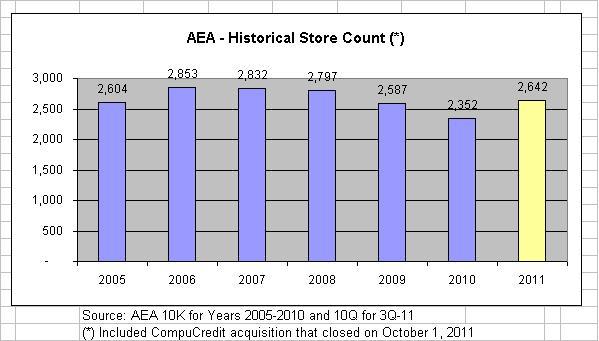 Barriers to Entry
The payday lending model is a simple operating concept where capital is the driving product and labor is the largest expense (around 31.2% at AEA). However, the second largest expense is for doubtful accounts (around 19.4%), making the largest expense (labor) extremely relevant to successful investments. Many payday operators have ventured into this simple and highly profitable business model in hopes of becoming the next "great repeatable business model"; however, obstacles have prevented many such operators from becoming lasting differentiators.
Indeed capital is one the most intense barriers to entry. Many payday lenders will open two or three stores and run out of cash after determining that the business model requires significant capital for recycling; however, Advance America is extremely well-capitalized with a $270 million credit revolver (around $79.1 million outstanding as of Q3 2011) and $36 million of cash on hand (as of Q3 2011). And unlike the iconic unregulated loan sharks, the payday industry has evolved into a highly transparent, customer service-oriented model.
These two differentiators – capital and customer service – are what make Advance America an attractive investment opportunity. As the payday industry has evolved, the products have become increasingly regulated (on a state level) and many of the smaller, less transparent and under capitalized companies have closed. In addition, several states are threatening to close or curtail payday lending practices, and for that reason, Advance America has reduced its coverage from 36 states (2005) to 29 states (2011). Here is a snapshot of Advance America's historical count by state (excludes limited licensees in the U.K.):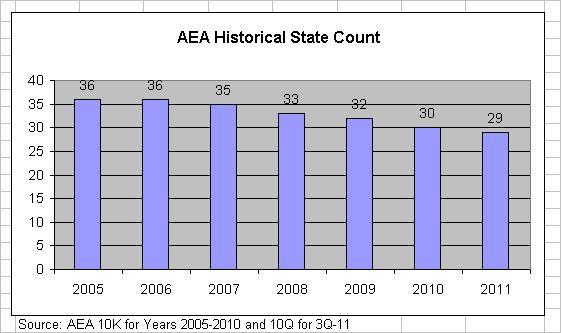 Because of Advance America's longstanding experience in the regulated payday loan industry, the company has become much more experienced in its state and federal lobbying efforts. The differentiators mentioned above (transparency and customer service) have gained respected admiration from many industry peers, and the non-banking model has also gained considerable attention with many of the bank model peers.
The perceptions among many are that payday lenders are like loan sharks, and that the necessity-driven transactions are formulated with a secured predatory lending function. Furthermore, the common perception is that payday customers are transient, unemployed people seeking help from unscrupulous sharks looking for blood.
The demographic profile for the Advance America customer is clearly the opposite. The average household income of a customer at Advance America is around $49,000 a year, and the customer must have a verifiable job and a checking account. In addition, the Advance America customer is educated in that around 90% of its customers graduated high school and around 54% have some college education or a degree.
Based on the company's most recent 10-Q, Advance America is still dealing with some state-specific regulation issues. For example, Advance America recently closed its two centers in Montana (cost to close: $38,000) and the company has closed around 77 centers in Washington, during 2010 and Q2 2011. Further restrictions and closures are forecast in Ohio, Colorado and Virginia.
Advance America also stated in the 8K that regulations were recently modified in South Carolina, Kentucky, Rhode Island, Wisconsin, Illinois, and Mississippi, and those operations should "remain economically viable in these states." Clearly Advance America is demonstrating its resiliency in balancing a diverse lending model and providing and distributing its various risk-based products to all available consumers. These risk-based products are becoming increasingly transparent industry-wide, and this much supported differentiation should continue to separate Advance America from the other non-bank financiers. Here is a snapshot of Advance America's store count by state (including UK and Canada). I have also highlighted in yellow the three states on the watch list.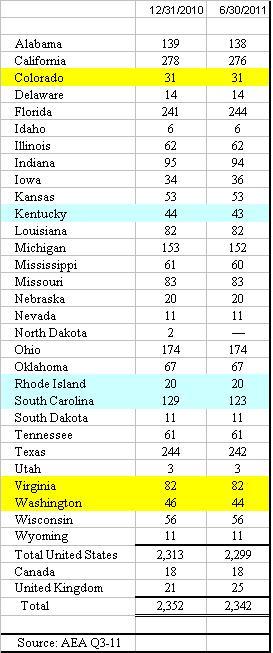 Respectable Results
Advance America recently announced its most recent (third-quarter) results, and based upon these results it appears that the payday leader is gaining ground with its differentiator lending model. Announced last week, Advance America reported an almost tenfold earnings increase from the same quarter a year ago. The company's net income for the quarter was more than $14.5 million, compared with $1.4 million during that same quarter a year ago (2010 results included around $16.2 million in legal settlements).
In addition, the company's net income for the previous nine months more than doubled to more than $41 million, compared with $20 million during the same period last year. As noted by Patrick O'Shaughnessy, president and CEO, "Customer service is the core of Advance America's business, and our strong results this quarter reflect our steadfast efforts to satisfy the varied needs of American consumers." The payday lender also reported total revenues for the quarter of $158.9 million, a 3% increase over the same quarter in 2010.
These recent results (as well as the trailing-nine-month results) indicate that Advance America is building a broader economic moat strategy, and that the company's differentiated lending practices are becoming increasingly well-recognized as reliable consumer finance options. Also, I find it is interesting that the company has become increasingly profitable in light of its regulatory challenges (and costs) related to its state=-mandated store closures. Here is a snapshot of Advance America's historical NOI growth and note that I forecast Q4 2011 (in yellow) of $15 million (just below Q4 2010 net income of $ 15.75 million):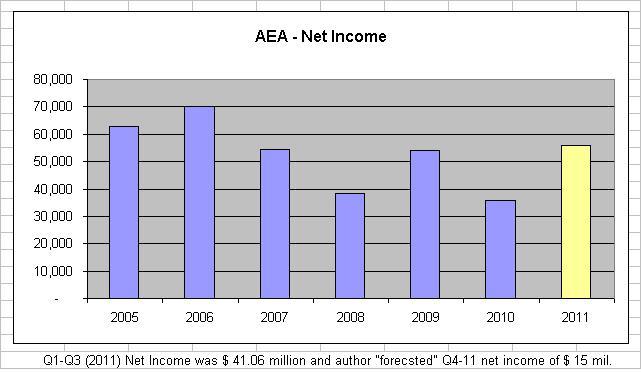 In addition, I have prepared the historical annual revenue snapshot below. As you can see, I also forecast the Q4 2011 revenue results (yellow), and I did not take the CompuCredit projections into consideration. As O'Shaughnessy mentioned on the earnings call, the CompuCredit acquisition should provide the company with some accretive profitability during 2012.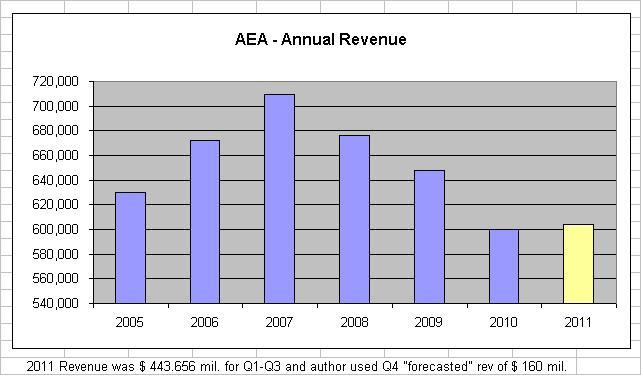 Durable Dividends
Also announced last week, Advance America approved its 28th consecutive dividend since the company became public in December 2004. This dividend is $0.0625 per share and is payable on December 2, 2011, for shareholders of record as of November 22, 2011. Unlike many banks that ceased dividends during the latest recession, this non-bank leader has paid out around $176.8 million in dividends since the company went public, and that amount is almost 50% of the combined net income during the same period. In addition, Advance America has returned a total of around $400.3 million (dividend and share-repurchase) since December 2004. I have included the snapshot below that illustrates the company's historical dividend payments, and I included the Q4 payment in the graph. The current dividend yield is 3.2%.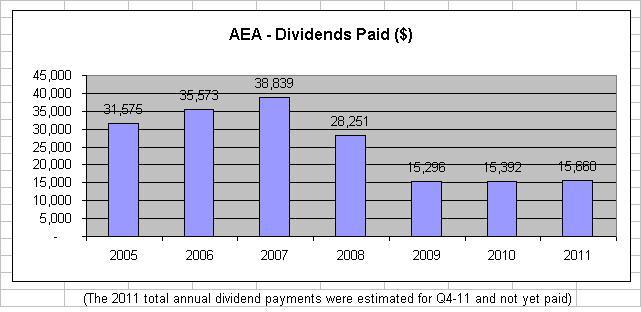 The Founding Differentiator
Advance America was founded in 1997 by George D. Johnson, Jr. and William M. Webster IV. Both South Carolinian financiers have varied business backgrounds, but both have relevant experience in finding, mining, and grinding "wide moat" investment strategies. Johnson's extraordinary resume and work related experience was a common thread woven in many of his "repeatable business models." Notably, Johnson was co-founder (along with Wayne Huizenga) of Extended Stay America (Johnson was CEO of Extended Stay America from January 1995 through May 2004) where he launched the weekly hotel concept that he eventually sold to Blackstone in May 2004 for around $3 billion -- a private bid of $2 billion cash and $1 billion debt.
Johnson also founded WJB Video, with partners, which became the largest Blockbuster Video franchisee, and after developing around 200 video stores, the company merged with Blockbuster Video and later Viacom. Another exceptional Johnson-originated "wide moat" model was Johnson Development Associates, a diverse commercial real estate development company. Like the other differentiating Johnson concepts, JDA develops apartments, industrial facilities, and branded hotels in many markets nationwide with strategically deployed barrier-to-entry attributes.
Johnson has a proven track record for researching and exploring "wide moat" concepts and, like Advance America, the strategic differentiation formulas have all yielded exceptional results and profitability. Webster, also a very successful businessman and highly regarded political figure (he worked for former President Clinton from October 1994 to October 1995), co-founded Advance America with Johnson in 1997. The Advance America IPO opened at $20.50 per share, well above the $15.00 offering price (up 37% from IPO pricing) and Webster served as CEO from July of 1997 through August 2005. Currently, Webster is chairman of the board, where he remains actively involved in payday reform and corporate governance policies. Also, Patrick O'Shaughnessy was recently promoted from CFO to CEO when the previous CEO retired.
As revealed in research, Johnson has recently sold quite a few shares in Advance America. From November 2009 through September 11, 2011, Johnson has sold around 4.5 million shares (valued at around $30.7 million), according to Yahoo Finance. However, he remains the largest individual shareholder of the company: 11% is collectively owned by Johnson, Johnson Trust, and the Phifer/Johnson Foundation, with a combined 6.8 million shares valued at around $58.1 million. In addition, Webster sold around 600,000 shares in 2010 (valued at around $2.57 million), and he still remains the second-largest individual shareholder with 1.341 million shares remaining valued at around $11.44 million.
I do not consider these insider trades to be meaningful in terms of a possible sell-off, as Johnson is likely redeploying his capital into other wide moat businesses with similar differentiation attributes. In addition, Johnson has been a tremendous supporter for the Spartanburg, S.C., community, and it is his desire to continue focusing on attracting other high-quality corporate offices to Spartanburg. His continued community-based support is evident with his strong connections with Wofford College, Converse College, The George Dean Johnson, Jr. College of Business and Economics at USC Upstate, and numerous other local and state nonprofits.
Skin In The Game
One good sign that a company is creating lasting differentiation is the commitment to insider ownership. As mentioned previously, the founding principles, Johnson and Webster, both have considerable skin in the game and, including other directors and officers, the payday leader has approximately 15% ownership interest: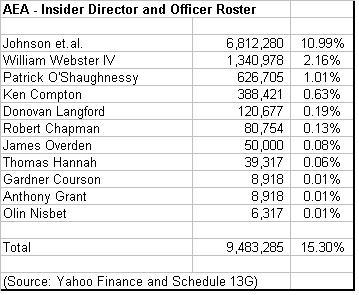 In addition, institutions and mutual funds own around 75% of the company. Here is a snapshot of the Top 10 Institutional owners: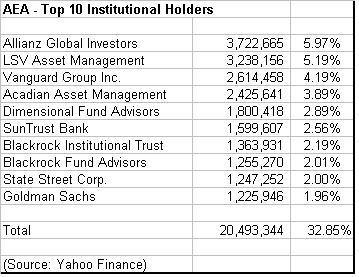 The Tipping Point
Recently Dick Hughes, a contributing author to The Spartanburg Journal, wrote an article titled "Advance America banks on surprise," in which he states:
Advance America is on the offensive to gain shares in payday lending and dispel the notion that the company preys on the poor. The company sees opportunities in the nascent public recognition that it is a mainstream lender for small-dollar, short-term credit, a growing need for more credit options and, indeed, in acquisitions to increase its dominance in payday lending.
And because of the numerous hits to the economy, many consumers have become more crippled and fearful of the economic crisis. And for that reason, there is a lot of mistrust with bank services. Conversely, payday lenders have become more transparent. As Hughes explained:
In a study of 250 checking account disclosures of the 10 largest banks, the Pew Charitable Trust found that the average overdraft of $36 calculated as a loan for seven days represents an annualized percentage rate of more than 5,000%. Advance America's median loan of $370 with a $55 fee, or $15 per $100, has an APR of 391%. ... Using 2008 data from the FDIC, the Center for Responsible Lending and Stephens Inc., Advance America notes that payday lenders collected $5.5 billion in fees on $35 billion in credit while banks charged $23.7 billion in fees for $29.5 billion in overdraft credit.
Clearly these statistics indicate that the payday industry has evolved into a more widely accepted consumer credit option and, as a result, I suspect that Advance America (and the other respected lenders) will see less debate (lawsuits) and more focus on consumer education efforts.
Is This a Great Repeatable Business Model?
With a shrinking number of centers (19,000 today down from a peak of 23,000 centers), Advance America should benefit from the shrinking and highly fragmented playing field. Advance America has a market cap of around $540 million and operates around 2,600 centers. The payday leader's closest competitors are Check N'Go, with 1,000 stores, and Check Into Cash, with around 1,100 stores.
Advance America's stock is trading around $8.53 per share as of October 28, 2011, the 52-week high was $9.32 and the 52-week low as $3.99. With a PE of 10.56 and operating margins of around 18%, I see quantifiable value in the business and its 3.2% current dividend. The stock price has seen continued support for a double-digit stock price as the recent acquisition and earnings results indicate sustainable profitability levels. As referenced in this article, the regulatory environment posses the greatest risk to the payday model; however, I see continued evidence that the model is durable and profitability is sustainable. Advance America's differentiation strategies (customer service, transparency, capital, and leadership) separate the peer group as well as the non-peer group lenders. The model is geographically diverse, and the innovative credit-based products are strategically integrated.
As Zook and Allen wrote in the HBR:
Over the long run, a company's differentiation and execution matter far more to its performance…than the business it happens to be in. And the leading companies are typically the most differentiated." And clearly Advance America is a market leader that has been able to create value by leveraging a simple financial model within a durable differentiation platform. This investment opportunity promises continued profitability and growth and perhaps summed up as another "great repeatable business model."
Disclosure: I have no positions in any stocks mentioned, and no plans to initiate any positions within the next 72 hours.