Investment Opportunity
Gold has been one of the best-performing investments in the recent period. Spot gold has been $1,217.50 to $1,750.60, an increase of 25.55%; GLD (a physical ETF) increased by 29%; the Gold Mining Share Index GDX traded at $60.79 to $59.00 (with a $0.40 dividend), an increase of 5.7%; and Fidelity Select Gold Fund, FSAGX has been at $46.50 to $49.38, an increase of 6.19% over one year.
Since Jan. 1, 2011, GLD rose by 22%, whereas Gold Mining Share Index, GDX, decreased from $61.47 to $59.16, a decrease of -4.7%. The share price of Barrick Gold (NYSE:ABX), the world's largest producer of the precious metal, is trading only 40 cents higher than where it started the year. Barrick is not alone in its relative underperformance: The S&P/TSX index of global gold mining equities has underperformed the yellow metal by 33 percentage points in the past year, including dividends.
The relative weakness of gold miners has been attributed to hedging losses on gold price which has run its course and weakness of equity markets relative to gold price. In 2008, when this divergence got noticeable, gold price was kept high because of fear about global economy and fiat currencies whereas gold miners were sold down along with other equities. Similar thing happened in 2011, as worries about global economies increased because of euro debt concerns.
The gold price still retains the allure which has created this gap. The gap will close if fears about global economies decrease, as gold miners will have a double kicker of gold price and equity markets. This divergence between the share prices of miners and the gold price is rapidly becoming one of the hottest trades among hedge funds and other asset managers. Many market analysts who discuss the disconnect between bullion and stock/mutual fund pricing believe that it's an anomaly in the market and it will self-correct quickly.
Many market gurus mentioned the fact that some mining companies have hedged future production and are not benefiting from the recent high prices. A popular excuse is that the relationship between physical gold and mining stocks got disrupted when the financial markets went haywire in 2008, and equities tumbled while physical metal increased. Increasing numbers are betting that the underperformance of the gold mining sector is unsustainable, making equities ripe for a rapid rally. As shown by relative movement of money is from gold market to the gold miners as a lot of investors are switching out of the gold ETF -- GLD and others -- into gold equities and gold equity funds to take advantage of the opportunity.
We're confident the gap will close; it has always closed in the past. This is an abnormally long one and an abnormally large one. Taking a vanilla long position in gold miners is the best way to play this opportunity, as it adds potential kicker from increase in gold price to the equities mispricing (beta of 0.7).
Investment Opportunity #1
Gold companies in general are a good investment right now. GDX a market capitalization based ETF of 30 major gold producers have lagged GLD, an ETF based on physical gold by 25% YTD. Major constituents of GDX are Barrick Gold, Goldcorp Inc (NYSE:GG), Freeport-McMoRan (NYSE:FCX), Newmont Mining Corporation (NYSE:NEM) and Kinross Gold (NYSE:KGC), which constitute around 55% of the ETF.
All of the stocks I analyzed have one-year price targets between 24.4 percent (Yamana) and 38.8 percent (Goldcorp) higher than their current market prices. Every company that I analyzed except for Goldcorp is trading above its 50-day and 200-day moving averages, and these companies' P/E ratios are still reasonable between 12.4 (Newmont) and 20.9 (Yamana).
My personal favorite is Barrick Gold Corp., which is an unhedged gold mining firm with the largest market cap in the industry at just over $48.5 billion. It's trading at its 200-day moving average, a P/E ratio of 10.64, and a forward P/E ratio of 9.5. In 2009, it experienced a $6.1 billion unusual loss due mainly to closed hedging positions from its decision to unhedge its position on gold. However, it has increased operating income every year for the past six years, and is obviously expected to do so over the next two years. It will be interesting to see how high gold prices will get, but the one sure thing for now is that investors want to be long gold and will find new ways to take that position. We expect GDX trade to do +20% in the coming six months because of re-rating, earnings growth and flat gold price.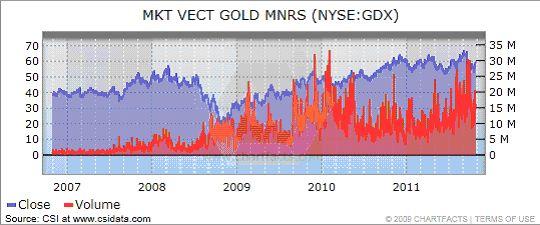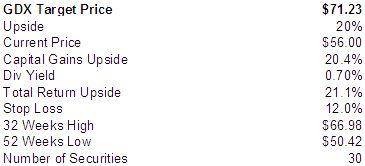 Investment Opportunity #2
While the GDX's weakness has deservedly garnered the bulk of the attention this year, many small and mid cap gold stocks have fared even worse than their large-cap peers. The Market Vectors Junior Gold Miners ETF, composed of many gold exploration and development companies that have yet to reach the production stage, has plunged 25.6% in 2011. The ETF has underperformed GLD by a whopping 50% in 2011. When compared to the price of gold, many junior gold stocks are trading at levels last seen during the depths of the financial crisis in 2008. Because of the dramatic price decline in these early-stage companies, investors have the opportunity to purchase explorers and developers, often referred to as juniors, at about half of the company's net asset value.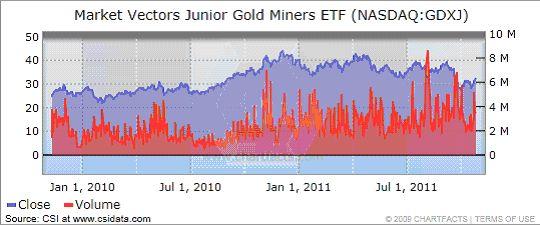 Investment Opportunity #3
A third investment option can be going long on gold miners but hedging exposure to gold price to benefit only from mispricing. This can be done by going long on GDX and short GLD. The exact number of GLD shares to construct a hedge will depend on GDX beta to gold price. Gold price will increase again in H1 2012, as the path of least resistance is for EU to increase its balance sheet and US to keep a loose monetary policy in an election year. With no Treasury yield advantage, the case for switching out of gold remains unconvincing. Further, the fears about EU will keep popping up, which should be gold price positive. In this environment, risk/reward dictates not to hedge the gold price risk.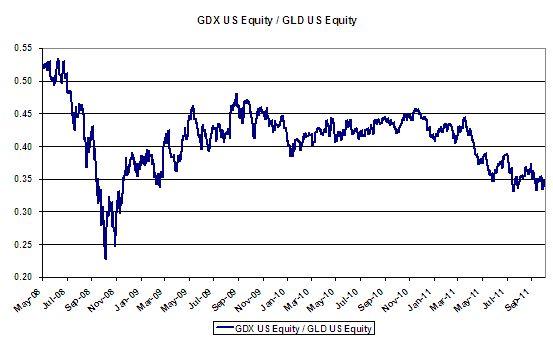 Disclosure: I am long GDXJ.