At Capital Ladder Advisory Group (for whom I am employed) we have been offering dedicated coverage of the beverage industry titan PepsiCo (NASDAQ:PEP) for the last several years and most recently on Seeking Alpha for investors to view freely. Our latest publication delivered a mid-quarter update on the PepsiCo business operations. In this publication, we aim to discuss some of the issues surrounding PepsiCo currently as well as the beverage and snack industry as a whole.
Since discussing most of PepsiCo's latest product developments and product launches through the month of February, the pace of product introduction has continued to remain strong. With this in mind, the following numerical points identify the products the company has launched during the first quarter of 2015:
Mountain Dew Kickstart flavors to North America. The two new Kickstart flavors are Pineapple Orange Mango and Strawberry Kiwi. (50% growth in Kickstart brand last year with roughly $250mm in sales)
At Quaker, the company launched the differentiated three SKU line up of Quaker Steel Cut oatmeal.
DEWshine craft soft drink launched on March 23, 2015. Mtn Dew DEWshine is packaged in a standard glass bottle.
The latest product launch from PepsiCo is called DEWshine. The high-caffeinated, craft soft drink designated to appeal to gen-ex and millenials who enjoy highly caffeinated drinks to get their mornings started. A single-serve will sell for $1 to $1.49 and a four-pack will sell for $3.99. DEWshine is a clear citrus Dew made with real sugar, "inspired by the brand's roots in the backwoods of Tennessee," says Jennifer Ryan, a Mountain Dew spokeswoman.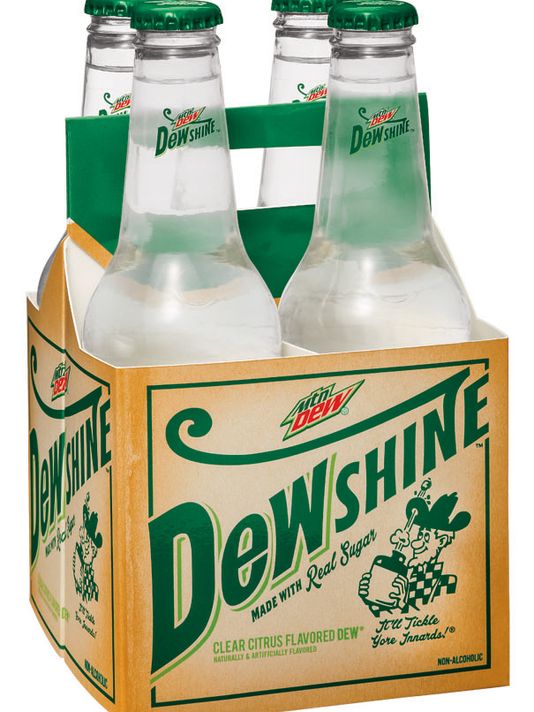 Craft sodas, largely defined as being manufactured in smaller batches with more natural ingredients, is still just a fraction of the overall soda market, said John Sicher, editor of Beverage Digest. He estimates that craft soda "at best" owns a 1 percent share of the roughly 9 billion-case U.S. soda market. Still, the number remains difficult to pin down due to the difficulty of defining craft soda. This is partially due to the "real sugar" versions of products offered by Coke and Pepsi and premium colas offered by big brands, Sicher said."
Craft sodas are obviously gaining in popularity. For Mountain Dew, DEWshine is PepsiCo's second craft offering. Last year PepsiCo introduced Caleb's Kola, made with Fair Trade cane sugar and kola nuts from Africa. Craft branding for products of any kind is on-trend with Millennials, says Irma Zandl, a cultural trends expert. "Craft beers are extremely popular, but I haven't seen craft sodas get the same kind of traction."
It remains to be seen if PepsiCo can manage to expend its sales into the craft soda market in a meaningful way to its overall business. The major players in the craft soda category have long since been Jones Soda and Reed's. While these two titans of a relatively small category have garnered the lion's share of volumes and revenues in the category for the last decade or so, smaller players are gaining market share and growing the category as a whole. These craft soda market participants include Appalachian Brewing Company and Birch Soda that have been increasing their exposure in the mass market and grocery retail sector through much of 2014.
With the food and snack industry still digesting the latest 3G Capital acquisition of Kraft Foods Group (KRFT), naturally this increases the speculation concerning PepsiCo's total business operation. In recognizing that PepsiCo's snack business now constitutes greater than 50% of the total PepsiCo revenues, the potential for this business segment to attract potential bidders remains elevated. Even though 3G Capital has already spent a good deal of capital on Kraft Foods Group, Deutsche Bank thinks 3G Capital will be back in the food sector for a major acquisition faster than some other investment firms anticipate.
Analyst Eric Katzman of Deutsche Bank points out that by using equity instead of more leverage in the Heinz-Kraft deal, the new entity will maintain a "decent" balance sheet. Prior to the deal, Heinz had leverage of around 7x.
By merging with Kraft (2.3x) and not adding debt, the company will quickly be in position to move again in the market," Mr. Katzman told clients, estimating that Kraft Heinz will have reduced leverage to 3.5x by 2017. As a result, he thinks investors may continue to treat companies such as ConAgra (CAG), General Mills (GIS), Mead Johnson (MJN), Mondelez (MDLZ), PepsiCo, Pinnacle (PF) and others as potential targets for 3G for the next couple of years. In other words, these businesses might see premium valuations for their equity holdings and other assets.
As the beverage and snack industries are ever changing and prone to periods of expansion and consolidation, Capital Ladder Advisory Group believes PepsiCo is well positioned. Unfortunately, the biggest impact to the company's revenue and earnings performance remains outside of their control as it is largely due to foreign currency exchange impact. For this reason, PepsiCo expects to exhibit a flat EPS performance versus 2014. On an organic basis, revenues are once again expected to grow in the mid-single digit range. As the company aims to accrue $1billion in operation savings alongside mid-single digit organic revenue growth, I believe these are major variables of importance to monitor by long-term investors.
PepsiCo and other major beverage producers like Coca-Cola and Dr. Pepper Snapple Group (DPS) will need to continue their product development cycles with regards to the carbonated soft drink category. The CSD category continues to witness YOY volume declines. As the volumes in the category have declined YOY, the producers have been able to offset much of these declines through appreciative pricing strategies that have produced greater total sales volumes in various reported quarters. Having said that, pricing strategies that put the consumer at a disadvantage are not likely a long-term strategy that will produce returns in perpetuity. There is an end game here.
In the most recent Beverage Digest report, the firm cited that carbonated soft drink volumes declined for a 10th straight year in 2014. Volumes are now settling around levels last seen in the mid 1990s. Total volume dropped 0.9% in 2014 from the prior year, Beverage Digest reported on Thursday, with Coca Cola posting a 1.1% drop, while Pepsi volume slid 1.4%. Both Coke and PepsiCo improved their CSD performance in 2014. In 2014, Coke was down -1.1% vs. down -2.2% in 2013. PepsiCo's CSD volume was down -1.4% in 2014 vs. its -4.4% decline in 2013. Both Coke and PepsiCo lost share. The energy drink companies - Monster (MNST), Red Bull and Rockstar, each posted stronger than overall industry performance and gained or held share.
The biggest news for the total CSD category highlighted Pepsi as gaining brand share. Pepsi volumes declined by 1.8%, but the #2 brand in the CSD category, Diet Coke, witnessed a volume decline of 6.6 percent in 2014. These 2014 results propelled Pepsi to the #2 spot and regulated Diet coke down to the #3 ranked CSD brand. Diet carbonated soft drinks continue to lose favor with consumers. The negative sentiment surrounding artificial sweeteners, heavily used in diet soft drinks, still looms heavily in the category as evidenced by the continued outsized volume declines of these products.
Among the top-10 CSD brands, the regulars out-performed the diets. For example, brand Coke was up a bit, while Diet Coke and Coke Zero were down. Brand Pepsi was down -1.8%, but Diet Pepsi declined much more: down -5.2%. Same patterns applied to Mt. Dew and Dr. Pepper. Diet Dr. Pepper is not a top-10 brand; its volume was down -7.9%."
Based on the FY14 CSD results, it becomes clear that the worst of the volume decline rates are behind the major beverage producers, but declines do continue in the category to a lesser degree. The best ways in which Coca-Cola and PepsiCo are combating the declines in the CSD category are through continued product innovation, mergers and acquisitions as well as participating in newer revenue streams such as the at home carbonation category.
The joint venture between Coca-Cola and Keurig Green Mountain (GMCR) will finally come to market this fall, as the Keurig Kold Karbonator will launch. A recent publication titled "Keurig Unveils Details of Keurig Kold" outlines some information concerning this product development from the two respective companies. The Keurig Kold has been in the developmental stages for the last 3 years and recently has undergone rigorous testing in a handful of homes assigned to by Keurig and with a great deal of confidentiality. The analyst community will have its first "up close and personal" experience with the Keurig Kold in May and by invitation only. I would look toward greater analyst insight regarding the product later in May once the analysts have been able to test the machine themselves and inquire with management on the finer details of the product.
At the most recent International Home and Housewares Show in Chicago (biggest home goods show in the world), the Keurig Kold was not on display at the designated Keurig platform. As I attend the show every year on behalf of Capital Ladder Advisory Group clientele, I was able to speak with retail buyers who create purchase order agreements with vendors and distributors at the show. As it pertains to some of the current retail buyer sentiment concerning the Keurig Kold, a recent IHA Show publication offers commentary from retail buyers about the product.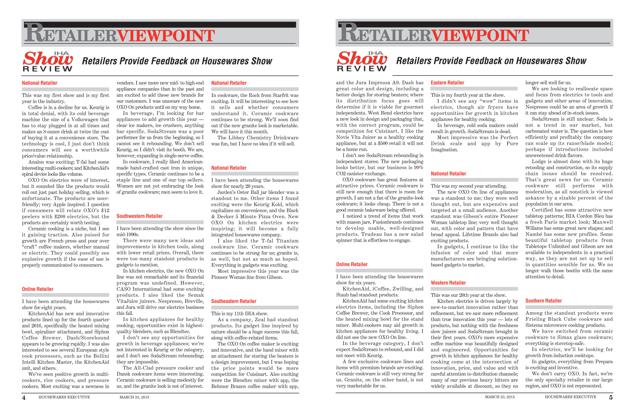 National Retail Buyer:
"Coffee is in a decline for us. Keurig is in total denial, with its Keurig Kold the size of a Volkswagen that has to stay plugged in at all times and makes an 8-oz. drink at twice the cost of buying it at the convenience store. The technology is cool, I just don't think the consumer will see a worthwhile price/value relationship".
Southwestern Retail Buyer:
"I don't see any opportunities for growth in beverage appliances. We're not interested in Keurig or the category, and I don't see SodaStream (SODA) rebounding: they are impossible".
I think it is safe to say that some retailers, which have had advanced viewings and information about the Keurig Kold, are not necessarily enamored with the product or the category presently. The fact is that the category of home carbonation is a slow moving category because, at its core, the category is nonessential and doesn't evoke strong purchase intent or follow through on the part of the consumer regardless of the benefits. It's simply too easy and cost effective to purchase ready-to-drink carbonated soft drinks that are readily available and made by both Coca-Cola and PepsiCo. But be that as it may, over time, the category does continue to gain users and with the right distribution and flavor portfolio, the category has strong potential to regain a stronger rate of growth. That is what Coca-Cola is counting on and why they had to jump into the category with a major beverage appliance brand like Keurig…kind of.
See, what most of the investor community believes is that because Coca-Cola and Keurig made the first big joint venture announcement, they were the first major partnership. But let's take a look back to the summer of 2013 when a pre-market opening announcement that PepsiCo was designated to purchase SodaStream. The headline read as follows: "PepsiCo is in talks to buy Israel's SodaStream International, whose machines make carbonated drinks from tap water, for $2 billion, the Calcalist financial newspaper reported on Thursday."
Long-term investors in SodaStream had the opportunity to cash in during the pre-market trade as high as $95 a share and in the $70 range during the daily trade on June 6, 2013. I certainly let some of my shares go in the $80 price range during the pre-market as I understand there was no deal in place after looking into whether or not either company's stock was on the restricted stock list at any major financial institution.
What Calcalist was likely rumoring about was the meeting of two companies that had long since established a relationship, which was aimed to develop further in the future. That future came during 2014. Market participants first got wind of the relationship in an official SodaStream filing on October 24, 2014 which outlined a product test in development that was slated to last 10 weeks and take place at specified retail establishments in South Florida. Although the test products didn't hit stores until November, it took SodaStream and PepsiCo months and months to develop the appropriate flavor profile for the products, which tested as I expected. I took the liberty of disseminating the sales results from the test to Capital Ladder Advisory Group clients and now will offer a sample viewing here on Seeking Alpha for the first time ever. For the full results and analysis, investors can consider purchasing the full reporting of the sales results.

The only thing that now remains still on the table with regards to the PepsiCo and SodaStream product relationship is whether or not the two companies will take the next step and distribute their joint products nationwide or even internationally. Like with most things that surround the beverage industry, my sound due diligence and strong relationships with many of the beverage industry experts enable me to speak with a great deal of certainty to the prospects and in my latest full scale report surrounding this subject matter I detail my insights.
When Keurig Green Mountain announced its deal with Coca-Cola; shares of GMCR rocketed by roughly 40% on the news. Is the same thing in store for SodaStream shares should PepsiCo and the leading home carbonation category participant sign a more impactful deal? I'll tell investors one thing for certain and freely at that: "If I was to open a sand which shop at the end of my block that served beverages, both Coca-Cola and Pepsi would be on my doorstep within a matter of days. That is how fiercely the two companies fight over every inroad for sales. What makes you think the home carbonation category would be any different?"