Last year, General Electric's (NYSE:GE) revenue registered at $150.21 billion. That's still a long way from the pre-recession levels, but if you look closely, you might be astonished how General Electric is slowly getting its act together and that is visible in its reviving operating income.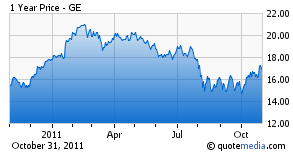 According to GE's latest report, its operating income margin of 9.46% is much better than 7.67% of Siemens AG (SI), 4.33% of Hitachi Ltd (HIT), 8.52% of Honeywell International (NYSE:HON) and even 9.30% of Caterpillar Inc. (NYSE:CAT) earnings before interest and tax (EBIT) has increased by over $4 billion last year. Things are getting more positive for General Electric.
Let's look at the Q3 report now. Though GE met Wall Street's expectations, the decline in profitability in the energy equipment section, from 16.5% to 13.7%, has affected steadily in the stock price.
"Margins missed our forecast and were down year on year in the four big industrial businesses," said Jeffrey Sprague, managing partner at Vertical Research Partners. "There is little or no operating leverage in GE's portfolio due to low-priced equipment in backlog and R&D headwinds."
The decline in operating profit, however, was offset by lower tax rates, thus leading to an 18% growth in the net income margins. One of the financial highlights is that sales outside the U.S. (particularly in the growing economy regions) have grown by around 25%, which offset the weak demand in the domestic and the European market. One more important sector indicating future demand – industrial equipments – has gone up by 16%, especially in China, India, Latin America and Russia.
"The organic growth rate in industrial was strong," said Jack De Gan, chief investment officer at Harbor Advisory Corp in Portsmouth, New Hampshire. "Those are telling and they give us a little bit of a look into next quarter and beyond."
If we look closely, most other big US manufacturers have been reporting pretty strong third quarters. For example, Honeywell International reported over 45% rise in its profits this season.
It is probably time to buy back the $3 billion worth of preferred shares sold to Warren Buffett, CEO-Chairman of Berkshire Hathaway (NYSE:BRK.A), during the economic downturn in 2008. These preferred shares carried 10% dividend, and by now, Mr. Buffett would have reaped around $900 million of income (Read more here). If GE buys them back at a 10% premium to today's price, it will ultimately add to the income and equity base of the company.
Yes, things will be hard to recover, but I would say it seems the company is well-placed for a few quarters ahead and it might be good to wait and see what happens in 2012. Even Chief Executive Jeff Immelt believes that GE should have solid organic growth and expanding margins in 2012, especially in aviation and energy.
So, let's put some faith in him?
Disclosure: I have no positions in any stocks mentioned, and no plans to initiate any positions within the next 72 hours.