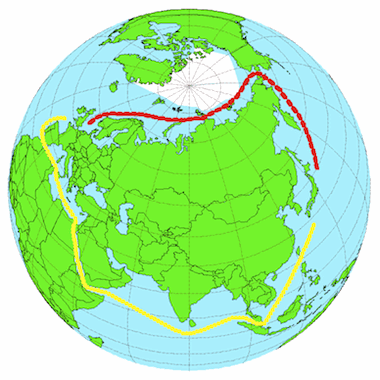 Over the last ten years the sheets of ice that normally cover the Arctic Circle have been receding. While this may seem to be bad news for the polar bears and fish, it is great news for commerce. Since Swedish explorer Adolf Erik Nordenskiöld completed the first navigation of the Northeast Passage in 1878, attempts to use the passage for commercial purposes have been stymied by the sheets of ice that often cover the route. With global temperatures rising, the Northeast Passage is no longer closed to shipping. In 2009, German shipping company Beluga became the first to send ships from Asia to Europe over the top of Russia. This year alone, 18 ships have made the journey.
Although 18 ships doesn't mean much compared to the 18,000 ships that pass yearly through the Suez Canal, what is important is the distance. On a typical journey from Northern Europe to Japan, the Northeast Passage is 4,500 miles shorter. This shorter route not only saves fuel but also time and is conveniently pirate-free. Somalia is a comfortable 4,000 miles away.
Russia has taken notice and continues to invest in its northern-most resources, underlined by Exxon Mobil's (NYSE:XOM) recent deal with Russian oil company Rosneft, to explore Russia's holdings in the Arctic Ocean. The Russian government is building nine $18.5 million emergency response centers along the Northeast Passage in addition to 15 new manned observation stations. These emergency response centers are designed to be Russia's first line of defense against any shipping accidents that may occur along the route. Russia also has the largest fleet of nuclear powered icebreakers, enabling the Northeast Passage to be used more months of the year.
Although many of the Artic Circle's resources are controlled by state-owned entities, there are still some ways investors can profit from this once "frozen" asset.
Gazprom (OTCPK:OGZPY) - Gazprom is the largest natural gas extractor in the world. Its current market capitalization is $147 billion and shares are trading around a 3.8 P/E ratio. Gazprom is owned by the Russian Government and currently holds the country's exclusive rights to export natural gas. Gazprom is positioned well to benefit from increased access to natural gas reserves as arctic ice melts.
Sovcomflot - Sovcomflot is the largest shipping company in Russia. It is 100% state-owned but has plans to possibly offer 25% of the company sometime in the near to medium future. According to Morgan Stanley, the offering was originally slated for the second half of 2011 but currently has no set date. The shipping company plans to double sales to $2.5 billion and currently ships liquefied natural gas for companies such as Exxon Mobil. The company expects a $3-4 billion market capitalization following a profit of $164 million in 2010. Sovcomflot is a must watch IPO.
Rosneft (OTCPK:RNFTF) - Rosneft is Russia's largest oil company. It owns seven refineries in Russia including a marine terminal on the Barents Sea. On August 31st, Rosneft and Exxon Mobil announced a partnership to explore for oil in the Kara Sea. As the ice in the Artic Circle recedes, Rosneft will have greater access to its oil fields. The company's current market capitalization is $75 billion. It is currently trading around a P/E ratio of 5, relatively low compared to an industry average of around 14.
MMC Norilsk Nickel (OTCPK:NILSY) - Norilsk Nickel is the world's largest producer of nickel and palladium. It is among the top four platinum producers and top ten copper producers. Norilsk Nickel has its own shipping fleet to transport ore to costal rail hubs. As the arctic ice coverage decreases, Norilsk Nickel will experience lowered shipping time and costs. In addition, the company will receive greater access to new markets in Asia, especially the growing demand for commodities in China. Its 2010 revenue was $15 billion dollars and has a current market capitalization of $40 billion. The stock is currently trading with a 7.4 P/E ratio.
Market Vector Russia ETF (NYSEARCA:RSX) - For those of you who can't decide which company is the best way to capitalize on melting arctic ice, I present the Market Vector Russia ETF. This ETF replicates the performance of the DAXglobal Russia+ Index. The ETF is liquid with a market cap of around $2 Billion. Using this ETF is a great option for those looking to add exposure to a commodity based foreign market. With the demand for commodities growing in Asia, this global market dip may prove an excellent entry point for a long-term investor.
According to the Arctic Monitoring and Assessment Program, a collection of Norwegian scientists, by 2050 the Artic Ocean will be entirely ice free during the summer. The long-term economic implications of this climate shift are hard to ignore. As arctic ice recedes new opportunities arise for shipping and resource extraction. The arctic boom is only a matter of time.


Disclosure: I have no positions in any stocks mentioned, and no plans to initiate any positions within the next 72 hours.