Crude oil futures caught fire in the last week as the Eurozone crisis looks to have found some type of viable solution - at least for now. I think deep down, most investors who are knowledgeable in economics and finance, realize this deal is not a final solution to the crisis in Europe. However, this was enough good news for institutional investors to put the "risk trade" on again.
When dissecting the fundamentals for crude oil, we are still in a situation of being well supplied. Stockpiles of crude oil are still plentiful and we are not in any current threat of having tight supplies of oil. Oil is still trading at a relatively high price in the low 90s. Are we looking at an overpriced market or do the oil analysts know something that we don't?
Click to enlarge charts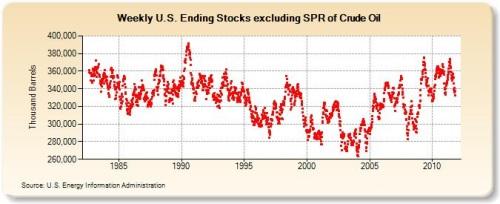 An argument can be made that long-term global demand will outstrip production in the years ahead and that warrants higher crude oil prices. Recent news has China looking a little stronger and now the 3rd quarter GDP number of 2.5 percent growth in the US has traders thinking oil demand could be on the upswing. We have been back and forth on this thinking for the last couple years, but crude oil has maintained an upward bias.
Most traders feel the dollar will decline in the coming years and that means higher prices for commodities. So, there can be a good argument about a lot of positives for crude oil in the future, but looking at the current supply/demand situation doesn't show a great amount of positives. The economic situation in the US and Europe has more question marks than positives in my opinion and I am inclined to not give crude oil the benefit of the doubt. Crude oil moving to $100 would be a selling opportunity in my mind.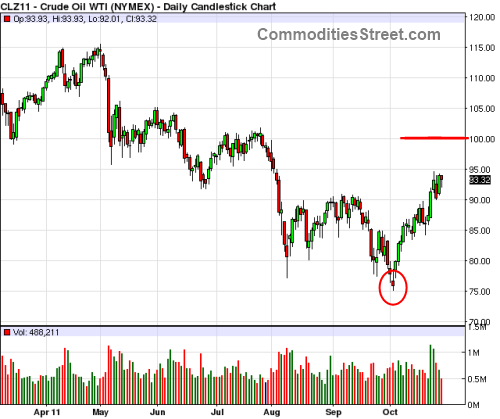 I am long-term bullish on commodities, especially gold. However, there are also many trading opportunities along the way on both sides. Logic tells me crude oil doesn't belong above $100 and I am looking for a shorting opportunity. Crude oil retraced 50 percent of the its decline at $95 and it is now facing resistance. The next major hurdle and selling opportunity is $100.
The $100 level is chart resistance and it happens to be a .618 retracement. Having multiple resistance levels creates higher probable trading opportunities. Since I am somewhat negative on the fundamentals, that increases the odds for a trade. I like having a resting sell order in this area and I would look to take quick profits on a portion of the trade. There is usually a quick bounce off resistance and that is a good point to take quick profits. You can see how the market reversed after the break of support at $75. This has been a typical trade in crude and the emini in recent years.
Sometimes you can capture an excellent entry on trades like this and catch a high. The $100 could be one of those points where a high could be caught in the market. I would look to place a resting sell order at $100. More conservative traders can seal out of the money options with a strike price of $110. Traders who like to have confirmation on trades can sell the first break of a daily low bar after the market touches $100.
Disclosure: I have no positions in any stocks mentioned, and no plans to initiate any positions within the next 72 hours.