FACT or FICTION
Have you seen the latest adverts from Mercedes Benz -
Think gold has increased in value?

Wait until you see what your Mercedes is worth.

Due to unpredicted global demand and shortened supply, your leased Mercedes-Benz may be worth more than you owe, and it if is, we will even pay off your lease and write a check for your equity. Take advantage of this rare market opportunity while it lasts.
Ain't it grand being a part of the 1%!
Record Setting Rallies
If you bought the S&P 500, the Dow Jones Industrial or the Nasdaq Composite at the beginning of October your account would be up between 12 and 14%. That is what I just heard from a smiling delirious reporter on a major cable news station. In fact no matter where I turned this morning it was the same story -- up up and away -- did you buy yet? Is it too late? Are we in store for a Halloween surprise?
When I hear reports such as this I tend to reflect on history for a more balanced prospective. How do you balance the media hype against what is really taking place.
An insightful table was sent out this morning by Ron Griess of www.theChartStore.com the last 25 times the S&P recorded double digit gains in a month. Breaking down the time periods reveals that the majority (17) occurred between 1928 and 1939. Three in the 1970's, four in the 1980's, and one in 1991.
There are several respected economist and analysts that are comparing the economic and market recoveries to periods following the crash of 1929. Since it is Halloween the resemblance is eerie!
The S&P 500 historically:
Continued to advance over the next month during 12 periods ( 7 between 1928 and 1933), (4 in the 1980's and 1 in the 1970's).
Continued to advance over the next six months during 15 periods, (8 between 1928 and 1939), and (7 during the 1970's and 1980's).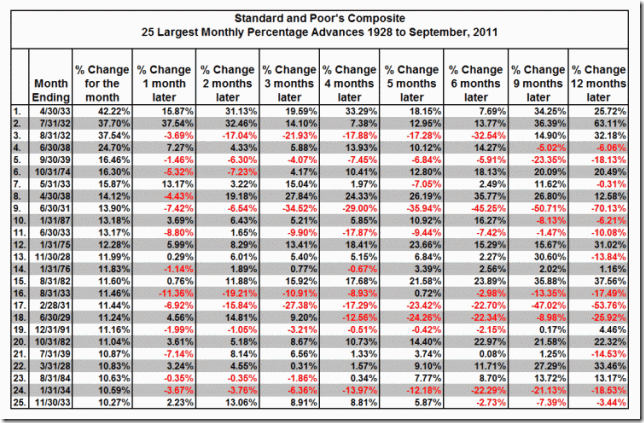 (Click to enlarge) Source: www.thechartstore.com
Take note of the periods listed above - more important than the S&P racking up huge gains is what was behind the gains and what followed. Missing the complete story could be dangerous and costly.
Look at the gains that started in 1932 (post crash) - after registering a -67.92% return on June 30, 1932, the DJIA began a strong recovery rally with a +146.04% return one year later on June 30, 1933. This was followed by a bumpy roller coaster ride back to a -41% return over the next four and a half years. There are many respected analysts that have presented strong arguments that the current market recovery resembles in magnitude and duration those seen in 1932 to 1933.
The kick off rally of 1982 did have tremendous follow through and carried the indexes higher basically until October 1987. Although 1991 did mark the massive kick off rally that carried the markets higher for the next eight years. The initial blast higher was followed by 6 months of lower prices.
CONCLUSION
Be wise and prudent here -- due diligence is still required before jumping in or out. Opportunities are available and will continue to present themselves in all market conditions. Take the time to get the "big picture" -- it could save much more than a new Mercedes!
Disclosure: I have no positions in any stocks mentioned, and no plans to initiate any positions within the next 72 hours.