By Jennifer Coombs
U.S. personal income for February was noted as being mostly in line with consensus, posting a gain of 0.4%, above expectations of 0.3%. Consumer spending also increased by 0.1% while the savings rate jumped to 5.8% versus the 5.5% rate recorded in January. Income growth appeared to be moderately strong during the month of February; however, spending in recent months due to adverse weather and lower energy prices has been softening. The consumer sector has plenty of fuel for spending, but the higher savings is dampening this trend. Additionally, inflation continues to be low and well out for the Fed's range for 2.0% year over year, which likely means that there won't be a rate hike before mid-2015.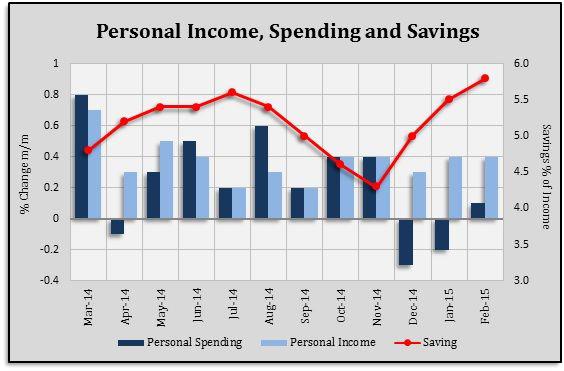 In addition to the personal income and spending data, there was another significantly strong report driving the market. Pending home sales for the month of February picked up serious steam, coming in at a much better-than-expected +3.1% over a 1.2% gain in January. This marks the first consecutive gain in pending home gains since April and May 2014. This report is yet another strong indicator for the housing sector's potential, especially after last week's surge in new home sales.
On a regional basis, the Midwest and West posted particularly strong gains in pending home sales for the month where they had previously been flat. The South and the Northeast declined in February, but only slightly. On a year-over-year basis, pending home sales were up by a very robust-looking 12.0% for a 6th consecutive year-over-year increase. However, this is a bit misleading as many home deals end up falling through before the sale is final. We note that the final sales of existing homes, in data posted last week, are up only 4.7% year on year. One majorly important component of this report is the uptick in the number of first-time buyers to 29.0% from 28.0% in the prior month. The lack of new buyers had been suppressing the housing market, but this change is very encouraging.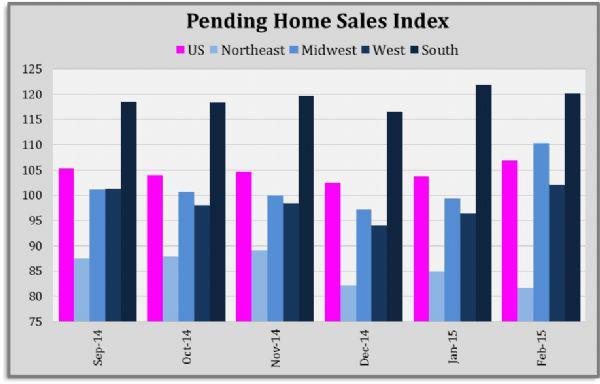 As many had expected, factory activity in Texas declined during the month of March. The Dallas Fed Manufacturing Production Index, which is the key measure of state producing conditions, declined to a reading of -5.2 for the first negative reading in nearly two years. Growth was not prevalent across the other components of the index, with new orders down even further into negative territory at a reading of -16.1. Perceptions on broader business conditions were pessimistic for a third consecutive month. The general business activity index declined 6 points to -17.4 in March while the company outlook index was largely unchanged at -4. The employment index also declined to reflect job losses and shorter workweeks, falling to -1.8 for the first negative reading since May 2013. Of the firms surveyed in the district, 13% of firms reported net hiring, compared with 14% reporting net layoffs. Ultimately, both manufacturing and prices are still soft in Texas, thanks to more oil-related woes. This reading is likely to keep the Federal Reserve in dovish mode and the readings across the major Fed districts all point to sluggish manufacturing data for the month of March.