By Stuart McPhee
Australia 200 for Tuesday, March 31, 2015
A couple of weeks ago the Australia 200 index pushed higher to a multi-year high to just above the key resistance level at 6000, before easing lower throughout last week to below 5900. The key 6000 level remains firm and a significant obstacle and the index and markets are firmly fixed on it. A few weeks ago the ASX200 index found some support at the key 5800 level which has propped it up and allowed it to rally a little and move higher. Several weeks ago the ASX200 index reversed from its highs near 6000 and started to establish a new medium term down trend before rallying higher a couple of weeks ago. If it is to move lower through the trough around 5740, then lower values should be expected with the next obvious support level around 5700, however it presently trying to continue to place pressure on the resistance at 6000.
It enjoyed a strong move higher throughout February moving from below the key 5800 level up to another multi-year high near 6000, where it met stiff resistance. At the beginning of February it spent a week or so battling with resistance at the key 5800 level which repeatedly fended off the index, resulting in it easing back a little. This level has resumed its key role and is currently having an impact on the index. Throughout the second half of January the Australian 200 index did very well and surged higher to move back above the key 5400 level and push on through to the new highs. At this time, the resistance at 5500 stood tall and fended off all advances, however this now been broken strongly through.
The moderate support from around the 5300 level held it up well for a a couple weeks before the surge higher. The short-term resistance level at 5500 has returned and now resumes its role of placing selling pressure on the index. Throughout most of November and December, the Australia 200 Index fell steadily lower down towards support around 5150 and two month lows before rallying back above 5400 again. Over the last few weeks the Australia 200 index has struggled with resistance at 5400 which has forced it lower time and time again. The 5400 level has been a major player for the last 12 months and the index must get back above this level to encourage more buying and bullish sentiment. It enjoyed a solid resurgence throughout October after getting much needed support from the 5200 level, which has resulted in it moving back above the 5400 and 5500 levels, around a two month high.
Australia is "well and truly" disposed to join the China-led Asian Infrastructure Investment Bank (AIIB), Prime Minister Tony Abbott said on Wednesday, but wants to know how much power Beijing would hold in the institution before a formal decision. Fairfax Media citing government sources, reported the federal cabinet has approved Australia signing a "memorandum of understanding" on joining the AIIB. Australia, South Korea and Japan are the notable regional absentees from the bank, which the United States had warned against. Despite Washington's misgivings, U.S. allies Britain, France, Germany and Italy announced this month they would join the bank, leading the Obama administration to reassess its stance.
(Daily chart below)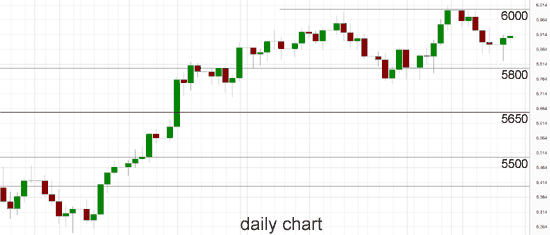 Australia 200 March 31 at 00:20 GMT 5914 H: 5914 L: 5887
Australia 200 Technical
| | | | | | |
| --- | --- | --- | --- | --- | --- |
| S3 | S2 | S1 | R1 | R2 | R3 |
| 5800 | 5400 | 5150 | 6000 | - | - |
During the hours of the Asian trading session on Tuesday, the Australia 200 Index will be looking to the resistance at 6000 again and trying to push higher.
Further levels in both directions:
• Below: 5800, 5400 and 5150.
• Above: 6000.
Economic Releases
23:30 (Mon) AU AIG Manufacturing PMI (Mar)
01:30 AU Private Sector Credit (Feb)
05:00 JP Construction orders (Feb)
05:00 JP Housing starts (Feb)
08:30 UK Current Account (Q4)
08:30 UK GDP (3rd Est.) (Q4)
08:30 UK Index of Services (Jan)
09:00 EU Flash HICP (Mar)
09:00 EU Unemployment (Feb)
12:30 CA GDP (Jan)
13:00 US S&P Case-Shiller Home Price (Jan)
13:45 US Core PCE Price Index (Feb)
14:00 US Consumer Confidence (Mar)
* All release times are GMT