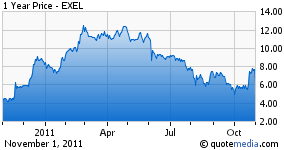 The FDA was not created to fulfill the role of parent or God, but by and large it is nevertheless a good idea to do as the agency suggests. That makes the decision of small oncology biotech Exelixis (NASDAQ:EXEL) to proceed with a clinical trial design that the FDA does not agree with a curious one. While Exelixis may indeed succeed in this approach and bring cabozantinib to the market fairly quickly, it is a risky strategy that bring a lot of volatility to these shares.
No SPA
Clinical trial design and FDA policies are admittedly confusing to the uninitiated, so here is the simple version of what is going on with Exelixis. The company had hoped to get the FDA to sign off on a Special Protocol Assessment (SPA) for its Phase 3 study of cabozantinib in very sick advanced prostate cancer patients, but the FDA has elected not to do so.
An SPA is not really a binding contract, but rather more like an official opinion from the FDA that a particular trial design should meet its criteria for approval if the data meets the standards and the company follows the protocol precisely. Companies seek out SPA's not only because the Street likes what it believes is a "seal of approval" from the FDA, but because they are thought to significantly reduce the risk that a company will conduct a large Phase 3 study only to have the FDA claim that the study design did not answer significant questions about the drug.
In this case, Exelixis failed to secure an SPA for its trial design and the stock plunged in after-hours trading on the fear that even if this study succeeds, the FDA will demand further data before granting approval – lengthening the timeline to approval and market launch.
Targeting Pain Instead Of Survival
The biggest problem for Exelixis seems to be that it wants to use pain reduction as a primary endpoint for the study. Cancer drugs are typically evaluated and approved on the basis of various measures of survival benefit. Recently-approved prostate cancer drugs like Dendreon's (NASDAQ:DNDN) Provenge and Johnson & Johnson's (NYSE:JNJ) Zytiga were approved on this basis, even though Provenge did not show tumor shrinkage and Zytiga can have unpleasant side-effects.
Pain reduction is not a bad target. Many types of cancer, including advanced prostate cancer, are characterized by debilitating pain and pain reduction is not only a clinical benefit, but can be seen as a sign that the cancer slowed (or stopped) its move into the bones. Moreover, the FDA has said before that pain reduction can support the approval of prostate cancer drugs, though Hospira's (NYSE:HSP) mitoxantrone is the only one I can recall offhand.
Unfortunately, pain is an unconventional target and one that is subjective and very difficult to measure. Perhaps not surprisingly, the FDA hates "squishy" targets like pain perception, and the agency has become increasingly sensitive about hard data as issues like the premature approval of Roche's (OTCQX:RHHBY) Avastin in breast cancer have come back to embarrass the agency.
A Risky Move On Several Fronts
This is a bold move by Exelixis management, even if the blockbuster potential of the drug makes it understandable. Sometimes, though, biotechs pursue speed to the point of haste. Although it may seem strange to think that a physician would hold off on administering a drug that could relief cancer patient's pain, the absence of a significant survival benefit could be an issue in the market – some analysts have speculated, for instance, that Provenge sales have been hampered by the absence of conventional data like tumor shrinkage. Said differently, docs are social creatures like the rest of us and are seldom as comfortable with aggressive or new therapies as the scripted medical dramas would suggest.
So what's the risk to Exelixis? After all, the company is going to be doing a second Phase 3 anyway, one that should start early next year and target a survival endpoint, so if the FDA wants survival data, they will eventually get it. The risk, though, is that investors who had baked that SPA and potentially early approval into their model are likely either bringing out the eraser now or at least upping the discount rate on those prior assumptions. Moreover, even if the total data package on cabozantinib is strong and eventual approval is likely, the stock is going to take a hit on any negative FDA news.
Don't forget either that Bristol-Myers (NYSE:BMY) once had the rights to this drug, but handed them back to Exelixis – a decision that some bears still believe reflects underlying problems with the drug and not poor decision-making on the part of Bristol-Myers.
The Bottom Line
So far, the data on cabozantinib has been quite encouraging. Earlier prostate cancer studies have shown strong response and reductions in lesions. An earlier study in thyroid cancer showed powerful progression-free survival data – and it is often the case that an oncology drug effective in one cancer type is effective in others. It has worked that way for notable oncology drugs like Biogen Idec's (NASDAQ:BIIB) Rituxan, Avastin, and Pfizer's (NYSE:PFE) Sutent. That strong data may well be part of what has emboldened Exelixis management to pursue this strategy.
There could be a bigger issue at risk here than just the approval timeline for Exelixis. If the drug's data in prostate cancer is good, it will eventually get approval and investors ultimately forget about this bumps in the road if a drug makes it to market and sells well. The bigger issue could be management credibility – Exelixis management is taking a big swing here and if they fail (and disappoint) investors, they may find that the Street is less and less likely to give the company its due and a rich multiple to the stock.
Disclosure: I am long OTCQX:RHHBY.